Harry Kane is set to return to Tottenham on Wednesday with new boss Ange Postecoglou preparing to meet the striker for the first time to hold face-to-face talks about his future.
Sky in Germany are reporting Bayern Munich have submitted a second bid for Kane worth £68m plus add-ons, with the England captain said to be wanting to move to the Bundesliga champions.
The 29-year-old, who returns for pre-season training on Wednesday after an extended summer break, has entered the final year of his Spurs contract and while the club insist he is not for sale and they would not welcome any bids for the striker, Postecoglou said on Tuesday he has not been given any assurances that Kane will remain in north London this summer.
Ange: No assurances over Kane's Spurs future
Tottenham head coach Ange Postecoglou has no 'assurances' over Harry Kane's future
Postecoglou said at his first Tottenham news conference: "No, I haven't had any assurances [over Kane's future] and I wouldn't expect any assurances because with these kind of things you're never dealing in definites or certainties.
"I'm trying to concentrate on the things that I know right now, and what I know right now is that Harry's part of this squad. He's looking forward to coming back to training, getting among the players back in here and we start working together.
"If I spend too much time worrying about the impact that it may have either way, I'm going to miss trying to build a team because ultimately that's what's going to make us successful.
"If we build a team that plays football a certain way. I'm not going to miss this initial opportunity to lay down what I know is going to be important in the long term.
"What's important in the long term goes beyond individuals. It's more about overriding philosophy on who we want to be as a team and the key people within that."
Sky Sports' Michael Bridge says Tottenham's message is clear: Harry Kane is 'not for sale'
Kane will return to training on Wednesday and ex-Celtic boss Postecoglou revealed how he expects the conversation with Tottenham's all-time goalscorer to go.
The Australian said: "I don't think it is my role to sit there and sort of treat people in a manner because of their circumstances. I am big on treating everyone the same.
"Harry is already part of the history of this club and I want him involved here. My conversation with him will be about how we can make this club successful and that is what he wants as well.
"I doubt it will be defining in the manner people think. I want to introduce myself to Harry, give him my vision, get an understanding from him over what his vision is and try be successful."
After a fine individual campaign in which he scored 30 goals, despite the north London club finishing eighth and having three head coaches, Kane is now only 48 away from passing Alan Shearer's record Premier League haul of 260 goals.
Will Kane be on the plane for Spurs' pre-season tour to Australia?
Michael Bridge has the latest Tottenham transfer news as speculation continues over whether captain Harry Kane will stay at the club
Sky Sports News reporter Michael Bridge:
Kane should be returning to Spurs on Wednesday after an extended break following the international matches at the end of the season.
It was interesting to see Postecoglou speak on the situation on Tuesday. he was very laid back about it.
We reported from our colleagues at Sky in Germany that there have been two bids but the message from here is Tottenham do not want to sell the player.
He's a player that scored 30 league goals in a team that finished eighth last season and Postecoglou wants to build his new Spurs side with Kane in there.
If Kane does stay it is a very mouth-watering attack with the addition now of James Maddison.Kane scored 30 goals without much creativity in that Spurs midfield and Maddison will bring you that.
Also, if Kane is on the plane and on the way to Australia for Spurs' pre-season tour, which I full expect him to be, that will be a slight boost as well.
'Spurs taking enormous gamble if they hold on to Kane'
Chief sports features writer at the Daily Mail, Riath Al-Samarrai, speaking on Back Pages Tonight:
"I don't think anyone would take a look at Harry Kane the person and think he would agitate to get a move. Even if we look over in Paris and what's going on with Kylian Mbappe, he's giving interviews, he's talking about a divisive club – you don't see that from Kane.
"Ultimately, it's going to come down to whether or not someone makes the kind of offer Daniel Levy is going to accept.
Miguel Delaney can't see Harry Kane heading to Bayern Munich while Riath Al-Samarrai feels Tottenham are actually interested in selling their star striker
"I don't necessarily buy the idea that Tottenham don't want to sell Kane in the summer. Frankly, it would seem illogical for them to hold onto him. Sure, you'd be taking a gamble on getting top four next season, but that's an enormous gamble.
"If they can get upwards of £80m – which I'm still convinced they can – even in the final year of his contract, he's worth north of that. Tottenham would be mad not to accept an offer in that kind of ballpark and they'd also be mad to say they'd accept an offer in that kind of ballpark.
"Of course, Postecoglou wants to sell him his vision, but if Kane has made up his mind that he wants to leave, I'm not entirely sure it matters what he gets told at this point."
Kane, transfers and new system: The big tasks facing Ange at Spurs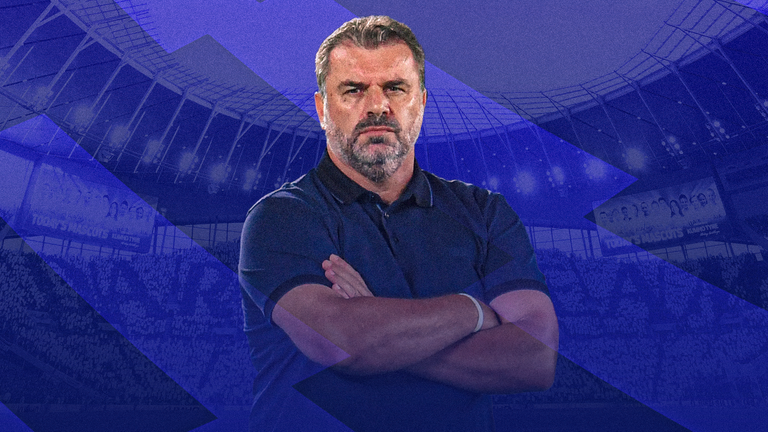 Postecoglou officially started his new role as Tottenham head coach on July 1, but he's been working hard behind the scenes for nearly a month already.
Since the announcement of his appointment was made on June 6, the Australian has been planning thoroughly for what appears to be a huge job at Spurs, who face the reality of no European football for the first time since 2010.
Sky Sports News reporter Michael Bridge analyses the key tasks ahead of Postecoglou's first season in north London.
Ange: I want to bring success to Spurs
Ange Postecoglou was named as the new Spurs head coach last month after Antonio Conte was sacked in March.
The 57-year-old, who won the domestic treble at Celtic last season, is hoping to land Spurs' first trophy since 2008.
He said: "I want to bring success to this football club. I always take over clubs after they've had a disappointing season or seasons.
"The thing I cherish the most is to create something that lasts and stays beyond my tenure.
"The scenario that Tottenham are in right now is what motivates me the most."
Follow the summer transfer window with Sky Sports
Who will be on the move this summer ahead of the transfer window closing at 11pm on September 1 in England and midnight in Scotland?
Keep up to date with all the latest transfer news and rumours in our dedicated Transfer Centre blog on Sky Sports' digital platforms. You can also catch up with the ins, outs and analysis on Sky Sports News.
https://www.skysports.com/football/news/11095/12918380/harry-kane-england-captain-set-to-return-to-tottenham-for-talks-over-future-with-new-boss-ange-postecoglou