Burnt Smokehouse, 161a Midland Road, Leyton, London E10 6JT. Walk-ins only. Meats £2.50-£10.50/100g; Sauces and sides £1-£6; Dessert £5
Rack City Ribs at The Duke's Head, 16 Highgate High Street, London N1 5JG. On Instagram: @rackcityribs. Ribs £13.95-£22; Wings, sides £2.50-£11.95; Dessert £5
Sometimes, when I'm bored, I scroll through Instagram, looking at images of meat: of slow-cooked beef briskets, which wobble when unwrapped from their smoker-friendly swaddling; of thick pork ribs with a rose-pink tinge right to the bone; of burnt ends, deeply sauced, then caramelised. These videos are a mixture of jump cuts and lingering drift shots across crisped ribbons of animal fat, turned a deep gold and red courtesy of a sugar, tomato and vinegar-based sauce, burnished by a last lick of flame. They always end the same way: with a bearded man, eating something with his fingers and then looking to camera, with a look which says, "Don't you wish you were me?" Oh mate. I do.
The inevitable result is this review, which is very likely to end up as a digital snake eating its own tail. I chose restaurants specifically because of alluring stuff I saw on Instagram. While there I took photographs of my own dinner, to be posted to Instagram; photographs which are often decried as terrible, which they probably are. I refuse to stop dinner for longer than necessary and nobody has to look at my dreadful contribution. Even so, my shots will doubtless encourage others to go to those restaurants. They will take food photographs and post them, to Instagram which will encourage others and so on. It's like the Circle of Life from The Lion King. Only with smash burgers, beef links and hot sauce.
'A bun just about robust enough to contain its contents': the burger. Photograph: Sophia Evans/The Observer
But what a burger and what links. Burnt Smokehouse opened only a few weeks ago in a reconditioned railway arch underneath the track into Leyton Midland Road overground station. It is a dreamy, passion project from Sufia Khan, an NHS mental health therapist and her partner Abidur Tarafder, who used to work for National Rail, the company now over his head. He always wanted to run a restaurant. They have teamed up with a Romanian-born American barbecue expert, who goes by the utterly fabulous name of Tiberius Tudor. If he ever tires of the smoke and fire game, there's surely a role for him as a baddie in the Fast and Furious franchise.
Tudor spent two years in Texas working for various top places, including the legendary Franklin Barbecue and Snow's. Texas has a strong beef tradition. Tudor, who is Muslim, concluded there was room for a halal barbecue joint in their corner of northeast London. That's exactly what they've built. Out back is a pellet smoker for the briskets and the lamb shoulders, sold by the 100g. The open kitchen has a magnificent purpose-built live-fire grill, a square, black construction, like something out of Mad Max: Fury Road, belching flame and smoke. There are chains to hang their beef sausages or links, so they cook in the indirect heat, and cages looking like mini medieval whirligigs, for the roasting of chickens.
To one side is a plancha, used for their burgers. It was an Instagram video of those that first drew me in: the dollops of grilled onions on the bun, the addition of the house sauce and, the obviously crunchy homemade dill pickles, and most of all the application of the plancha press, a kind of iron, used to smash balls of roughly minced Black Angus brisket down into patties. Place your order at the counter, take a seat at one of the wooden tables, and wait for your number to be called. Walk-ins only.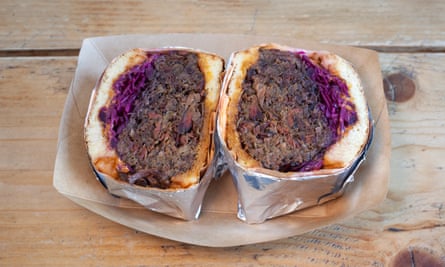 'A fatly stacked shredded beef sandwich': the ribwich, with red cabbage. Photograph: Sophia Evans/The Observer
The £12 burger lives up to the video: a bun just about robust enough to contain its contents, two seared patties with a serious depth of flavour courtesy of a liberal attitude to fat, plus a coating of American burger cheese, the only dairy product properly engineered to melt in the right way. It's a very good burger. Likewise, the "ribwich", is a fatly stacked shredded beef sandwich with the crunch of vinegared red cabbage. We also have big melting pieces of the lamb, both crisped and tender, demanding to be pulled apart with already fat-slicked fingers. Burnt really is an eight-napkin-three-shirt-oh-sod-it kind of place.
Make sure to order the Cholula hot sauce, a bright, vinegary foil to the tight-skinned, dense beef links. The menu includes a celeriac sandwich for the non-meat eaters, along with sides of portobello mushrooms, garlic mash and so on, although if a non-meat eater finds themselves here, I can only assume it's because they love their meat-eating friends very much. There's one dessert, which right now is a summer berry crumble with vanilla cream. It's a proper crunchy sweet hit. Burnt is obviously unlicensed, but they have no objection to you bringing your own booze at no extra charge. It has the kind of buzz you get when somewhere no one knew they needed has opened. You sense not just appetite and enthusiasm among the clientele, but also something else: gratitude. We ordered too much and managed a bill of just over £60.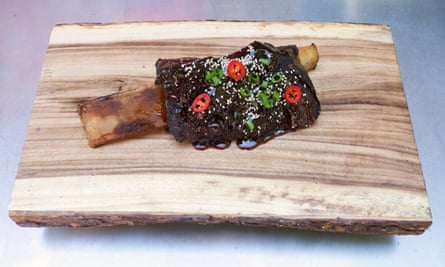 'Magnificently sauced': beef rib. Photograph: Sophia Evans/The Observer
Elsewhere on Instagram I stumbled upon the mighty works of Rack City Ribs, much as an enthusiastic burglar stumbles upon an unlocked door. Rack City is a roving street-food operation which is currently in residence at the Duke's Head pub on north London's Highgate High Street. It's a good fit. The Duke's Head describes itself as London's first and only "County Honky Tonk Bar", which means it's plastered with American country signage and memorabilia, and they serve US beers, including Pabst Blue Ribbon, which may or may not be a good thing. The woman behind the bar wears a stetson. Most importantly it feels like a proper, glowering boozer, albeit one with a pronounced US accent.
At the back they have Rack City Ribs, the brainchild of American-born, Jamaica-raised Keon Cilly. His Caribbean influence shows itself in various rubs, spices and a generous way with the chilli-boosted sweet-sticky sauces. But the barbecue underneath is solid Americana. The beef short rib, costing £22, is frankly outrageous, being really rather long. Most British short rib is a tight portion through the bone. This looks like the whole damn thing, slow cooked, then smoked, then magnificently sauced. Likewise, the big solid pork ribs take up a tray of their own, and have that righteous combination of tenderness and bite. Wings are steamed, smoked then battered and deep- fried for a luscious crunch. It is, of course, all very much Instagram ready. My, but those glazes do shine. But most importantly, when you go through the screen and the popping, digital image to get to the real thing, it delivers. That's what really matters.
News bites
Rachel Allen of the Ballymaloe Cookery School in County Cork, is staging an online demonstration of Nepalese cookery in August, to raise funds for the charity AutismCare Nepal Society. Allen will be collaborating with a variety of Nepalese businesses both in Ireland and the UK and will be using recipes by Nepalese MasterChef finalist Santosh Shah. The money raised will be used to fund a training programme provided by British autism expert Jude Regan. Tickets to the online stream are available here.
Steve and Ruth Horrell, respectively the former chef and manager at Roth Bar & Grill in Bruton, Somerset, have opened their first venture together. Horrell and Horrell in Sparkford, Somerset, is described as a 'micro-dining experience.' On Friday and Saturday evenings only, they will serve a four-course dinner to 20 people at one long communal table. The menu will be defined by that week's harvest from their six-acre plot, and could include artichoke fritti with basil mayo, butterflied leg of lamb with a salad of garden tomatoes, and grilled fruit with homemade ice-cream. Dinner costs £45 per person (horrellandhorrell.co.uk).
Renowned publican Oisin Rogers, famed for his work at the Ship in London's Wandsworth and then at the Guinea Grill, has teamed up with Charlie Carroll, founder of Flat Iron, to launch a new pub. The Devonshire on Denman Street in Soho, which opens in October, was formerly a Jamie's Italian. Downstairs there will be a bar serving the likes of Guinness and sausage rolls. Upstairs will be a grill room, with a menu of steaks, suet puddings, and langoustines from Oban. Rogers says he will be back behind the bar pulling pints.
Email Jay at [email protected] or follow him on Twitter @jayrayner1
https://www.theguardian.com/food/2023/jul/02/burnt-smokehouse-and-rack-city-ribs-restaurant-reviews