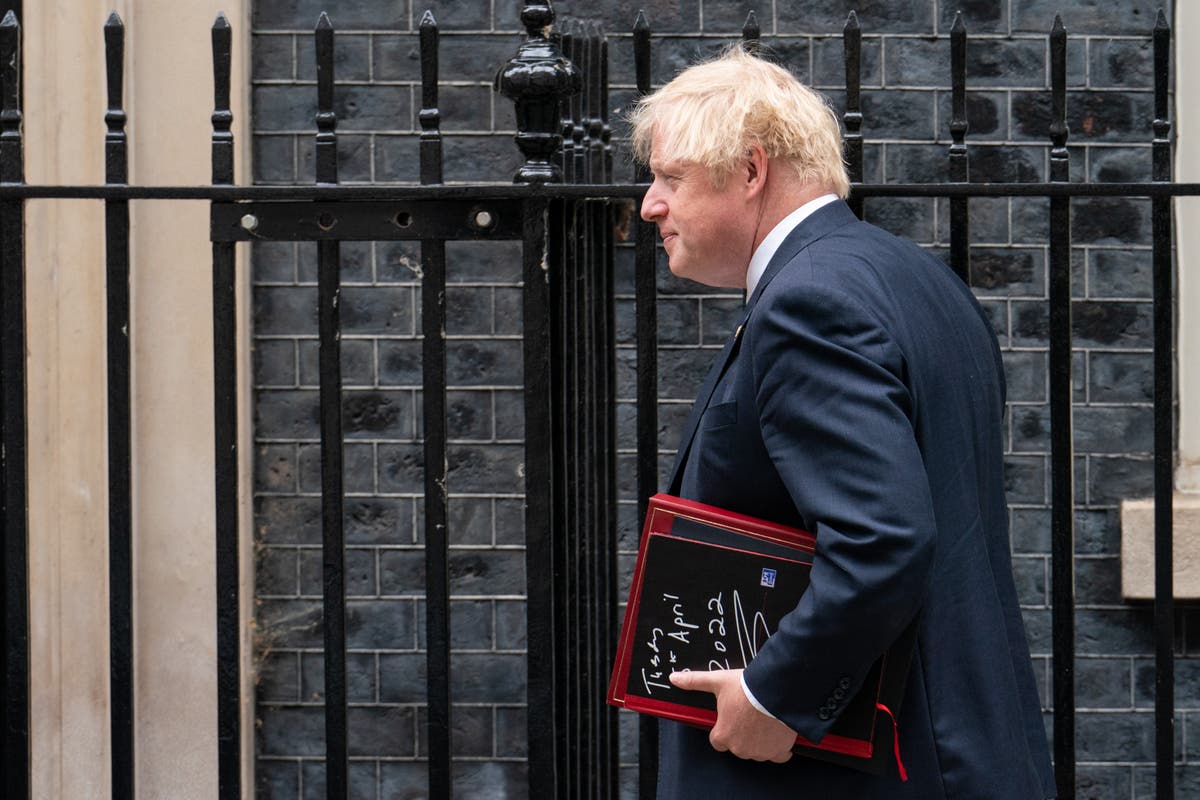 Partygate: Boris Johnson's repeated denials and excuses
The prime minister has claimed it would be irresponsible for him to quit over the Partygate scandal, admitting it had been a "totally miserable" experience for his staff.
"I cannot see how it would be responsible right now, with everything that's going on, simply to abandon … the project on which I embarked," he said.
But as pressure mounted on Boris Johnson to stand down, a senior Tory has suggested that there is no credible alternative to replace Boris Johnson as prime minister if he is ousted in a potential confidence vote.
Sir Geoffrey Clifton-Brown, a member of the powerful 1992 Committee of Tory backbenchers, said his colleagues must consider what "crimes" Mr Johnson has "actually committed" before moving against him.
He told BBC Radio 4 Today: "You've got to actually work out whether that new prime minister is actually going to be a positive asset to the country, compared to what you've got at the moment.
"As to what he's actually committed, the crimes that he's actually committed, and work out whether we should have a change or not."
Earlier, Dominic Raab dismissed the idea that his boss could face a confidence vote as early as next week – describing the speculation as "Westminster froth".
Key points
Show latest update
1654089261
Lord Geidt intervention a 'damning indictment' of PM's integrity – Labour
Lord Geidt's intervention in the Partygate scandal is a damning indictment of Boris Johnson's "integrity", Labour has said.
Lisa Nandy, the shadow levelling up secretary, said: "Lord Geidt has got to make his own decision about whether he resigns or not.
"What is clear to the whole country is that this is a prime minister who lacks integrity, who lacks the decency and honesty that it takes to lead this country.
"If you can't trust him on whether he can follow his own rules, whether he'll rewrite those rules or tear up those rules, because he thinks he doesn't apply to them, how can you trust him when he says that he'll tackle the cost-of-living crisis engulfing families and businesses across this country?"
Speaking in Wakefield, Ms Nandy added: "This is just a damning indictment of the Prime Minister's leadership that successive ethics advisers just feel that they can't trust the integrity of the prime minister.
"This is a government that is rotten to the core, that the rot starts from the top."
She said: "If you can't trust a single word that prime minister says then the problems go much deeper than one ethics adviser."
Matt Mathers1 June 2022 14:14
1654087691
UK faces prospect of naval conflict with Russia, Tory MP claims
A Tory MP has claimed that the UK faces the prospect of a naval confrontation with Russia over the Ukraine war.
Alec Shelbrooke, the MP for Elmet & Rothwell who is head of the UK's delegation to Nato, made the comments in a statement on his website on Wednesday.
He warned that there was a "high risk of death to British service personnel". For these reasons, he argued it is not the right time for the UK to change PM.
Our politics editor Andrew Woodcock reports:
Matt Mathers1 June 2022 13:48
1654086932
Stormont justice minister calls for forum to tackle online abuse of politicians
The Stormont justice minister has called for a forum to tackle the online abuse of politicians.
Naomi Long highlighted the targeting of female politicians as a problem which needs to be specifically addressed.
Ms Long made the proposals in a letter to the other Stormont parties.
She said: "I know from my own experience that having spoken to women who may have considered standing in the election, they were deterred from doing so because of the aggressive nature of politics, particularly the level of online abuse to which they see other women being subjected," she told the BBC.
"That deterred them from putting their names forward and I think that that is affecting our democratic process in a really negative way.
"So I think it's important that we sit down, we look at the incidents that happened, we understand how those are being taken forward and hear from those who had those experiences as to how they feel they were treated by the justice system and by others at the time, but also look to see what the law already can do for people and what maybe the law ought to be able to do to offered additional protection for people who are standing in elections because it is an important part of our democratic process."
Matt Mathers1 June 2022 13:35
1654085935
Johnson: Quitting would be irresponsible
The prime minister says it would be irresponsible for him to stand down, admitting the Partygate scandal had upset No 10 staff.
"I cannot see how it would be responsible right now, with everything that's going on, simply to abandon … the project on which I embarked," he said.
"I'm not going to deny the whole thing hasn't been a totally miserable experience for people in government, and we've got learn from it and move forward."
He told Mumsnet: "I can totally see how infuriating it is that people like me were not fulfilling the letter of the rules ourselves. I totally understand that … What I thought was doing was right for a leader in any circumstances and that was to thank people for their service."
Mr Johnson added: "I was very, very surprised and taken aback to get an FPN, but of course I paid it."
Jane Dalton1 June 2022 13:18
1654085122
Opinion: Vote of no confidence inevitable
Boris Johnson is alienating his party's left and right factions at the same time, and many Tory MPs want to take matters into their own hands.
Even if the PM survived a vote of no confidence, he would be weakened but would soldier on because he has no shame, writes Andrew Grice:
Jane Dalton1 June 2022 13:05
1654083892
ICYMI: Tories' newest target voters take aim at Johnson
In case you missed it earlier:
"Waitrose woman" is reported to be the voter demographic Downing Street believes is crucial if Boris Johnson is to survive in post.
But does "Waitrose woman" actually back him? Colin Drury finds out:
Jane Dalton1 June 2022 12:44
1654080457
Tory MP not submitting confidence letter
Conservative MP Huw Merriman confirmed he would not be submitting a no confidence letter against Boris Johnson and appealed for colleagues to focus on delivering policies rather than regime change.
The transport select committee chairman, who in February suggested Mr Johnson needed to improve or leave Downing Street, told Sky News: "Wrong has occurred, he's apologised, put his hands up, I judge people for what they do to turn things around and I feel he needs to be given that time to do so."
Mr Merriman added: "I have definitely not put a letter in and I will not be putting a letter in because if I do that I'm then responsible for the very policy recommendations I've been making through my committee not being delivered."
He said he did not know how many letters have been submitted, adding: "My point, perhaps my appeal to colleagues is that our constituents need us right now and they need the Government to deliver and Parliament to deliver.
"We're not going to be able to do that if we are going through a protracted leadership contest, it just changes all the focus, all the direction, all of the chances we have of making better changes in policy that will help people through difficult times. You can't have both.
"People can either focus on the theatre and want to change direction and I respect their position if they do want that, but you can't then expect Government to be able to get on and govern and deliver policy, which is ultimately the most important thing for me."
Matt Mathers1 June 2022 11:47
1654079076
Johnson loyalist dismisses claim he could sacrifice his seat for PM
A staunch ally of Boris Johnson has dismissed reports that he could give up his seat for the prime minister in the event that he loses it at the next general election.
Multiple polls have shown Mr Johnson could be at risk from losing in his Uxbridge and Ruislip constituency as anger grows over the Partygate scandal.
The New European reported that Conor Burns, the Bournemouth West MP and Northern Ireland minister, could make the ultimate sacrifice by giving up his own seat to the PM.
Mr Burns denied the claim in comments to his local newspaper, the Bournemouth Echo. He said: "That sounds to me like a journalist hitting the jubilee sherry a little early."
Matt Mathers1 June 2022 11:24
1654076873
ICYMI: Rees-Mogg hails chance to abolish EU restriction on vacuum cleaners as one of top 'Brexit opportunities'
Jacob Rees-Mogg's office has listed scrapping EU regulations on vacuum cleaners as one of the "most interesting" ideas it has received for how to capitalise on the UK's newfound Brexit freedom.
My colleague Andy Gregory reports:
Matt Mathers1 June 2022 10:47
1654075437
Expand free school meals in time for summer holidays, Boris Johnson told as cost of living crisis deepens
Boris Johnson is under pressure to extend the free school meals programme before the summer holidays amid warnings more than a million children face going hungry because of the cost of living crisis.
Former education secretaries from both Labour and the Conservatives, as well as the mayor of London, unions and charities have urged the government to act as it did during the Covid pandemic.
My colleagues Kate Devlin and Zoe Tidman report:
Matt Mathers1 June 2022 10:23
https://www.independent.co.uk/news/uk/politics/boris-johnson-resign-no-confidence-vote-latest-b2091422.html