'I'm looking for a project which excites me' – Osian Roberts
The past five months have been a new experience for Osian Roberts.
For 30 years, he has worked non-stop in football, from the United States to south London, with stops in Wales and Morocco along the way.
Now the former Wales and Crystal Palace assistant manager is enjoying some rare time off, and taking the opportunity to consider what he might do next.
"Over the years I've been renowned for being a workaholic. The work has required that. I've known nothing different," Roberts tells BBC Sport Wales.
"When the enforced break occurred I wasn't sure how I'd cope.
"I've had a break, spent some time with family and friends, I've been on a few holidays and I've been able to visit our first granddaughter in LA. Basically I've been able to do the things football make it difficult to do."
Roberts' most recent job was as Patrick Vieira's assistant at Crystal Palace, their two-year spell with the Premier League club coming to an end in March, 2023.
Now having experienced the novelty of time away from football, Roberts is ready to return to work.
"The desire to get back is definitely there, but I haven't rushed into the first opportunity that has come my way," he says.
"I've been reflecting on what would suit me the best and what would excite me the most.
"I've been a technical director, head coach and manager, assistant manager and assistant coach in both international and club football.
"For the majority of my career I've been leading organisations or leading teams. I've been the decision maker.
"The manager role or the technical director role both give you that opportunity. That's probably what I'm leaning towards. But, having said that, if something else came along that enticed me then, as always, I'd be open-minded to that as well."
Starting the coaching journey in the US
Roberts' coaching career started in the United States after receiving a scholarship to Furman University in Greenville, South Carolina.
He was then player-manager for the New Mexico Chillies in the American Professional Soccer League, then the top division in the US.
A back injury ended his playing career at the age of 27, but Roberts stayed in the US as the director of coaching for the Albuquerque United Soccer Club before returning to his homeland in 1991 to become Anglesey Football Development Officer.
He then became head coach of Wales' Under-16s and Under-18s and took charge of the Wales B team. During this period, the Wales Under-16s won back-to-back Victory Shields for the first and only time.
"Between being assistant coach and head coach of all the youth teams, the Wales B team, along of course with the first team, I've been a head coach or an assistant coach at international level for over 350 games," Roberts adds.
Osian Roberts stood in to manage Rhyl in a 2009 Champions League qualifier against Partizan Belgrade when regular boss Allan Bickerstaff was away
'A clear vision and plan for Welsh football'
Roberts was appointed the Football Association of Wales' (FAW) technical director in 2007 – and took a significant step towards becoming an influential figure in Welsh football.
"I felt I had all the knowledge and experience to push Wales forward in terms of developing strategy for the international teams and the grassroots level," he says.
"I wanted to see football in Wales flourish going forward, I wanted to see male and female teams qualifying for major tournaments, and I wanted to develop Welsh coaches.
When Gary Speed was named Wales manager in 2010, Roberts joined the former captain's coaching staff.
"Gary came on the Uefa A License course in Aberystwyth where I was a senior coach educator. After he was named Wales manager he asked me to join his coaching team – as a young coach he said he'd value my experience," Roberts says.
"He came along to a cap presentation for the under 16s in 2011 and he said publicly to the players and their parents: 'I want to put in place for the first team what Osh has put in place for the Under-16s. We want this to continue for all our teams moving forward.' We were on the same page."
The late Speed's tenure kickstarted what is now widely regarded as the golden era of Welsh football, which peaked under his successor Chris Coleman.
With Roberts staying on as Coleman's assistant, Wales ended a 58-year absence from major tournaments by qualifying for Euro 2016, where they reached a first semi-final in the country's history.
"We wanted a team that could quality for tournaments, and also have a flow of young players coming through seamlessly," says Roberts.
"We had a clear vision and a clear plan, and we had a good team of staff to deliver it."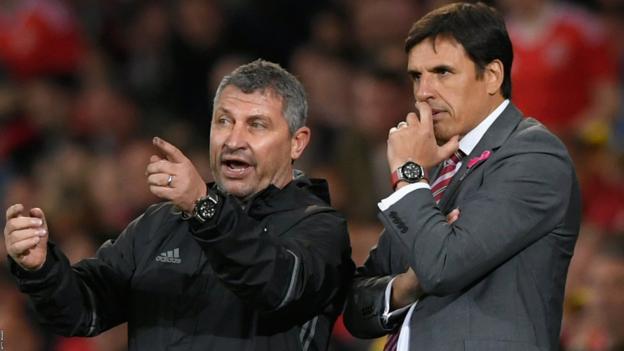 Osian Roberts (left) helped Chris Coleman guide Wales to the Euro 2016 semi-finals in France
From Morocco to the Palace
When Coleman left his role in 2017, Roberts applied to become Wales manager, but missed out to Ryan Giggs. However, the Manchester United great chose to keep Roberts as part of his coaching staff.
Roberts' role in the rise of Welsh football caught the eye of the Royal Moroccan Football Federation, which appointed him as its technical director in 2019.
"I've never been in a situation where I've actively looked for something else. I loved working for Wales – I could have stayed in the role until I retired," Roberts says.
"But I've also always enjoyed travelling and sharing ideas. I've worked for Uefa as a technical observer at European Championships and delivered coaching clinics all over the world for numerous federations.
"The Moroccan opportunity came along when the president of the Moroccan Federation invited me over while I was in Armenia working for Uefa.
"When he explained his vision I could see how serious they were about developing football in the country and it's such a wonderful country.
"I had a clean slate and was told I could build something special. I was excited by the opportunity and the potential."
Morocco created history last year in becoming the first African nation to reach the last four of the World Cup where they lost 2-0 against France.
"I got the opportunity to put something in place that will hopefully last for a long time for the Moroccan Federation and for Moroccan football," says Roberts.
"It's been great to see the success both the women and the men have had over the past couple of years, and the people are still working towards what we put in place as a foundation. I am so happy for them."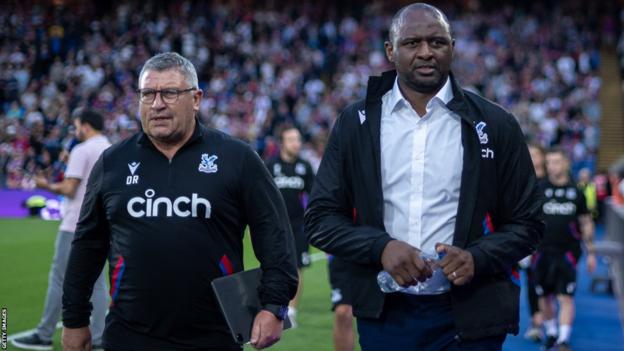 Osian Roberts' (left) most recent job was as Patrick Vieira's assistant manager at Crystal Palace
Two years into his five-year contract, Roberts got a call from another graduate of his FAW coaching course when Arsenal legend Vieira was appointed Crystal Palace manager.
Palace finished 12th in the Premier League during their first season in charge, beating Manchester City and Arsenal, while also reaching the FA Cup semi-finals.
"I had turned down the chance to work in the Premier League several times prior to that," Roberts says.
"For me it was a decision of: 'Well you've turned down a few opportunities to work at the top end of the Premier League, how many opportunities are you going to get? This could be the final one.'
"It appealed to me because it reminded me of Wales. Palace are an underdog in the Premier League. They're fighting to prove people wrong.
"How the Premier League has grown globally is incredible – and I wanted to be a part of that. I wanted to have the opportunity to work in the biggest league in the world."
'Where next? Who knows?'
Roberts does not know where his next job will be, but there is one thing that he does know: he wants to continue to coach.
"In Morocco I wouldn't get on the grass as much as I liked. I had a big job developing a foundation for everything and creating a vision – appointing the right people, recruiting coaches and staff ," Roberts says.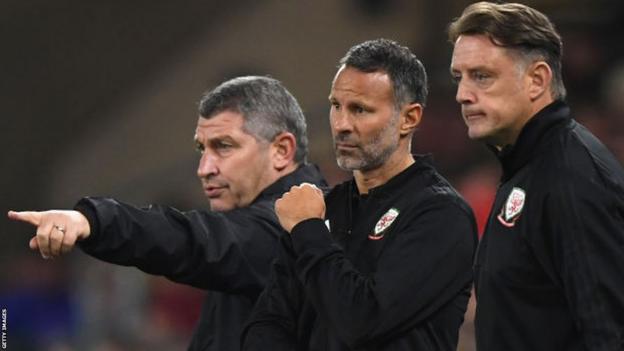 Osian Roberts (left) and Wales goalkeeper Tony Roberts (right) were part of Ryan Giggs' Wales coaching staff
"When I went to Palace it reminded me how much I missed being on the grass, creating a style of play and finding ways of winning football games. It energised me.
"Where next? Who knows? Working for Wales has hugely rewarding because it's something you do for your country.
"Working in the Premier League was fantastic – who wouldn't want to work there again? That would obviously appeal.
"I'm open to the idea of travelling again. There are many exciting projects around the world where football is developing, and who knows if one of those will be what excites me the most."
https://www.bbc.co.uk/sport/football/66618090