A Notting Hill restaurant has come under fire after the boss posted a photo of his team of all white-male chefs, with criticism at the 'totally unrepresentative' line-up.
Thomas Straker, alongside seven other chefs, posed for a photo which is distinctly missing any women or ethnic minority kitchen staff.
The Instagram post captioned 'Chef team assembled', quickly gathered a flurry of outraged comments about the lack of diversity in the team.
Straker, who boasts an impressive social media following with 2.1million on TikTok and 1.4million on Instagram, had public opinion online quickly sour on him.
Thomas Straker rose to fame on social media platforms TikTok and Instagram
Instagram
Critics said that the line-up was "disappointing" and proved that fine dining was "still a white boys' club".
Some also added that the picture was especially out of place at Straker's restaurant, which is located in the diverse area of Golborne Road.
An Instagram user @tcblu commented on the post: "The main issue is that in the most diverse city in the world, in the poorest part of the richest borough of the country, not only have you managed to hire any female chefs but not a single POC.
"Golborne Road is historically a black/Moroccan/Spanish/ Portuguese community with an incredible history of culture and rebellion in the face of adversity.
"It became home to the largest Moroccan population in England and the home of Windrush families. How incredible would it be if you searched that community for young rising stars who may not get a chance to flourish otherwise in hospitality than hiring friends?
"Provide them with training and a safe place to grow as chefs. In turn, you'd be putting something into the very community that you're gentrifying – intentional or not. Just something to think about."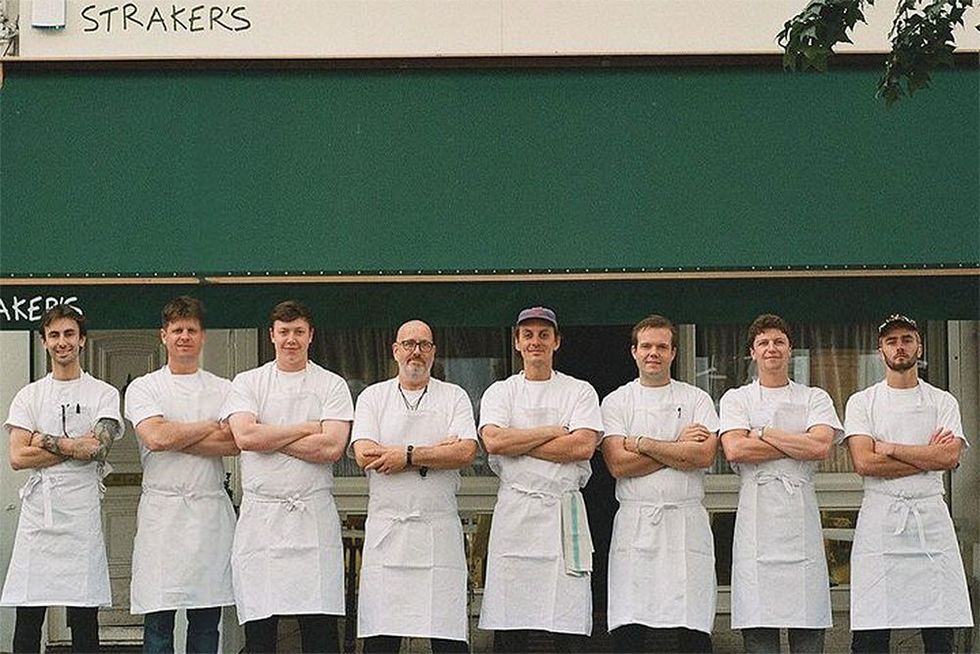 The line-up has proven that fine dining is "still a white boys' club", says critics
Instagram
Another comment under the post from @e.e.williamz alleged that the restaurant's recruitment process was poor: "I legit went for an interview there and on the second round they ghosted me!
"On the day of the interview they told me to come and I travelled an hour and a half to get there for the second round and then it turns out they were doing an event on the other side of London and didn't even apologise or anything of the sort."
As the negative comments continued, Straker responded saying "Honestly people need to calm down.
"Firstly there is a shortage of chefs / hospitality workers. Secondly if you feel so passionately please go and gather CV's of any chefs you think we're missing in the team. Solutions not problems."
Backlash also came from within the industry, to both the image and then to Straker's response.
Nat Middleton, a chef who works at Food Behind Bars, a charity in London, said that he found the response from the TikTok star "really disappointing", adding: "I wouldn't encourage anyone I know to apply to work with you as it seems pretty clear you're not keen on nurturing new talent."
Baker Melissa Martin said: "I don't begrudge him for the staff he hired — you hire friends, good people you know, and impressive resumés — but I think this post is a blatant example of how fine dining is still a white boys' club.
"The fact that he has no people of colour or women on the team is a huge extension of the bigger cultural problem . . . clearly it doesn't seem important to the values of him and his restaurant."
Angela Hui, a food writer and author, commented: "Straker is such a big personality and has such a big online following, he has a responsibility to make sure he is making diverse hires.
The social media sensation, who honed his cooking skills at the Dorchester and the west London restaurant Casa Cruz, wasn't completely without supporters, however.
Some said that it wasn't Straker's fault that the fine dining industry was dominated by men.
Paul Overal, from Kent, an artist and former kitchen worker said: "Having worked in a few kitchens I think this is a pretty fair representation of most kitchens in the UK. Out of 20 odd staff there would be one maybe two females at best."
The chef's recruitment drive began in May to June this year, as posts on social media revealed the chef was looking to hire staff to work at his restaurant, Straker's.
Straker's opened in London last October, as "a hub of cultures and culinary delights".
The Instagram post shows the completed line-up of the new staff recruited to the Notting Hill restaurant.
Yesterday, Straker took to social media again to apologise for how he handled the situation initially.
"I am very sorry for my initial response. I am absolutely committed to ensuring diversity in my restaurants, unfortunately we aren't achieving this in my kitchens currently and this is an area I know I need to improve on, making sure it is seen as a welcoming and approachable environment for all."
https://www.gbnews.com/news/london-news-white-male-chef-line-up-instagram