Emma Bunton just gave fans a rare insight into her family life with her husband Jade Jones and their children, Beau, 15, and Tate, 12. Posting a new reel on Instagram, the 47-year-old shared a montage of private moments with her hubby and kids, as well as her own mum, Pauline Bunton and the family's adorable dog. 
WATCH: Emma Bunton shares rare video of children Beau and Tate
Penning a heartfelt caption to accompany the video, Emma wrote: "If you're still in the process of raising children…. Don't just wipe away the fingerprints, seal in the memories instead. @kitandkinuk #ProtectingOurWorldNaturally #kitandkin."
Throughout the reel, fans were treated to a mini-tour of Emma's ultra-stylish home in north London. Featuring neutral interiors and an envy-inspiring garden, one of the most notable rooms was the family's home office, which Emma's eldest, Beau, uses to play video games. Above the gaming PC, die-hard fans will have spotted all the Spice Girls' memorabilia on the walls. 
© InstagramEmma's home office is filled with Spice Girls memorabilia
Around the house, Emma and Jade have also framed some of their children's drawings and artwork from their early years – how sweet! 
The couple looked as loved up as ever in the montage too, as they shared a cuppa and a kiss in their contemporary kitchen, which boasts marble countertops and statement black wooden cupboards. 
MORE: Emma Bunton's rebellious outfit for Victoria Beckham's wedding was ahead of its time
READ: Emma Bunton shares very rare photos of children as eldest prepares for milestone moment
While the mum-of-two rarely shares snippets from her private life, fans loved seeing what a day in the life of Emma Bunton looks like. Sparking a major reaction, one wrote: "What a life, Emma. You are so blessed. Thank you for being such a wonderful example of a down-to-earth celebrity and a generally good human being."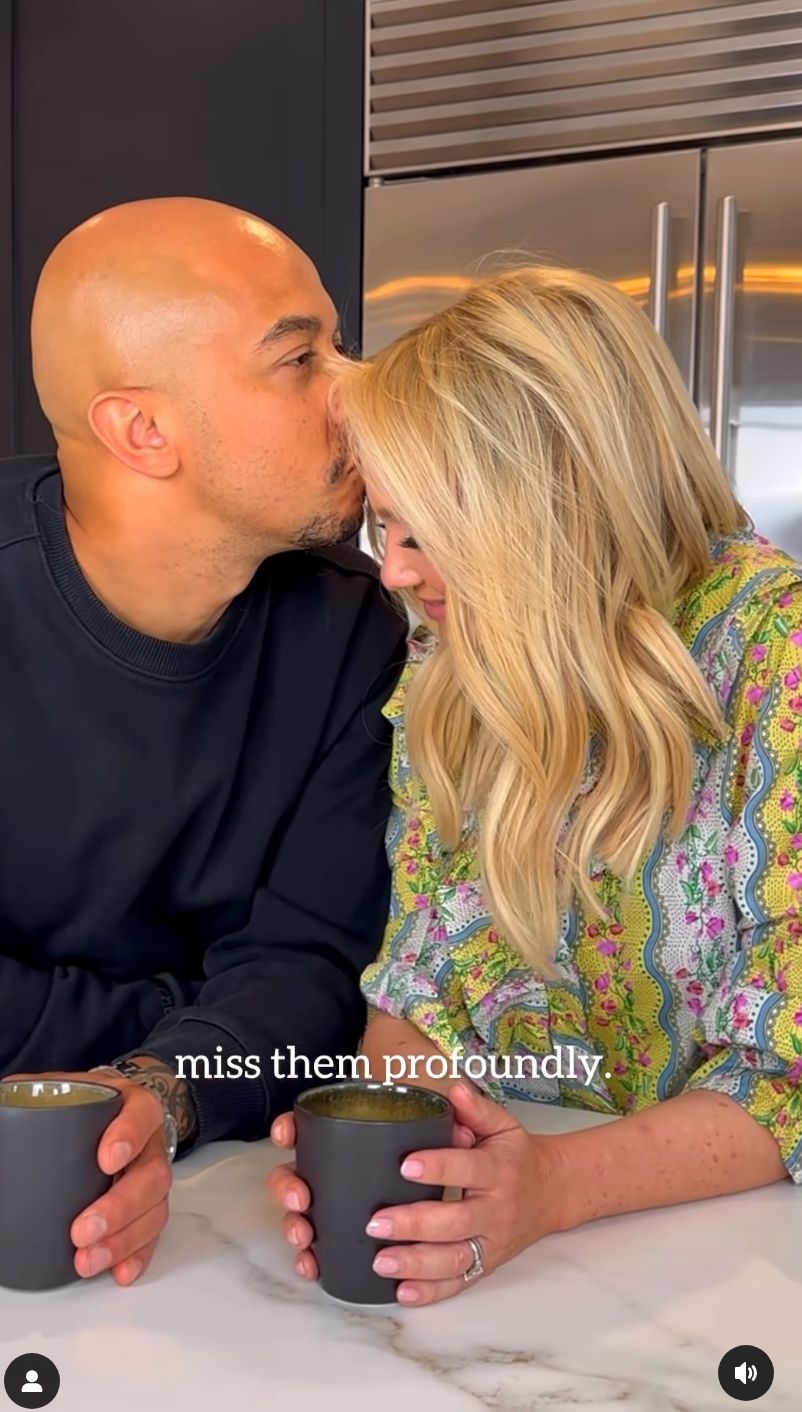 © InstagramIn the video, Emma and Jade shared a sweet kiss in their kitchen
"Love this. Beautiful family, gorgeous dog, Mama Bunton and Buffalo platforms! What more could you want," added another. Meanwhile, a third penned: "Dear Emma, ​​seeing these images reminds us of how your life has changed from the beginning of Spice to now. Your family is wonderful, your home is beautiful and you are great, we love you." 
While rare, Emma has spoken about her home life in the occasional interview. Joining HELLO! for an exclusive chat in 2021, the 47-year-old revealed: "Our house is always full of music and dancing so it's pretty hard for them [Beau and Tate] not to love performing in some way but they are both into so much right now, art, sports, reading, film that it's hard to know if either of them will go into the industry."
Asked about parenting older children, Emma said: "As a family, we are very close and I'm lucky they talk to me all the time. I always want to have very open conversations with them about everything, in fact, they have taught me a lot along the way."
WATCH: Inside Emma Bunton's stunning London home
She also echoed these sentiments while Speaking to TODAY.com in February 2023. "My children are absolutely my everything. Everything changed in my life as soon as I had children," Emma began. 
Explaining that her kids are "very open" with her, she added: "Things are moving so fast with social media and in the world, but the one thing in our home is, we try to stick to those dinner times and we talk so much." 
https://www.hellomagazine.com/healthandbeauty/mother-and-baby/499031/emma-bunton-rare-video-children-beau-and-tate-family-life-north-london-home/