Firefighters have battled a blaze at a mansion on one of Britain's most expensive streets – nicknamed Billionaires' Row.
Ten fire engines and around 70 firefighters were called to the "derelict" multimillion-pound property on The Bishops Avenue in Barnet, north London.
The fire started on the home's ground floor but damaged the first floor and destroyed the roof of the three-storey building, according to London Fire Brigade (LFB).
"The fire has caused heavy smoke, which is being seen and smelt in other areas of central London," an LFB spokesperson said.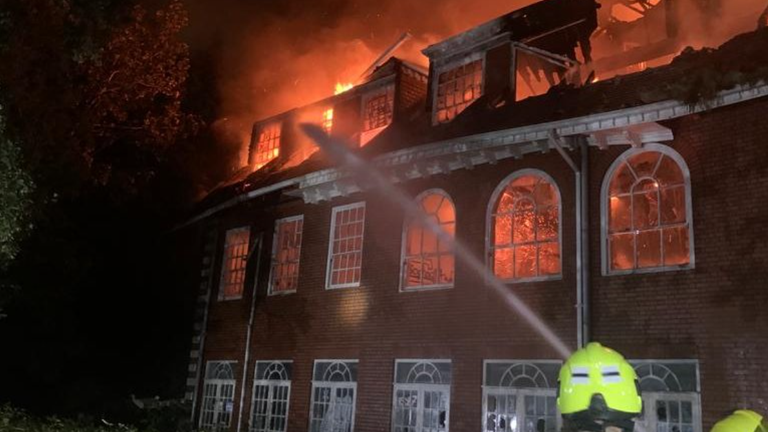 "Residents in the nearby area are advised to keep their doors and windows shut due to the smoke."
Firefighters battled the blaze for nearly three hours, having been called to reports of a fire around 12.42am on Friday morning.
Fire crews from Finchley, West Hampstead, Hornsey and other surrounding fire stations attended the scene.
The cause of the fire has been recorded as undetermined.
The Georgian property, known as The Towers, was reportedly bought by the Saudi royal family during the Gulf War for an estimated £25m.
The freehold for the land is worth an estimated £73m and is currently owned by an Isle of Man-based firm.
In recent years, the site has become a hotspot for "urban explorers", who have posted videos online of themselves inside the derelict property.
The site is currently the subject of a planning application to Barnet Council, with developers hoping to demolish the property and replace it with 65 flats.
The Bishops Avenue, located between the north side of Hampstead Heath and East Finchley, consists of 66 mansions, owned by some of the world's wealthiest people.
Former residents of the street include the Sultan of Brunei, and Canadian pop superstar Justin Bieber, who in 2016 was reported to have been renting a 15-bedroom mansion on the street for £108,000 a month.
https://news.sky.com/story/fire-on-billionaires-row-firefighters-tackle-blaze-at-derelict-mansion-in-north-london-12924806