Large parts of the UK face thunderstorms and heavy rain today, as a yellow weather warning is in place, with some big sporting events already disrupted.
The Met Office is forecasting torrential downpours for several regions which could lead to flash flooding.
The yellow alert for thunderstorms – in force from 9am to midnight – covers a widespread area from London to northwest Scotland, and up to 50mm of rain could be seen in the northern part of the Midlands.
People who use public transport have been warned "where flooding or lightning strikes occur" there is a chance of delays and cancellations to rail and bus services, while motorists could face difficult driving conditions and road closures.
"Flooding of homes and businesses could happen quickly," the Met Office said, including power cuts, adding: "Fast flowing or deep floodwater is possible, causing a danger to life."
Image:
The Met Office has issued a yellow warning for thunderstorms across most of the UK

The five-day forecast where you live
Wimbledon and the third Ashes test match at Headingley in Leeds have both been disrupted by the weather.
Spells of rain are also expected next week across parts of the UK and dampening play at Wimbledon.
Weather experts have suggested the top temperature today will be 30C (86F) or 31C (87.8F) in East Anglia.
It comes as the UK Health Security Agency (UKHSA) issued a yellow heat-health warning until 9am on Sunday for London, the South East, East Midlands, West Midlands, East of England, and Yorkshire and the Humber.
People with pre-existing health conditions and the elderly have been advised to be mindful of the humid and muggy weather.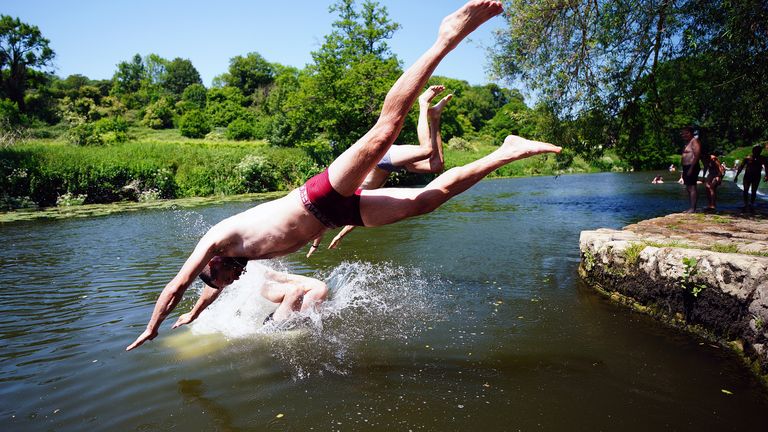 Image:
Temperatures are likely to peak at 30C

However, thundery downpours on Saturday evening are expected to cool conditions down.
Grahame Madge of the Met Office said the thunderstorms would be "spectacular" as they would run down the "spine" of England.
He said: "There will potentially be quite spectacular thunderstorms on Saturday running along the spine of England. Then we have a return to fresher conditions once that cold front has moved through."
Twitter

This content is provided by Twitter, which may be using cookies and other technologies.
To show you this content, we need your permission to use cookies.
You can use the buttons below to amend your preferences to enable Twitter cookies or to allow those cookies just once.
You can change your settings at any time via the Privacy Options.


Unfortunately we have been unable to verify if you have consented to Twitter cookies.
To view this content you can use the button below to allow Twitter cookies for this session only.

Enable Cookies
Allow Cookies Once
The forecast suggests frequent lightning, hail and strong gusts could accompany the storms.
The temperatures preceding the adverse weather are not "heatwave territory", according to the weather service spokesman.
Read more:
New record set for world's hottest day
Seabirds facing new threat in ocean feeding grounds



0:58

Hundreds of fish die after hot weather
Mr Madge added: "The temperatures are high 20s and potentially 30C which would reach the threshold for a heatwave, but we haven't got the duration."
Dr Agostinho Sousa, head of extreme events and health protection at UKHSA, said: "The forecasted high temperatures are expected to be short lived, but could primarily impact those over the age of 65 or those with pre-existing health conditions.
"If you have friends, family or neighbours who are more vulnerable, it is important to check in on them and ensure they are aware of the forecasts and are following the necessary advice."
https://news.sky.com/story/uk-weather-met-office-forecast-temperatures-heat-warning-thunderstorms-12916410