Article content
Residents of a west London street were in shock Wednesday when police found a dead person at a home and arrested a second person.
Article content
London police said they responded to a medical emergency at a home on Kingsway Avenue west of Wonderland Road in Oakridge at about 3 p.m. Officers found a person who had died and arrested a second person without incident, police said.
Police didn't identify either person but said there is no threat to public safety.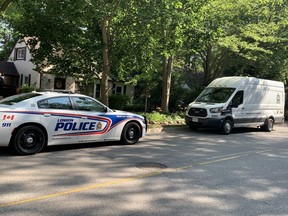 London police vehicles are parked outside a house at 562 Kingsway Ave. in west London on Wednesday, July 5, 2023, as officers investigate a death. The person's identity has not been released. A suspect was arrested, police said. (Norman De Bono/ The London Free Press)
A forensic identification van and a cruiser were parked outside a home at 562 Kingsway Ave.
Neighbours said a man who is a construction worker moved into the home less than a year ago followed by a woman who was his partner. Police had been called to the home about seven times in the last year as the couple had troubles, neighbours said.
"I am stressed out. I'm gonna ball my eyes out now. It is a shock knowing that happened next door," Jen Belair said.
Mike Nyhof, another neighbour, described the man who lived in the home as a "good guy, good neighbour.
"This can happen anywhere."
Police said the investigation by the major crime section is in its early stages and anyone with information is asked to call them at (519) 661-5670 or Crime Stoppers at 1-800-222-8477.



'Dangerous and reckless': Stunt driving charges idle two London tow firms




Man with gunshot wound sparks probe of possible east London shooting
https://lfpress.com/news/local-news/police-investigate-death-in-londons-west-end