The man believed to be the suspect in the Nottingham killings tried to break into a residential home moments before one of the victims was fatally stabbed.
Sky News has obtained a CCTV image of the suspect as he looked for a way into Seely Hirst House residential home, which houses vulnerable and homeless people in the city.
Tributes pour in for students and caretaker – live updates
Witnesses said the man arrived at the property in Mapperley Road just after 4am. He was seen trying to climb in an open window but the resident woke up and punched him, sending him stumbling back to the ground.
The suspect then looked for another way in but left with a black backpack and headed towards Magdala Road, where school caretaker Ian Coates was found lying dead shortly after.
Nottinghamshire Police said a 31-year-old man was tasered and arrested on suspicion of murder after two university students were found dead in the street in Ilkeston Road just after 4am on Tuesday morning.

0:12

Trustee: 'No idea why he chose here'
Mr Coates was found around two miles away in Magdala Road, with the suspect believed to have stolen his van and driven at pedestrians in Milton Street.
A residential care home resident, who did not want to be identified, said: "He tried to get into my window. Thank god I woke up as I might have been dead."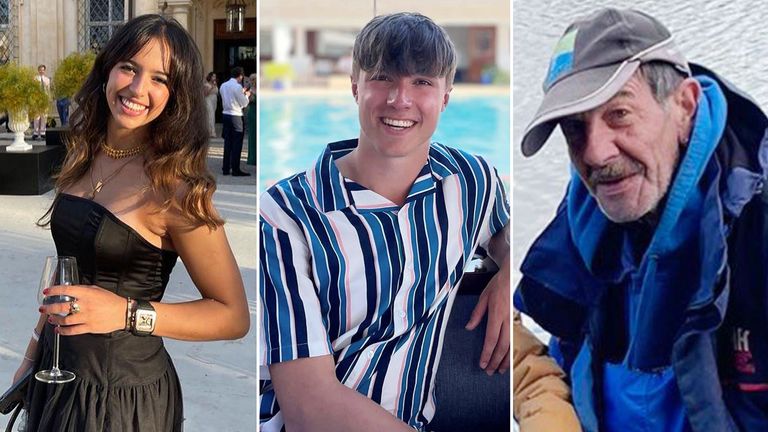 Image:
(L-R) Grace Kumar, Barnaby Webber and Ian Coates were killed in the attacks

Alex Pridmore, a trustee of the residential care home, confirmed the suspect tried to gain entry to the property.
He said: "I've no idea why he chose here. He's never stayed here so he has no links with the residential care home.
"As you can imagine everyone is a bit shaken by what happened. We look after vulnerable people so we're just relieved that he didn't gain entry."
Three people were injured in the van attack, with one in a critical condition in hospital and two suffering minor injuries.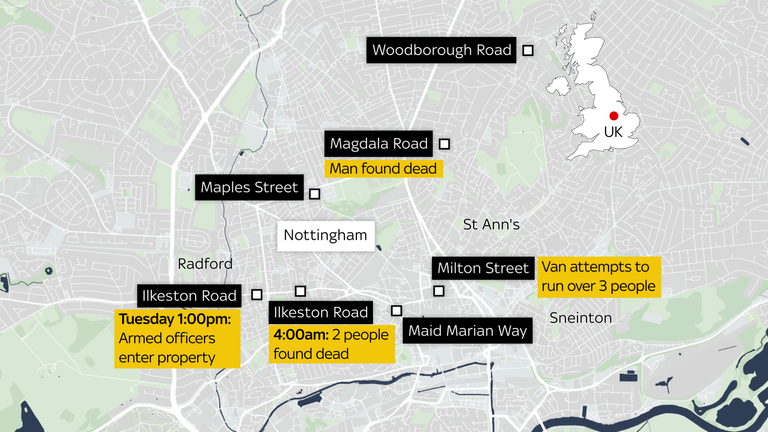 The two 19-year-old victims have been named as "talented" hockey star Grace Kumar and "passionate cricketer" Barnaby Webber.
Miss Kumar, who played for England under-18s hockey team, has been described as "fun, friendly and brilliant" in tributes.
Read more:
What we know so far about Nottingham attacks
Timeline of how 'major incident' unfolded
Bancroft's School in northeast London, where Miss Kumar was a student until last year, said it is "desperately shocked and saddened" by the student's sudden death.
Meanwhile, the family of Mr Webber said "complete devastation is not enough to describe our pain" – labelling his death as a "senseless murder".
Tributes have also been paid to Mr Coates, who has been described as "a much-loved colleague" by his employer.
Nottinghamshire Police Chief Constable Kate Meynell said the force was not looking for anyone else in connection with the incidents and no further arrests had been made.
She added that the motive behind the attack was yet to be determined, but officers were keeping an "open mind" and working with counter-terror police.
https://news.sky.com/story/nottingham-attacks-man-believed-to-be-suspect-in-killings-tried-to-break-into-residential-home-12902265