The key to good design is when the current incarnation of a home feels authentic, as if it was always meant to be that way. One whose interior design honors the bones of the property and brings it alive to match the personality and lifestyle of its owners. 
If you were looking for an exemplary example, this country-comes-to town style West London 1860s-built mews would certainly fit the bill. With its easy flow of space and sophisticated yet playful cabin-in-the-woods meets native American influences, it sits joyfully in its skin and sends a message that happy people live here. 
But until a year ago the house was so different and so out of sync with its owners they were thinking of moving. 'They had bought the house 10 years ago for its great location in buzzy Notting Hill but found its very minimal, 'modern box' design with no architectural detailing, no baseboards and boarded in stairs, increasingly hard to live with,' says Tom Cox of HÁM Interiors who was called in on a rescue mission.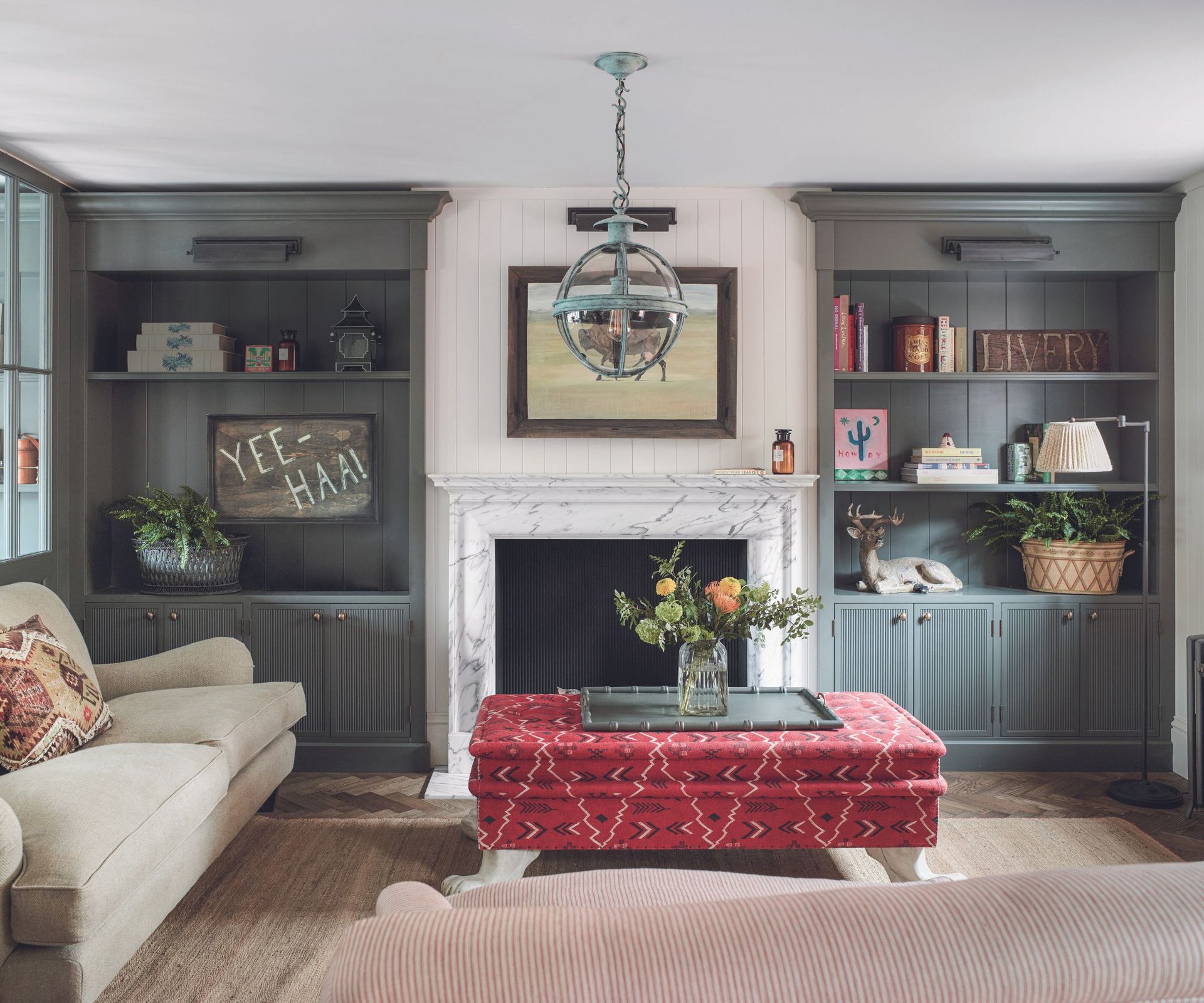 The eclectic aesthetic is cocooning with an adventurous spirit – old English country house style mixed with Americano touches. The study, next to the sitting room is separated with a half glazed wall which is a is a good compromise between closing a space off entirely and allowing the light to flow. The panelled wall adds architectural interest and built in shelving and cupboards provide valuable storage
(Image credit: Future / Mary Wadsworth / HÁM Interiors)
The couple – she is in fashion, he works in Fin-tech (financial technology) – had seen Tom's work at a friend's house and realized that the way he had translated a love of the great outdoors into a city home resonated with them. 
'Like me, they are country lovers at heart and wanted a comfortable, warm and inviting home that reflected that,' says Tom.
Although they remained involved, the owners, who both travel for work, were confident enough in HÁM to give them the keys and more or less leave them to it. 
'They gave us a lot of creative freedom and trust, which is always the dream for a designer,' says Tom who is part of a family business along with his parents Nick and Pamela Cox and sister Kate who worked on the decoration and soft furnishings of the house.
'A simple color palette carries through every room, lifted by vibrant artwork and an eclectic mix of furniture, the feel is reminiscent of a country house scaled back for a sophisticated yet practical London mews home.'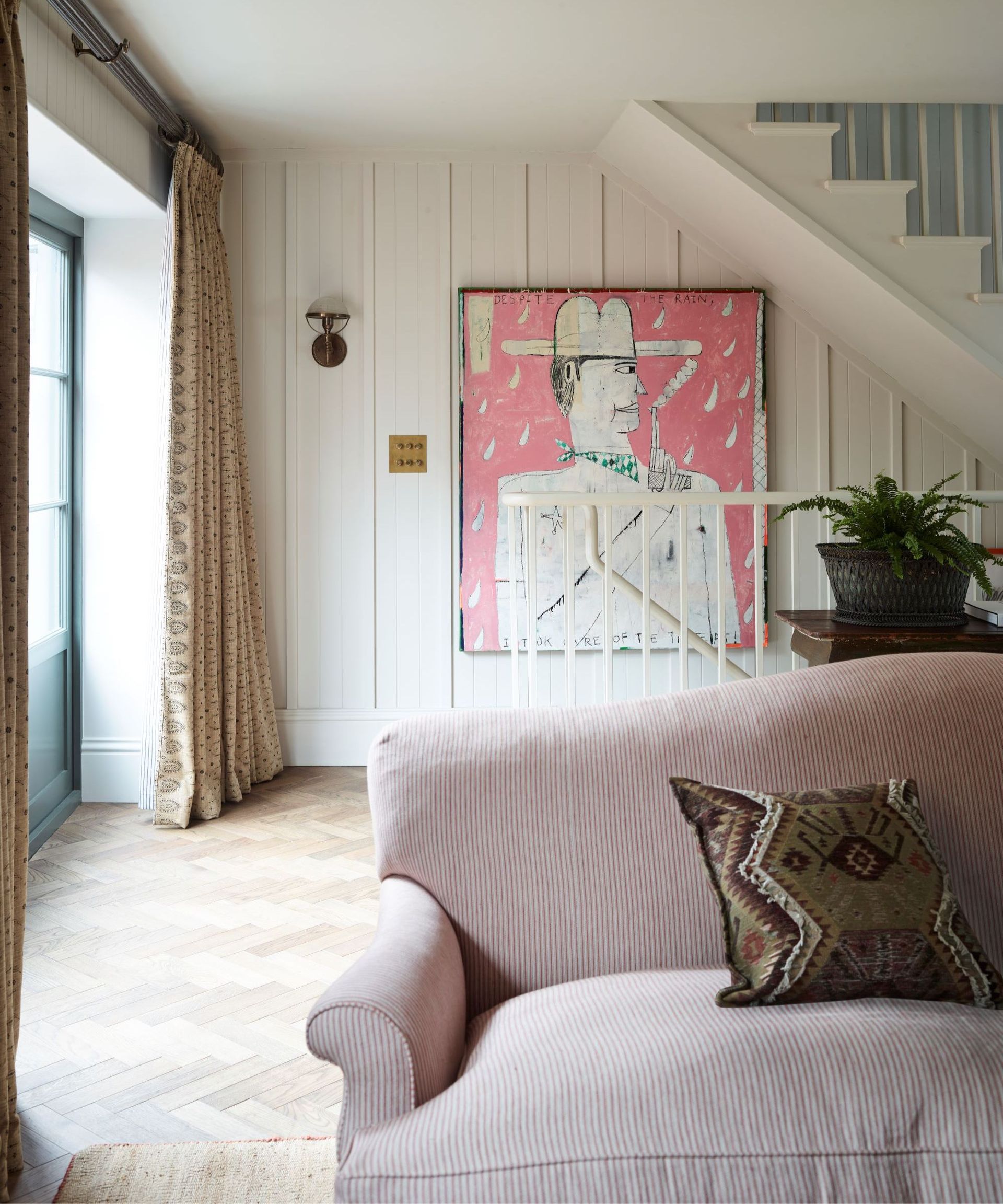 'I Took Care of the Threat' artwork by Joachim Lambrechts
(Image credit: Future / Mary Wadsworth)
The practice, known for their 'updated country house style elevated for modern life', are also makers and curators of furniture, art and antiques sold under Studio HÁM which encouraged the couple to take the unusual step of letting go of everything from the old house and asking Tom to curate the space down to the very last details.
'They are time-poor because of their busy jobs and once they realized how in tune our ideas were they were actually relieved to hand the decisions over,' he says.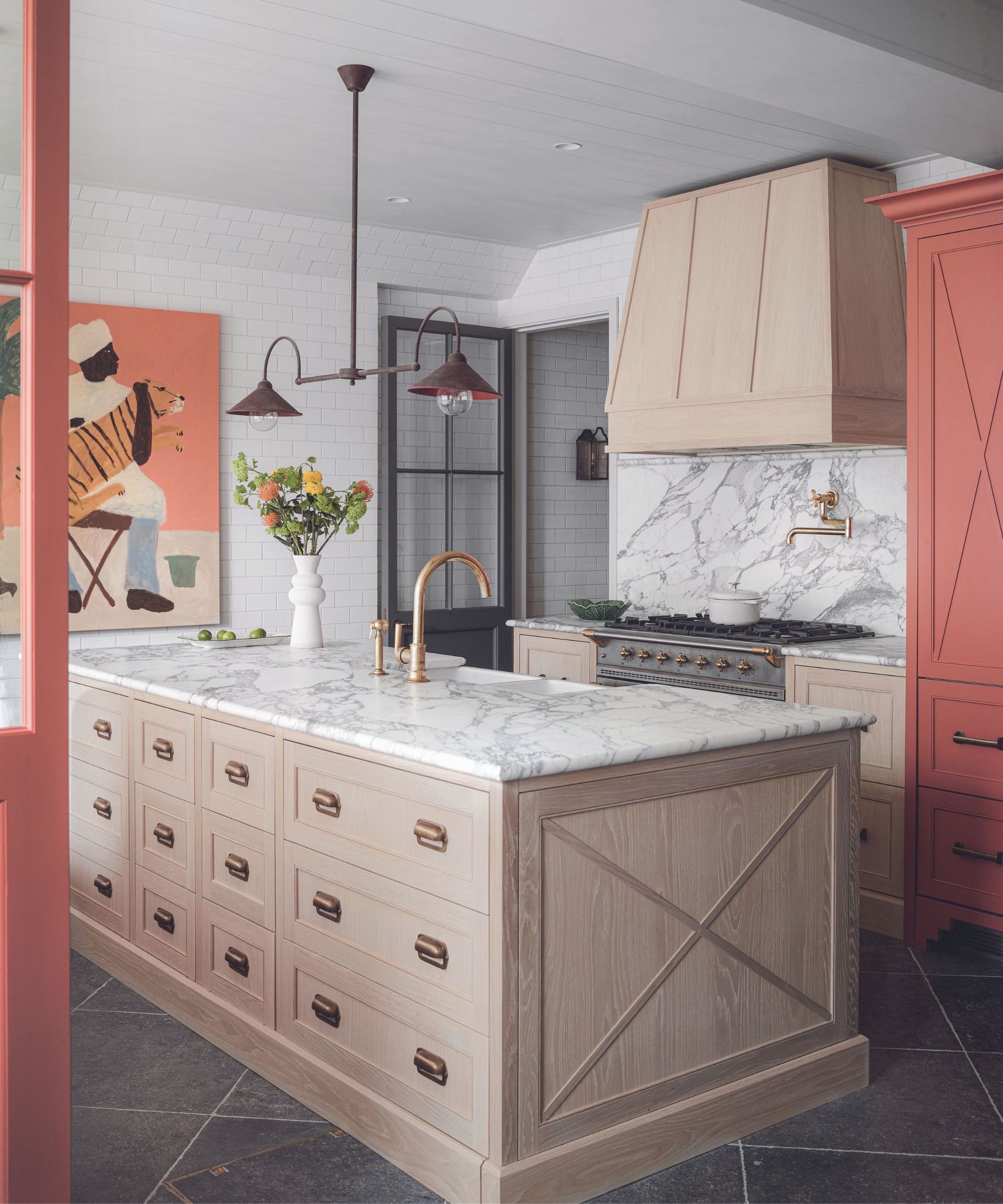 Simple elegance shines through this small space made special with a wealth of combined finishes – marble, slate, paneling and tiles – that harmonize with detailed joinery. Tiles are used in abundance – white on the walls to bounce light around and blue-gray on the floor as a practical step as the room is open to the front door. This pantry (beyond the door) is deceptively large and runs along the whole wall behind the cooker allowing for a wealth of storage. It also has a small sink with a hot water tap.
(Image credit: Future / Mary Wadsworth / HÁM interiors)
The first priority for the new design was the kitchen, previously galley-shaped and soulless, with little natural light, resulting in the couple avoiding spending time there. With a tight time frame of four months HÁM avoided structural work but changed the flow of the kitchen creating an open-plan layout with zoned areas for dining and laundry.  
A walk-in pantry stores everyday items and did away with the need for wall cabinets so the kitchen itself is the hero. Walls are tiled to encourage light to bounce around and doors are glazed, here, and throughout the house.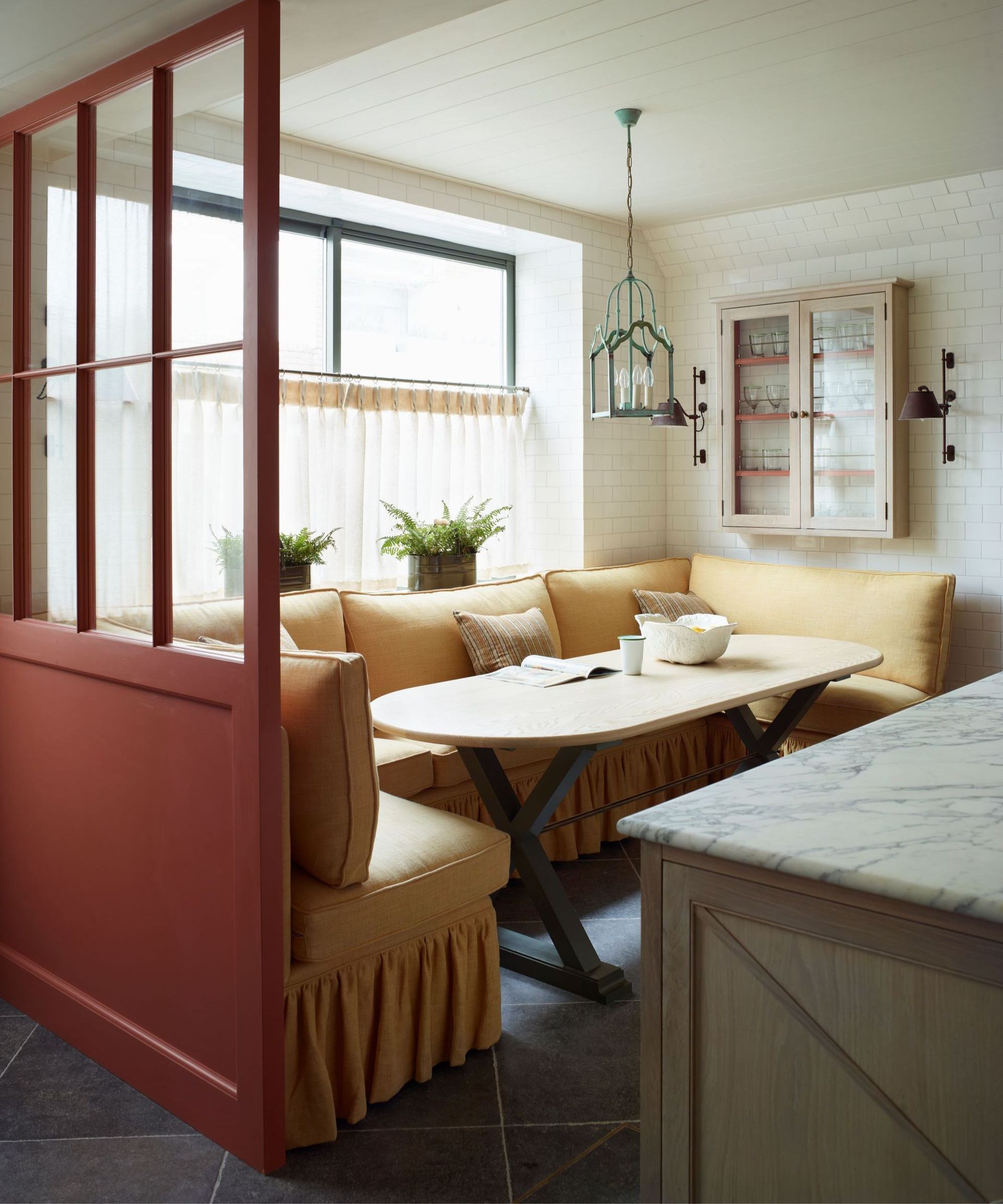 The front door leads straight into the kitchen, so a half glazed wall was designed to create the feel of a separate hallway, dining area and kitchen, giving all spaces more definition. Cafe style curtains and sunshine yellow banquette seating bring a softness to the space to contrast with harder-edged materials
(Image credit: Future / Mary Wadsworth)
Upstairs a glass-framed wall divides the study and the hunting-lodge inspired sitting room with its deep sofas and Navaho artwork and textiles. Cowboy-inspired paintings dotted around raise a smile and add pops of color to the cohesive color scheme of grounded neutrals enlivened with a palette of three shades – red, green and white – repeated on each floor.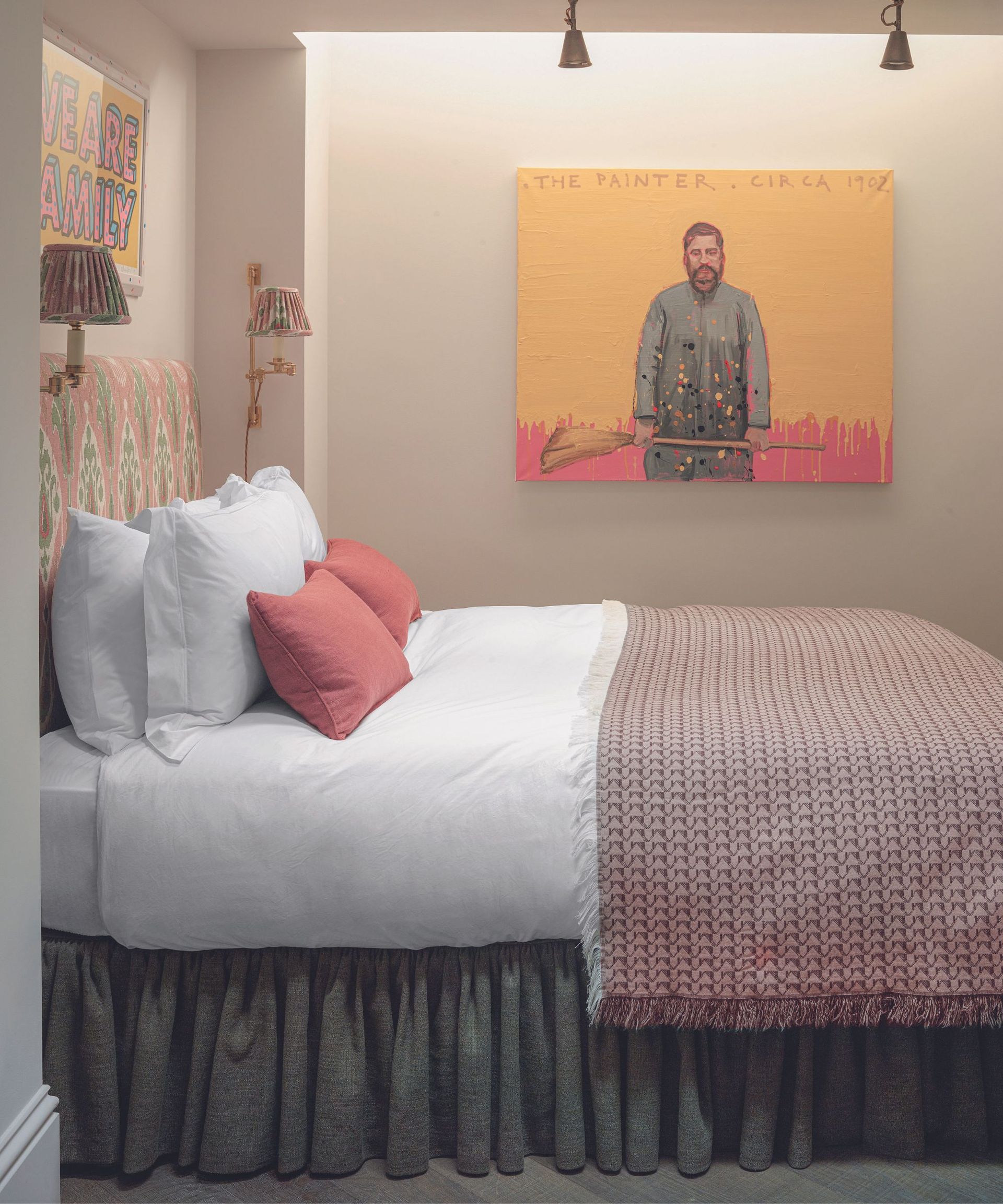 The simple pared-back aesthetic of the walls allows softly patterned fabrics to take centre stage, enlivened by a pop of colorful art. Light from the bathroom filters in via a half glazed door. Colors in both spaces are designed to harmonize – as with the rest of the house
(Image credit: Future / Mary Wadsworth)
The main bedroom at the top is cosseting, wrapped with painted timber walls and decorated with soft, nature-inspired patterned furnishings.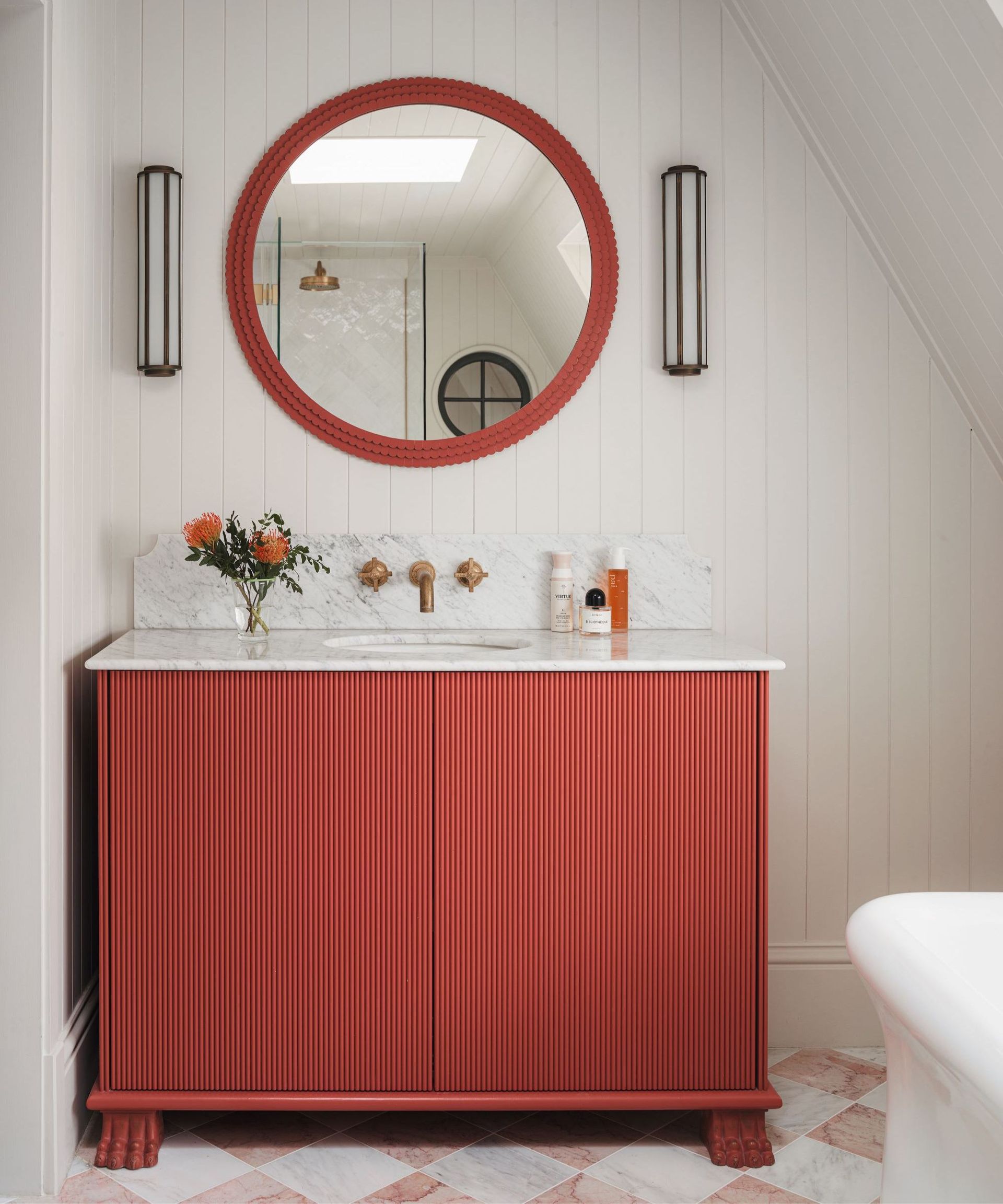 There are a lot of materials happening here: marble, wood, linen and brass, but they are united by clever design that keeps the space feeling fresh. Punchy hits of color enliven the otherwise calm palette throughout the house
(Image credit: Future / Mary Wadsworth)
The framework of the building currently, enhanced with panelled walls, painted timbers, marble clad surfaces, and textured fabrics, couldn't be more of a contrast to its stark beginnings.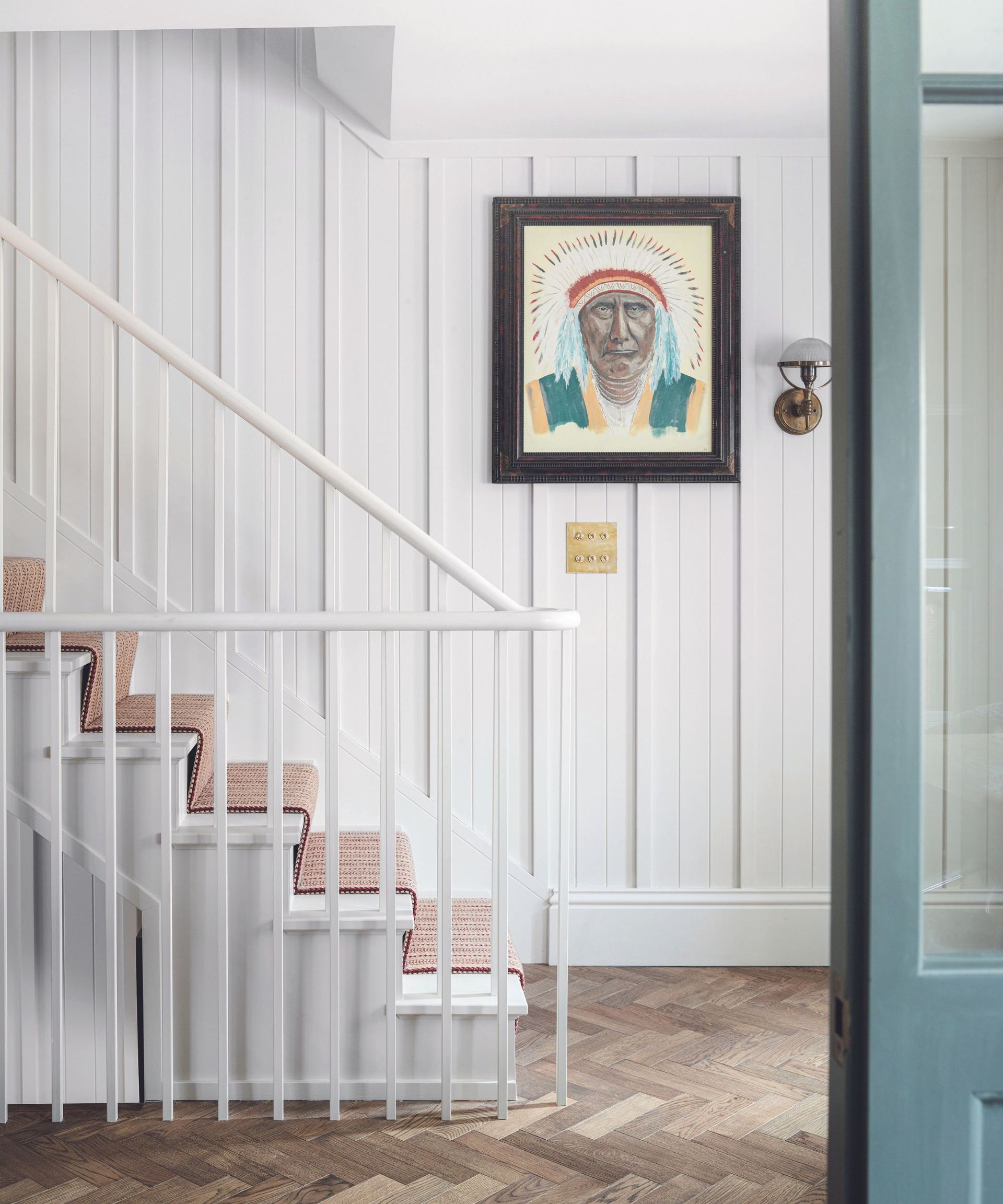 Playful touches add personality and color to the otherwise calm, neutral backdrop
(Image credit: Future / Mary Wadsworth)
Now at weekends the owners look forward to being able to relax, disconnect, nest and hang out. And they have no plans whatsoever to sell up. 
https://www.homesandgardens.com/house-design/worlds-best-homes/london-mews-house-pays-a-homage-to-the-american-west