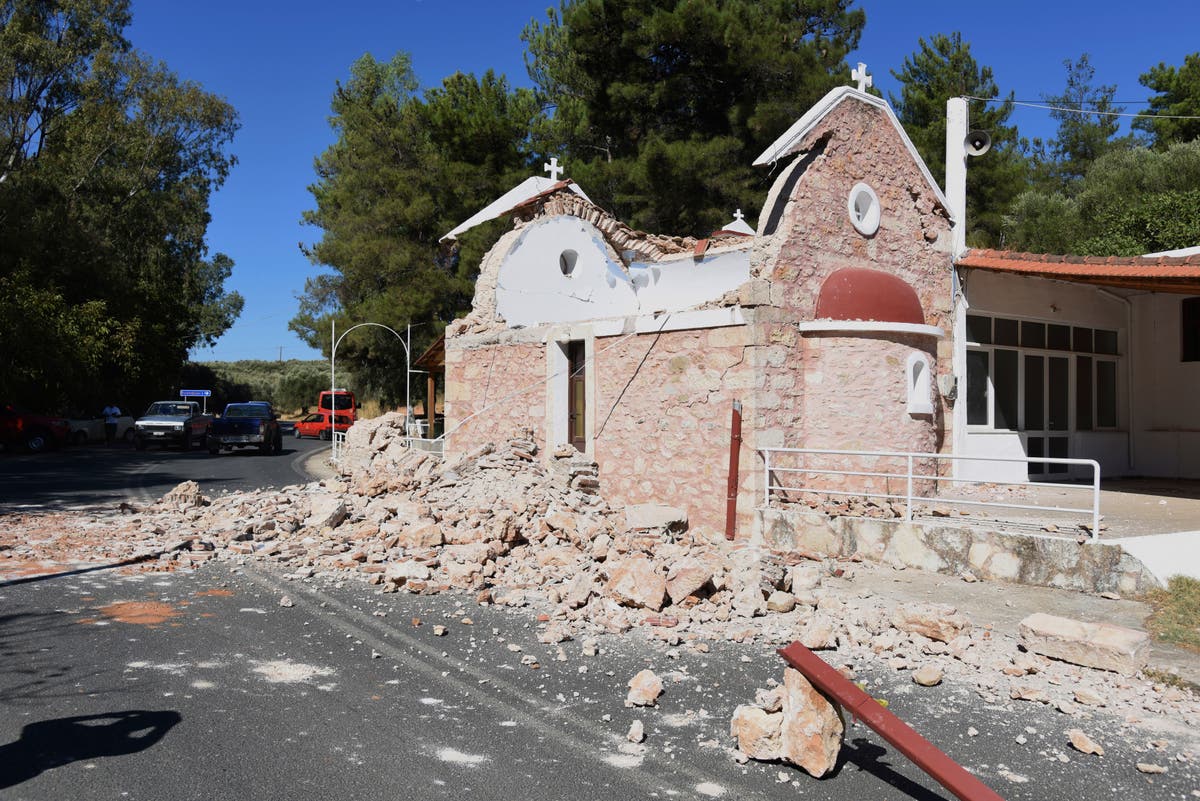 Greek Island of Crete hit by 6.5 magnitude earthquake
One person is dead and at least 20 have been injured in a strong earthquake that struck the Greek island of Crete on Monday morning. Greece's climate crisis and civil protection ministry confirmed the death of a man who had been completing church renovations in the town of Arkalochori, and was crushed when the dome caved in.
The European Mediterranean Seismological Centre reported that a 6.0 magnitude quake struck at 9.17 am with an epicentre 16 miles south south east of the city of Heraklion and a depth of 6.2 miles. At least nine aftershocks have also struck the area, with the strongest one registering a magnitude of 4.6.
Hotels and schools near the epicentre have been evacuated as local media reported that a number of older buildings had suffered structural damage.
Sarah Williams-Long, a doctor at King's Hospital in London who had been staying at the Creta Maris beach resort with her partner and three-year-old son when the earthquake struck, told The Independent that she had been evacuated in case of a second earthquake.
She said: "It was terrifying. Initially there was just a very slight rumble, like waiting for a train underground, but it quickly increased causing the building to shake," adding that many people took shelter under tables before the building was evacuated.
Key Points
Show latest update
1632754915
ICYMI: 'Terrifying' 6.0-magnitude tremor in Crete kills one, several injured
A "terrifying" 6.0-magnitude earthquake struck the Greek island of Crete this morning, killing one person and injuring several others, with at least nine aftershocks also striking the area.
Local authorities reported that a man was crushed when a church dome in the town of Arkalochori collapsed – the building was being renovated when the quake struck.
Our reporter, Celine Wadhera, has the full story below:
Conrad Duncan27 September 2021 16:01
1632753905
No reports of people missing or trapped so far, government official says
There have been no reports so far of people missing or trapped under rubble in Crete, government spokesperson Giannis Oikonomou has said.
Mr Oikonomou's comments came as climate crisis and civil protection minister Christos Stylianides, who has travelled to Crete, said that a state of emergency had been declared in the area.
Local media says hundreds of homes have been damaged, including more than half the houses in Arkalochori.
Conrad Duncan27 September 2021 15:45
1632753248
Crete earthquake: How will it affect my holiday?
If you had been planning a beach getaway to Crete and were wondering how the earthquake might affect your plans, the news is mostly good.
Domestic and international flights into and out of Heraklion airport were unaffected by the quake, and the region's hoteliers association has said that there was no serious damage to any hotels in the area, which includes several popular holiday resorts.
My colleague Lucy Thackray reports.
Celine Wadhera27 September 2021 15:34
1632752108
A stronger quake 'unlikely' to hit Crete, says geophysics professor
Constantinos Papazacohos, a leading professor of geophysics in Athens said that it was "unlikely" that a stronger quake would hit Crete, following Monday morning's 6.0-magnitude tremor.
"It is unlikely that we will see a stronger quake," he told the Skai television network.
"But because this region is riddled with old structures and buildings, it is best for people to stay clear of them as they can come falling down with minor but extensive jolts expected in the next week," he added.
Celine Wadhera27 September 2021 15:15
1632750968
Greece's prime minister sends condolences to family of man who died in earthquake
Greece's prime minister Kyriakos Mitsotakis took to Twitter on Monday afternoon to express his condolences to the man who lost died during the earthquake, and to wish the injured a speedy recovery.
He said: "The entire state mechanism is on alert to assist in dealing with the consequences of the earthquake in Crete.
"I want to express my sincere condolences to the family of our fellow citizen who lost his life and wish a speedy recovery to the injured."
Celine Wadhera27 September 2021 14:56
1632749828
Update: 20 people injured in earthquake
For the first time, hospital officials commented on the injuries that had been sustained during and after the 6.0-magnitude earthquake on Monday morning.
They said that 20 people had been treated for injuries, ten of whom also received first aid.
The climate and crisis civil protection minister, Christos Stylianidis, added that, according to information he had received from the hospitals, none of the injured had sustained serious head wounds.
In a statement, Mr Stylianidis said: "As we receive information from the hospitals we will inform you with written announcements, if necessary."
"According to the first information I have, it seems that they have not suffered craniocerebral injuries."
He added that he was planning to visit those who had been injured in the earthquake, and wished them a speedy recovery.
Celine Wadhera27 September 2021 14:37
1632748688
Footage from supermarket during earthquake
A supermarket's surveillance camera captured the earthquake on video.
In the footage, An employee is visible, stocking shelves before the quake begins. The ground then begins to shake and a single item falls from a shelf. The employee then runs out of the frame, possibly towards an exit, and products continue to fall to the ground from the shelves.
Celine Wadhera27 September 2021 14:18
1632747548
Update: hotel rooms will be made available, alongside 2,500 tents
Earlier today, Christos Stylianides, the climate crisis and civil protection minister, told a media briefing that hotel rooms could potentially be provided for those who were unable to stay in their houses overnight, due to structural damage caused by the quake.
A civil protection official has since confirmed that hotel rooms will be made available for those requiring an overnight stay outside of their homes.
The number of tents available has also been increased, from the 300 reported by local officials earlier, to 2,500.
Celine Wadhera27 September 2021 13:59
1632746408
Fault ruptured by Crete quake previously unmapped
According to a seismological map, the fault that ruptured and caused today's earthquake was previously unmapped.
Dr Stephen Hicks, a seismologist from Imperial College London shared a map (created by Caputo et al.) on Twitter and noted that the fault that caused today's quake lies between two prominent zones, the Kastell and E. Psiloritis.
He added in a subsequent tweet that Monday's earthquake was the largest to have struck on-land Crete since a magnitude-6.1 quake struck the island in 1959.
Celine Wadhera27 September 2021 13:40
1632745268
All relevant ministries mobilised after earthquake
All relevant ministries have been mobilised after an earthquake struck the island of Crete this morning, a government spokesperson has said.
Yannis Economou told a press briefing: "From the first moment, there was a mobilisation of all the ministries involved and communication with local authorities in Crete.
"Unfortunately, we were informed about the loss of a fellow citizen. It seems that so far we do not have any citizens trapped.
"Those who were trapped and rescued have been taken to hospital," he said, adding that the health authorities were dealing with any injuries.
"Units of the Infrastructure Ministry have already started the inspections and if necessary, additional forces will depart for Crete. The whole state mechanism is on alert.
"All relevant ministries will act within their remit to assist local authorities and help repair the damage."
Mr Economou added that the government would continue to monitor all seismic activity.
Celine Wadhera27 September 2021 13:21
https://www.independent.co.uk/news/world/europe/crete-earthquake-live-today-greece-updates-b1927526.html