Show Fullscreen
Pupils from a West London school were given a glimpse of what a job in construction could look like last week as Build UK previewed its 2024 Open Doors event at a Kier site in Hammersmith.
Teenagers fitted with hardhats, boots and hi-vis jackets were given a guided tour of a half-built life sciences block and met young apprentices who had recently launched their careers in the industry.
Open Doors, now in its 11th year, is a Build UK programme which invites members of the public and young people from schools to visit sites across the UK to see the range of construction roles available and dispel myths about working in the sector.
In last week's launch event, pupils studying design technology at Fulham Cross Academy, a specialist STEM school in Fulham, were invited to tour Kier's Refinery development at ARC West London.
The scheme, which is being built for science and innovation developer Advanced Research Clusters (ARC), is a refurbishment of an existing building and has required substantial structural interventions to raise ceiling heights and strengthen columns to ensure the building can be used for laboratory space.
Show Fullscreen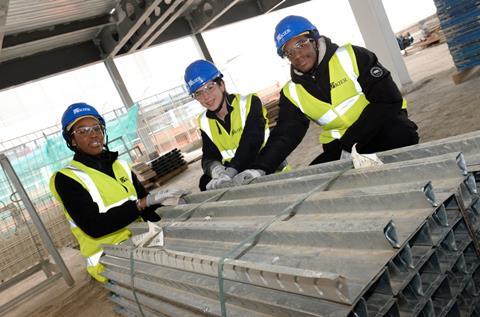 The tour group was first taken to the ground floor where they met Alexis Ezekiel-Hart and Teopista Nakitende, who are both working on a Kier degree apprenticeship.
Alexis had been weighing up two options for her career, either working as a mechanical engineer for Formula 1 or going into construction management. 
She chose the latter after speaking to a Kier site manager who had been working on a team refurbishing her school canteen last year. 
Show Fullscreen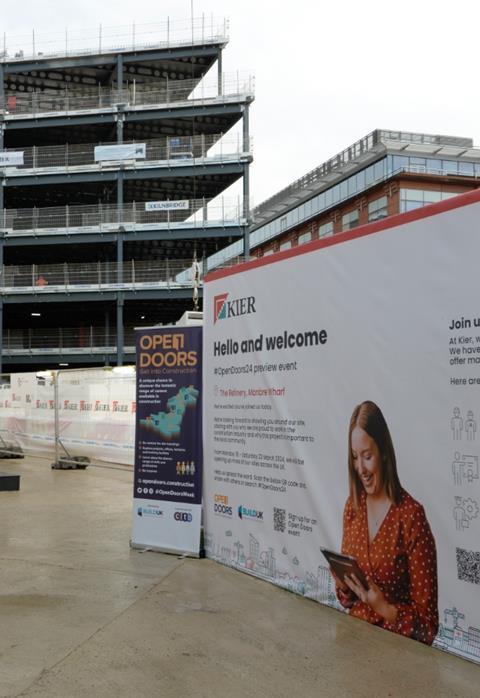 "It fuelled my passion to see what Kier was all about and that's why I decided to do a degree apprenticeship," she said.
"No day is ever the same when you're working in construction," said Alexis, who started with Kier in September. "It has helped me learn a lot of practical skills in the last two months, and I can tell you now, if my dad needs a wardrobe to build, I'm the one to call".
Teopista knew she loved construction but chose to study engineering at university as she thought that was the only field which combined her two strongest subjects, maths and design.
>> Also read: skills & education coverage for the Building the Future Commission
After her course was interrupted by the pandemic, she took a year out and got a job as a site administrator with Kier on the Refinery site. She quickly realised this role was better suited to herself as she found it more collaborative than engineering, and started a construction management apprenticeship with Kier.
The job involves coordinating site operatives, making sure everyone is up to scratch with health and safety and explaining site risks.
"Construction doesn't mean just being on site. There are many other roles so just do take the time to work out what might suit you best," she said.
Pupils were then shown into a site hoist and whisked up to the top floor where they met Daniel O'Connor, an apprentice quantity surveyor who had been looking at either a career in construction or finance.
I took the traditional route of doing A-levels in biology, geography and PE and wasn't sure what I wanted to do in the future, so I explored apprenticeships
Daniel O'Connor, apprentice quantity surveyor
"I took the traditional route of doing A-levels in biology, geography and PE and wasn't completely sure what I wanted to do in the future, so I explored apprenticeships".
After completing a two-week placement with Kier he applied for a degree apprenticeship as a QS. "I haven't looked back," he said. "I've been really enjoying it. Everyone here's been really nice and really welcoming".
Kier corporate affairs director Sophie Timms said the response to apprenticeships has been so positive because they provide practical training at the same time as learning theory, while paying a competitive salary.
This contrasts with traditional degrees which often focus on theory, while plunging students into huge debt and leaving them without the practical skills needed in their jobs after graduating.
Apprenticeships and events like Open Doors also play a role in showing young people what a career in the construction industry is really like, Timms said.
"To be honest I don't think people have much real understanding of construction, it's obviously not curriculum-based so any perception is probably driven by the media," she said.
One student who Kier had spoken to had been unsure about a job in the industry, even though he father was a site manager. 
"His dad had worked in the industry all his life but the passion hadn't spilled over to his son. But after his son came in and we talked about all the roles on offer he went away saying he also wanted to follow in his father's footsteps."
Another student had started a two-year apprenticeship with Kier after realising she did not enjoy her job as a hairdresser.
Show Fullscreen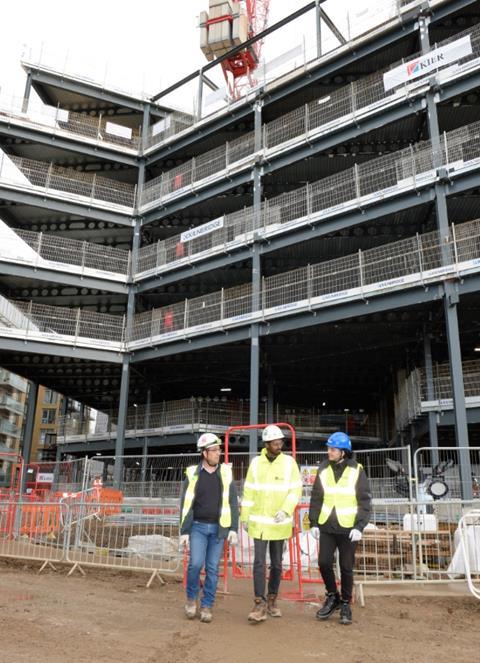 She then moved on to a construction management degree at Sheffield Hallam University, a three-year course run by Kier which sees students work for the firm and earn a salary while studying.
She is now a site manager and "hasn't looked back," said Timms. "But the majority of people, they've heard about going into banking, into professional services but the careers conversation tends not to focus on construction".
Kier, which currently has nearly 650 apprentices at the firm, around 6% of its workforce, also sees a high level of retention after the apprenticeships finish as people feel they are "invested" in the role, Timms said.
Nathan Cardwell, a teacher at Fulham Cross Academy, said the school wanted pupils to understand the range of jobs in construction and the multiple pathways into the industry.
"Generally students think there's only one way into construction, there's only maybe five different jobs, but there's such a broad scope of opportunities and training, and construction is more than just the actual on site work itself, there's a lot more to it," he said.
"Unfortunately the focus of education itself is if you can't do maths or English you focus on construction, but the focus should be on that it's a very important job for our society.
"So I think students are having that sort of mindset change about it and seeing that it's actually a really brilliant job."
Building is the media partner for Open Doors
https://www.building.co.uk/news/pupils-tour-kier-built-life-sciences-block-as-open-doors-2024-launches/5126315.article