There are piles of photographs dotted all around James Barnor's modest west London retirement flat: on bookshelves, in drawers, behind his radio, too. Negatives and contact sheets are laid out on the window sill; bigger prints are stored somewhere beyond his front door, in a cupboard into which he keeps disappearing. "If we're going to do this," he'd said after greeting me, followed by a long, deep laugh, "we have to do it properly. Get comfortable – I don't want us to miss anything." And we don't, not that I've got any complaints: I've barely noticed the light outside fading.
It's now late afternoon on a grey October Monday – the 94-year-old firmly into leading his fourth hour of free-flowing, life-spanning conversation. Sitting squarely opposite me, barefoot in his bright green patterned shirt and copper three-quarter lengths, Barnor is holding court in a way that few can: with charm, charisma, some cheekiness, and a never-ending reserve of fascinating stories. For what must be the 20th time this afternoon, he's jumping up from where we're sitting with boundless energy to grab another print from somewhere behind me. Being a photographer whose work covers almost eight decades, he has quite the back catalogue to pick from. "I did mean it," he says, beaming, while settling back down, "when I said I had a photograph for everything. I need you to look at this picture I took of Muhammad Ali in the 1960s…"
'I can look at each picture even now and work out where I was': a shop assistant on Station Road, Accra, 1971. Photograph: James Barnor/Courtesy of Galerie Clémentine de la Féronnière
There's a computer on one of his two sitting room desks. On it, Barnor has recently – with the help of his Paris-based manager – started the mammoth task of digitally archiving his sprawling collection of pictures. Images taken in Ghana, where he was born and raised, and England, from the 1940s to today: lifestyle, politics, fashion; commercial and editorial. "The software was only downloaded last week," he explains, "I might be 90-something, but I can do this digital whatever." Much of the physical archive has been taken to France to be processed. Barnor, from the comfort of his chair, can slowly work through identifying each picture. "It's strange. My manager is French. They colonised my continent, and took all our gold. Now I've sent them my treasures!" It's a major task to undertake, but for Barnor it is thrilling. "To archive my work like this? It makes me a different class of photographer. And the fact I can look at each picture even now and work out where I was? The story behind it? It might take some thinking, but it's all up there." He taps his temple. "It's just one reason why they call me Lucky Jim."
I had a dark room to develop pictures, and it's also where I slept
Barnor counts himself a lucky man, with anecdotes to back this up across continents and decades. His latest bout of good fortune, he believes, has been one of the greatest yet: despite his long and illustrious career, it's only fairly recently his work has achieved more widespread recognition. A recent major retrospective at London's Serpentine Gallery has been followed by exhibitions in Switzerland, the US, and, later this month, Antwerp. Multiple books have come out in the past few years to celebrate his pictures. The latest, published by Thames & Hudson, is the reason for our meeting. His work can be found in the Tate's and Victoria and Albert Museum's permanent collections. His newfound fans include the likes of Anthony Vaccarello, creative director of Yves Saint Laurent and the Swiss art curator and critic, Hans Ulrich Obrist.
Barnor met Naomi Campbell at his exhibition at the Nubuke Foundation gallery in Accra. "James is a beautiful, creative and humble man," Campbell tells me, "his groundbreaking work as a photojournalist and Black lifestyle photographer spans 60 years. As well as capturing social and political changes, his timeless images seem to capture the very soul of his subjects. He reminds us that African history is just as significant as that of Europe or anywhere else." American photographer Tyler Mitchell agrees. "James Barnor's work has greatly inspired my own," he says. "In a conversation we had he called himself the 'bridge' of the medium of photography between the older and the newer generation. That is to say, Barnor is one of the pioneers of how we today understand contemporary photography." They're two of many to offer him the highest of praises.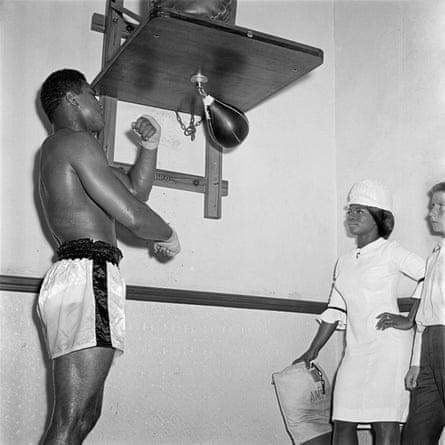 'I need you to look at this picture': Muhammad Ali in London, 1966. Photograph: James Barnor
Well into his 70s, however, Barnor was to most something of an unknown entity. When he moved to London from the Ghanaian capital in 1994, his future looked very different. "I was already 65 when I came to London," he says, "just hoping to be able to make ends meet. Things weren't going right for me in Ghana." Despite having had a long, fairly successful career in photography, the prospect of spending his later years in Accra seemed difficult. "I had nothing to show for anything I'd done, and the economy was going down in Ghana. On arriving, he lived with friends for a while. In 1996, he moved into the flat he still lives in today.
Despite being at retirement age when arriving in London, finding work wasn't a choice, but a question of survival. "So I started as a cleaner. A friend of mine taught me the ropes. I started off in a college in Richmond, and then mostly worked at Heathrow, in Terminal 3." There's not a corner of that place he doesn't still know intimately. "Nobody knew about my work," he says, "and I had to forget about it, too. To dwell on it would have made me so frustrated. Plus, I was just grateful to have somewhere to sleep. But still, I kept taking photos for myself. Of the people who worked at the airport. Occasionally at a dance or a party." Briefly, it seemed he might set up shop processing film in a nearby unit, but that came to nothing. "I went back to cleaning," he says, "but eventually I wanted to try to do something with my photography."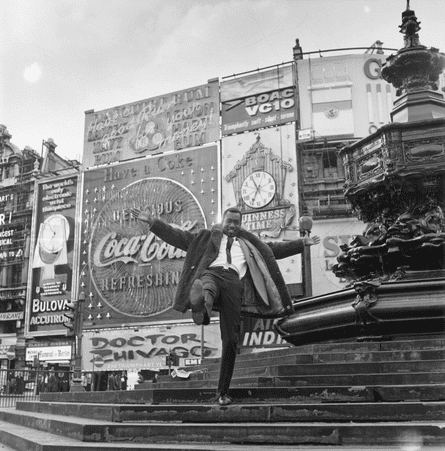 'My first exhibition in Accra felt really special': BBC radio's Mike Eghan at Piccadilly Circus, London, 1967. Photograph: James Barnor/Courtesy of Galerie Clémentine de la Féronnière
Barnor started to hustle. In 2004, to celebrate his 75th birthday, he organised a small exhibition of his work in nearby Feltham in conjunction with Hounslow Older People's Services. A trip to the Ghanaian embassy paid off – the high commissioner attended, which helped generate a bit of press attention. "Some reporting on it went on Google," he says, proudly. "It was the start of people coming to see me and my work. I then went to Toronto to do a show after I told them that if they could accommodate me, I'd go and help them make an exhibition." With a body of work to back it up, his tenacity, charm and that Barnor luck began to deliver. "In 2007, we celebrated Ghana's 50th anniversary of independence. The Black Cultural Archives asked to do an exhibition of my work to celebrate." It was his first major solo show. "From there, we had a big exhibition at a university in America. Then Cape Town. The Midlands. Then a man from Ghana came to meet me here, in this flat, and put on my first exhibition back in Accra. That one felt really special."
Barnor was born in Accra in 1929. Aged 16, he picked up his first camera. "It was a gift from a crafts teacher of mine," he says, "a Kodak Baby Brownie". He points to a shelf, proudly displaying it. For a while, young Barnor imagined he'd become a teacher, too. "But my father couldn't pay my school fees as I got older, so I couldn't attend secondary school. Instead, I did an apprenticeship under various cousins of mine. One, JP Dodoo, was a portrait photographer. Another, Julius Atkins, taught me about darkrooms and developing film." With that, Barnor is up, again, rummaging through a pile of books to dig out family photos.
Newly confident with his own camera, Barnor traversed the streets of Accra to shoot: portraiture, street photography, celebratory gatherings. In the early 1950s, he opened a modest studio in the Jamestown area, a fishing port. "It was called Ever Young: this tiny space. I had a dark room to develop pictures, and it's also where I slept." It became a social and community space, where music always played. Here, his portraits captured Ghanaian society in a state of total transition.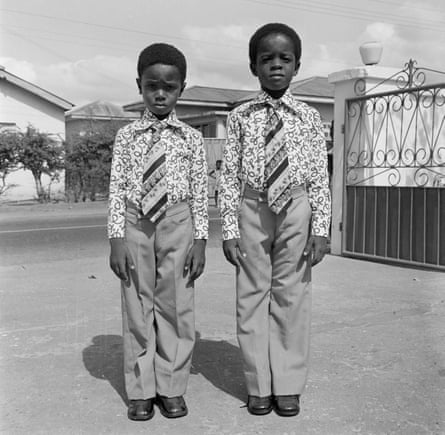 'I kept taking photographs for myself': kids dressed in identical suits, Accra, 1970s. Photograph: James Barnor/Courtesy of Galerie Clémentine de la Féronnière
With this base, he built up a varied freelance career, one of the country's first homegrown photojournalists. His work documented the country as it freed itself from British colonial rule, the first African nation to do so: from the Ghanaian capital, he captured political and social upheaval. Working for a local newspaper – the Daily Graphic, and then a photo agency called Black Star, too, he witnessed the independence movement growing. "In 1951, I photographed Kwame Nkrumah being released from prison." A member of the newly formed Convention People's party, he'd been elected to government while incarcerated for civil disobedience. In 1957, when Ghana became an independent state, Nkrumah was sworn in as its first prime minister and president. Barnor saw this change first hand. "And I was learning on the job. During independence, the world's press descended on Ghana. I saw all these photographers with their huge cameras and wanted to learn more. So two years later, I headed to England wanting to study."
He arrived in London in a wintry December, 1959. He found lodging in Peckham with a Jamaican man. At night, he worked in a factory that made rubber parts for machinery. "I'm Lucky Jim," he says, "I didn't see much of the trouble that might have affected Black people. I started to study at the London College of Printing." Soon, he decided to move to Kent, where he enrolled at Medway College of Art and worked in colour-processing laboratories. Once settled, his wife and a child came to join him.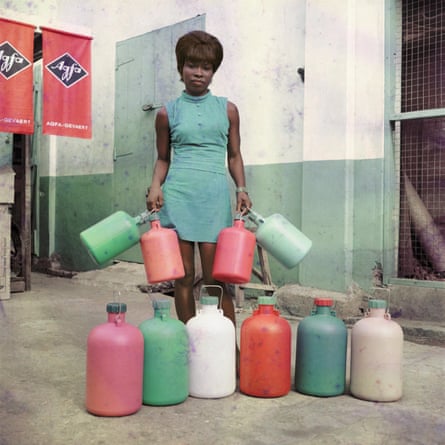 'I was learning on the job': a shop assistant in Accra, circa 1971. Photograph: James Barnor/Courtesy of Galerie Clémentine de la Féronnière
Back in Ghana, he'd started to work with Drum Magazine: the South African, anti-apartheid and Black lifestyle and political publication which had international distribution. From England, he shot fashion covers with Black models, celebrity portraits, and London's African diaspora communities – the Black British swinging 60s. In 1969, he headed back to Ghana, where he spent the next 25 or so years working. He introduced colour-processing techniques to the country, before opening his own studio once more. He's credited as being the first person to shoot Ghana in full colour. In the 1980s, he worked as a photographer for the US embassy, before relocating to London.
Out in the corridor, against its white walls, Barnor has set up an impromptu exhibition for me. As we stand and look, I ask how it feels to – at last – be getting his flowers. There's a vast smile on his face; his eyes really look to be twinkling. "I carried all my work with me wherever I went," he says, gesturing around. "I've never had a house of my own, not here or in Ghana. So, I've lost quite a lot of it on the way. I never had an archive, I just kept my negatives. I thank God for all of it – and I feel very proud," he continues. "Now I'm getting not just recognition, but a chance to mentor the next generation. I've now got a foundation in my name to celebrate and support emerging photographers from across Africa."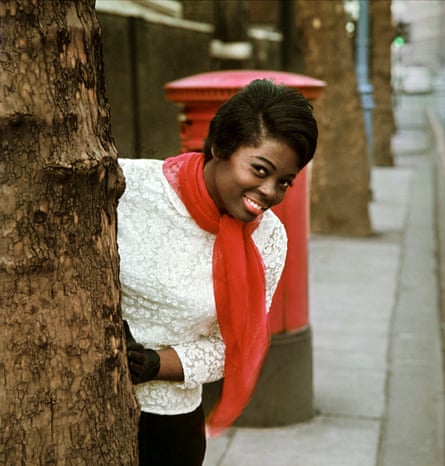 Life in full colour: portrait of Rosemarie for Drum magazine cover on June 1967. Photograph: James Barnor/Courtesy of Galerie Clémentine de la Féronnière
"This is what keeps me going," he says. "I really should have taken Co-codamol [a painkiller] since you got here, but I've not needed to since you arrived. I could keep going all night. My carer forces me to eat: I don't get pleasure from it. But when it comes to talking to you? To mentoring and showing my photographs? That's what pleasure is to me."
There's one last picture he wants me to look at, this time in a WhatsApp chat on his phone. In it, Barnor is standing in this same corridor surrounded by a group of smiling faces. "This is John Mahama," says Barnor, "a past president of Ghana. He came here, to this room, to meet me. Just like you. I signed a copy of the book for him. So, you ask me how I feel about all this? I don't have the words. How could I? I barely got a secondary education. I used to sleep on the floor as a child, as an old man I was a cleaner. Today, I'm doing this interview. Tomorrow, something else wonderful will happen. Like I told you at the start – it's why they call me Lucky Jim."
James Barnor, part of the Photofile series, is published by Thames & Hudson. His exhibition, James Barnor, Studio of Life, opens at FOMU, Antwerp, on 27 October
(fomu.be)
https://www.theguardian.com/artanddesign/2023/oct/22/they-call-me-lucky-jim-ghanaian-photographer-james-barnor-at-94