Britain's system of allocating driving tests is in disarray in many parts of the country as learner drivers are forced to travel hundreds of miles for their tests or pay unofficial brokers up to £400 to avoid the queues, reveals an Observer investigation.
The number of drivers waiting to take their practical tests climbed above 500,000 this year, rising from 147,716 in January 2020 to 538,702 in August.
Brokers are exploiting the frantic hunt for tests by using software applications known as bots to book available slots on the government website the moment they become available – which they then sell at a hefty profit.
Driving instructors are calling for a ban on excessive profits from the reselling of tests. They say low-paid workers who need their driving licences are being unfairly penalised.
Driving test waiting list graphic
An Observer investigation found:
Brokers, operating like ticket touts, are inviting bids from driving schools for available test slots for their students, with prices of up to £400.
One broker with a registered business address at a terraced house in east London claims to offer better availability for fast-track slots than the government website.
Some students in London and the home counties travel to Devon and west Wales to take their driving test rather than pay inflated prices to scalpers.
Don Harris, 70, a driving instructor in Hastings, East Sussex, said: "'Bots book tests faster than our pupils. Jobs are being lost because people can't book the tests. It's an absolute mess."
More than 1.7m practical driving tests are typically carried out each year by the Driver and Vehicle Standards Agency (DVSA) in England, Scotland and Wales, but an increase in demand, industrial action and lack of public confidence in the system has increased waiting times. A driving test booked on the government website costs £62 on weekdays and £75 on evenings, weekends and bank holidays.
Bots buy up available slots in what has been described by DVSA officials as a "black economy". A provisional licence number and candidate name is required to book a test but this can be changed once the slot is sold at a profit. Some of the brokers use business accounts that are intended for instructors to book multiple slots for students.
Margaret, 35, who works in the NHS and is from north London, said she paid just under £500 for a test in May, including use of an instructor's car, and about £400 for a second test after she failed the first. "It's unfair," she said. "I can't tell you what it feels like to pay nearly £500 for a 45-minute test and then fail it. Learning to drive is very expensive, and I know people who had to give up because of the costs."
One website, FDT (Fast Track Driving Test) Booking, with a registered business address at a terraced house in Ilford, east London, claims it can "secure an early driving test" and "avoid the long waiting times". It offers test slots for up to £175 at various centres, including in St Albans, Bedford and Bromley, south-east London.
The website Driving Test Exchange offers to secure a test within two months for a fee of £255, which includes the official price of the test. Some brokers insist they are charging fair administration fees for the time required to find the best slots.
Brokers also target instructors, effectively auctioning slots on WhatsApp groups targeted at driving schools. One office manager at a leading London driving school said slots were typically offered at between £300 and £400.
There are several test centres across Britain where the waits are longer than five months, with learner drivers often finding there are no available slots to book. Centres in London and the home counties, Bristol, Manchester, Leicester, Leeds and Glasgow are among the places with the longest waits, according to figures released under freedom of information laws.
Graham Beisly, 66, the founder and owner of Beez Driving School in Reading, who is moving to Cardigan, west Wales, said: "I've taken three people to west Wales, which is a 500-mile trip, because you can get a test in six weeks. You cannot even get on a waiting list to get a test in Reading.
"It's the worst I've seen in 40 years. The system is not fit for purpose. If this was a business, they would be bust."
Thousands of learner drivers click on the official booking website at 6am each Monday, when it is widely claimed more tests are released, booking any available test they can find that can later be swapped on the official website or on forums on Facebook and other social media. There are also apps that can be purchased, typically for between £10 and £20, that trawl the government website for cancellations.
'I set an alarm early to check for slots. It was like trying to get a concert ticket': Ben Kinkaid. Photograph: Andy Hall/The Observer
Ben Kinkaid, 27, a marketing manager from Greenwich, London, booked a driving test for December in Barnstaple, north Devon, near where his parents live, because of the lack of available tests in London. "There were times that I would set an alarm early Monday morning to check for slots," he said. "It was like trying to get a concert ticket."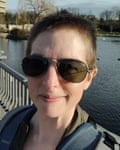 Anne Corwin, 39, a radiographer in the NHS, says it was an 'absolute nightmare' to book a test.
Anne Corwin, 39, a radiographer from Weybridge, has a two-year-old daughter and was keen to get her driving test but said finding an available slot was an "absolute nightmare. I booked one in Liverpool just to get on the system." She passed her test in June after successfully swapping a slot for one near her home.
Camilla Benitz, managing director of AA Driving School, which has more than 3,000 qualified driving instructors, said: "There are not enough tests to meet the demand, and it's created this whole new industry." AA Driving School is calling for the DVSA to publish waiting times at each centre.
Loveday Ryder, DVSA chief executive, said: "We are taking all the measures we can to reduce driving test waiting times, including recruiting almost 500 examiners. DVSA is committed to tackling the reselling of tests at profit, and we have zero tolerance for those who exploit learners.
"We have changed the rules to help prevent anyone from selling tests at profit, deploying new bot protection to stop automated systems from buying up tests unfairly, and we will remove the accounts of those who break the rules."
The DVSA says that in the last six months it has "issued 141 warnings, made 113 suspensions and closed 194 businesses" for misuse of its business service. It said the numbers of learner drivers waiting to take booked tests increased because the agency had extended the test booking window to 24 weeks and created additional tests.
FDT Booking and Driving Test Exchange did not respond to a request for comment.
https://www.theguardian.com/uk-news/2023/sep/03/an-absolute-mess-learner-drivers-forced-to-buy-tests-on-black-market-as-companies-block-book-slots