THG, the London-listed online health and beauty retailer, is in advanced talks to buy City AM, the London-based business newspaper which is teetering on the brink of administration.
Sky News has learnt that THG, which owns brands such as Cult Beauty and Look Fantastic, is negotiating the purchase of City AM with BDO, the accountancy firm which is on standby to handle its insolvency.
The move from the Manchester-based company could be announced as soon as Wednesday afternoon, according to City sources.
They cautioned, however, that it could yet be delayed.
One insider said THG was expected to pay "a small seven-figure sum" for City AM's assets including its brand and website.
It has also agreed to meet July's payroll obligations for the roughly 40 staff who work there, they added.
The emergence of THG as the likely buyer of a freesheet newspaper that has become a fixture on London's streets over the last 18 years will surprise the City.
People close to the company said, however, that the acquisition of City AM would provide THG with a series of commercial opportunities, while at the same time underlining the shifting boundaries of traditional media ownership.
Among the most significant motivations for the deal is said to be the opportunity to give clients of THG's Ingenuity digital brand-building and e-commerce platform – which include consumer goods giants Coca-Cola, Kraft Heinz, Mondelez and Nestle – greater access to a financially literate audience in the form of City AM's readership.
One insider said the deal would deepen Ingenuity's relationships with major media buying agencies such as GroupM, which is part of WPP Group, as well as content syndication relationships with companies such as Alphabet's Google arm and the financial data and media powerhouse Bloomberg.
THG is understood to have examined a string of opportunities to acquire titles in recent years to expand its content and audience reach but had been deterred by inflated prices.
A media analyst drew parallels on Wednesday morning between THG's evolving strategy and that of Future, the London-listed media company which owns The Week magazine and the price comparison website GoCo.
THG is already understood to boast a monthly readership of 600,000 people across its nutrition and beauty digital magazine titles, which include The Supplement and The Highlight.
These figures dwarf the circulation of many long-standing magazine titles, such as GQ, one person close to THG pointed out.
Run by Matt Moulding, its co-founder and chief executive, THG also plans to overhaul City AM's technology interface with readers by launching an app for the title, which is published in print four days every week.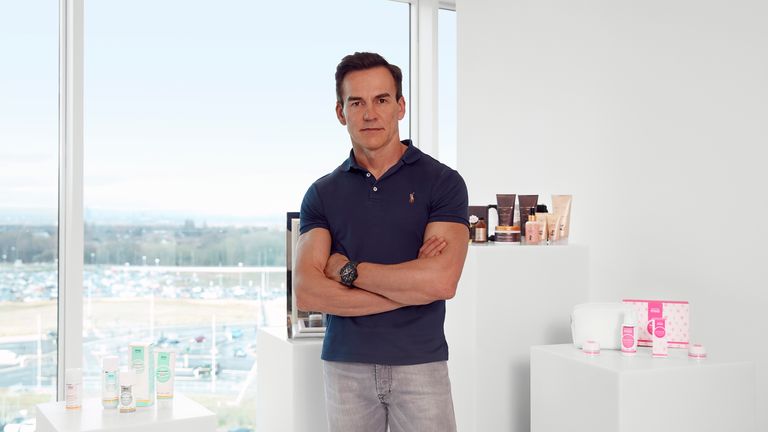 Image:
Matthew Moulding. Pic: THG

The insider said that 16 million customers had downloaded the Myprotein app, one of THG's fully owned brands.
THG's board also contains other media ownership experience, including Lord Allen, the former ITV chief executive, who is the company's chairman.
It plans to continue printing City AM, which is distributed at hundreds of commuter hubs across London and the home counties.
If completed, the deal is also expected to support the expansion of THG Experiences, which operates Ingenuity's Future of Commerce event and the Lookfantastic Beauty awards by aligning them with a number of events run by City AM.
Among the questions THG is likely to face if it proceeds with the deal is whether the newspaper title risks being turned into a commercial mouthpiece.
Mr Moulding has endured a fractious relationship with some investors and parts of the financial media since floating the company in 2020, and has repeatedly spoken of his regret at taking the company public.
An insider insisted, however, that the newspaper would continue to operate with editorial independence.
Sky News revealed on Tuesday that City AM was close to calling in administrators after a weeks-long search for a buyer had failed to produce a solvent deal.
A pre-pack sale – in which administrators are appointed to a company prior to an immediate sale of some of its assets – is now said to be the only viable option for securing the title's future.
City AM has a daily print run of 70,000 and an audited circulation of just over 67,000.
It is 50%-owned by a group of Dutch investors, with 25% stakes held by Lawson Muncaster, managing director, and chief executive Jens Torpe.
Announcing the search for a buyer at the start of this month, Mr Muncaster said: "As London continues to bounce back from the pandemic, the time has come to think about the next chapter of City AM's story.
"As a local paper at the heart of the financial universe, the brand is perfectly positioned to expand into new areas and develop new revenue streams that take advantage of the new media landscape."
City AM says its website has up to two million monthly unique visitors, while its latest circulation figure is only 10,000 lower than pre-pandemic figures.
Edited by Andy Silvester – a former public relations executive at The Sun who joined in September 2019 – the newspaper ceased publishing its Friday edition in January, as a consequence of shifting commuter habits after the pandemic.
THG declined to comment, while BDO has been contacted for comment.
City AM's appointment of insolvency practitioners and immediate sale will come as The Daily Telegraph, its Sunday sister and The Spectator prepare to be put up for sale by receivers who were called in by Lloyds Banking Group last month.
Note: Mark Kleinman is a paid columnist for City AM
https://news.sky.com/story/online-beauty-retailer-thg-in-surprise-swoop-for-city-am-12927554