Work to rebuild homes destroyed by fire has finally begun a year after flames ripped through pockets of an east London village amid record-breaking temperatures.
But 12 months on, Shaign Turner's parcel of land in Wennington remains a flattened, weed-covered building plot surrounded by barriers.
"When I say we lost everything, I mean, we lost everything," he said.
Image:
Shaign Turner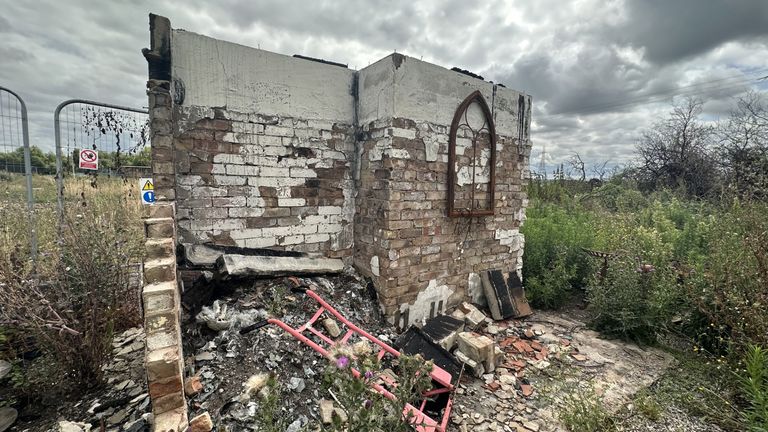 Image:
Where Mr Turner's home once stood

"My partner, when she left the house, she took a cat in a basket and that was it… barefoot and literally left everything else behind.
"In her head, she thought we were coming back to that house that night."
The fire tore through 17 homes in Wennington on 19 July last year.
It was the day a new record was to be set for the hottest temperature ever in the UK with 40.3C (104.5F) reached at Coningsby in Lincolnshire.
The ground was tinder dry and a major incident was declared in London as firefighters dealt with a surge in blazes across the capital.



2:46

Sky's Data and Forensics team investigates what happened.



2:02

July 2022: Homes still smouldering after heatwave fires
Mr Turner and his partner had lived in their semi-detached house for 20 years.
Now, next door, on the plot of what was the adjoining property, a hydraulic breaker is being used by builders to clear the land.
"As you can see… literally a year to the day after the fire, they're breaking ground," he said.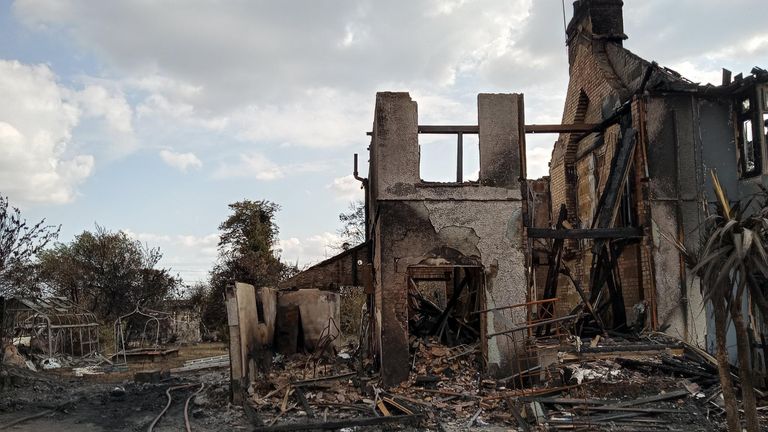 Image:
The aftermath of the fire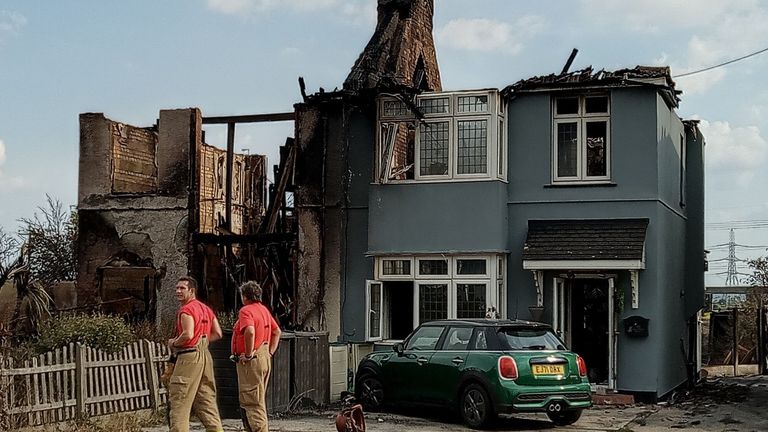 Image:
What remained of Mr Turner's house (L)

"Most people have now got planning permission. I've got my planning permission.
"I'm currently in the process of the building control drawings element, and they then have to come back to you with any questions and comments they've got to make on that.
"The problem is there are protocols and processes that have to be gone through… as if you were a developer applying for a new development on this land.
"I don't know whether in future if situations like this arise, things can be done to expedite that a bit more quickly for the people that have lost their homes."



22:47

The Climate Show with Tom Heap
Read more:
Images show rubble as cordon lifted
UK's hottest-ever day leaves charred remains of homes and cars
Homes burn on Britain's hottest day
On the eve of the one-year anniversary, a call came from the insurance company with a settlement offer.
It moves them one step closer to rebuilding, but it can never be the same.
"We loved our home… It wasn't just a house," he said.
https://news.sky.com/story/wennington-fire-work-to-rebuild-homes-begins-a-year-after-blaze-but-not-for-everyone-12923665