12 June 2023, 11:25 | Updated: 12 June 2023, 11:42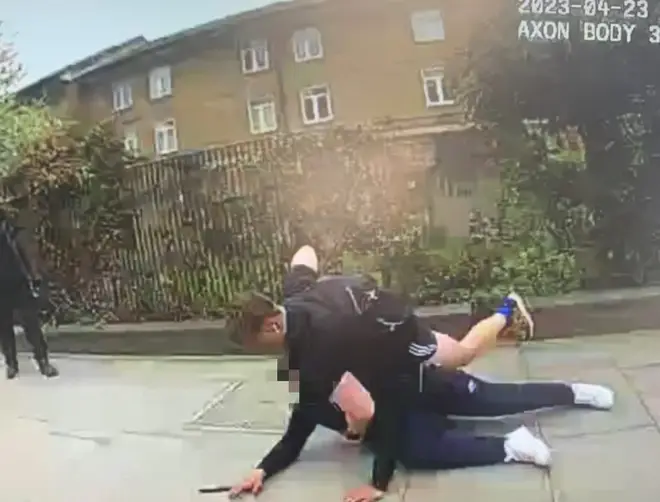 PC Fox detains the youth in the street in east London.

Picture:
Metropolitan Police
This is the moment an off-duty police officer tackled a knife-wielding youth who was about to start stealing people's phones in east London.
PC Nick Fox confronted two youths at 9am on Sunday April 23 in Kingsland Road, Hackney after he spotted them 'acting suspiciously' fearing they might be about to try and steal people's phones.
When PC Fox shouted at the youths, one of them brandished a knife at him. He contacted local police CCTV officers, the Met's Robbery Taskforce and Response units.
He followed the youths, who appeared to be about to pounce on a lone female victim, shouting again to warn the victim, causing one of the men to approach him, threatening him with a knife.
But backup arrived and the youth fled on his bike, followed by PC Fox on foot.
The knife that was recovered after the youth was detained.

Picture:
Metropolitan Police
A member of the public stepped in to push the youth off his bike, and he was detained by PC Fox before being arrested.
A knife and three stolen mobile phones were found on him.
'Human remains' found in hunt for missing woman Chloe Mitchell, as police charge two men
Listen and subscribe to Unprecedented: Inside Downing Street on Global Player
The youth, 17, was found guilty of assault, possession of an offensive weapon, and one count of threatening a person with a bladed article.
Detective Chief Superintendent James Conway said: "This is a fine example of bravery and excellent teamwork; an off-duty officer going above and beyond the call of duty, swiftly and ably assisted by his on-duty colleagues who rapidly responded to help the safe detention of the suspect.
"I am immensely proud of their efforts to help keep members of the public safe, but I'm not surprised. My officers and staff are out there every day, working tirelessly for Londoners. Then they go home, get up and do it all over again. This shows that even outside work they are putting the safety of the public first.
"I'd also like to thank the woman who helped stop the male, but left the scene before we could speak to her. Her action showed real courage and a selfless determination to assist the police preventing harm."
https://www.lbc.co.uk/news/off-duty-police-officer-tackles-knife-youth-hackney/