18 April 2023, 17:13 | Updated: 18 April 2023, 17:20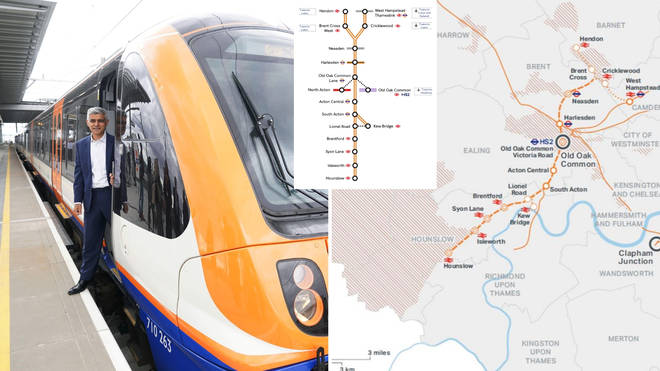 Sadiq Khan has confirmed plans for a new "West London Orbital" Overground link from west to north west London set to launch in the early 2030s, as he contends with a backlash over the expansion of his ULEZ scheme.

Picture:
Alamy / TFL
Sadiq Khan has confirmed plans for a new "West London Orbital" Overground link from west to north west London set to launch in the early 2030s, as he faces a backlash over the Ultra Low Emission Zone (ULEZ) expansion.
TFL hopes the 11-mile rail project, which would connect Hounslow with Hendon and West Hampstead, will be online from the start of the next decade.
Engineering consultants that previously advised on Elizabeth line have been chosen to work on the new service.
"This engineering design will help determine the cost of delivering the scheme, which is currently unfunded," Transport for London (TfL) has said.
The link will have stations at Isleworth, Brentford, Acton, Harlesden, Neasden and Brent Cross, and a stop at Old Oak Common that will link with the planned HS2 line to Birmingham.
Read more: Love Island star Amy Hart felt 'violated' after being bombarded with 'cyberflashing' online
Read more: US reporter charged with spying against Russia appears in court in first public sighting for weeks
The route will also feature a branch after Neasden to West Hampstead via Cricklewood.
Asked for an update on the project by Labour London Assembly Member Elly Baker last month, Mr Khan said: "Following agreement of the feasibility funding last year, several studies, funded primarily by the west London boroughs, are underway or planned.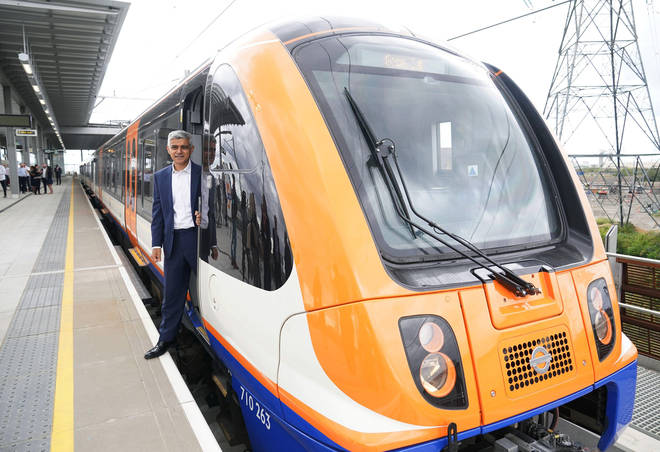 Sadiq Khan poses with a London Overground train, during the official celebration of the opening of the new Barking Riverside station, in Barking, east London.

Picture:
Alamy
"Timetable assessment undertaken by Network Rail is nearing completion and has identified that a viable West London Orbital service is expected to be achievable."
Plans for the West London Orbital link are yet to be approved and a public consultation will be held about the route.
It comes as Mr Khan faces a backlash from motorists and councils over his planned expansion of the controversial The Ultra Low Emission Zone (Ulez) to all of Greater London on August 29.
It will see drivers of non-compliant cars having to pay a daily charge of £12.50 in all London's boroughs.
Mr Khan has insisted that the clean air scheme will save lives by reducing the health impact of traffic pollution.
But the London boroughs of Bexley, Bromley, Harrow and Hillingdon and Surrey County Council launched a judicial review into the Mayor and TfL's intention to expand it on five grounds, including a perceived "lack of consultation" on the plans and a failure to carry out a cost-benefit analysis of the expansion.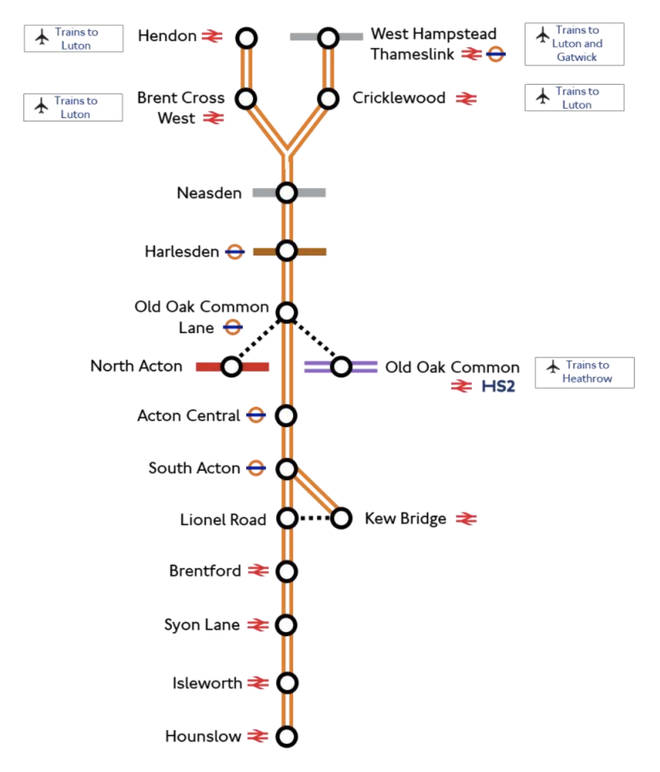 A proposed route for the West London Orbital route.

Picture:
TFL
They also claim the Mayor of London and TfL have failed to comply with "relevant statutory requirements" and have not considered compliance rates in outer London, which they deem an "unlawful failure".
The proposed scheme was also not consulted upon, the councils argued.
Last week, a judge at the High Court decided that the bid for a review could go ahead, saying that parts of the boroughs' challenge were "arguable".
Addressing the legal action on Friday, Mr Khan said: "I think it's important for these Conservative councillors who've got concerns… if they want to challenge this in the courts (they) are free to do so – I think it's a waste of taxpayers' money. Local residents would rather these be used on the libraries."
He added: "I welcome the fact that the vast majority of their grounds have been thrown out of the court. The two minor grounds will be heard by the court in a couple of months and TfL will be robustly defending this case.
"I want to see improved air in all parts of London, for those five million Londoners in outer London who are currently breathing air that is leading to children with stunted lungs, adults with a whole host of health issues from asthma to cancer, dementia to heart disease.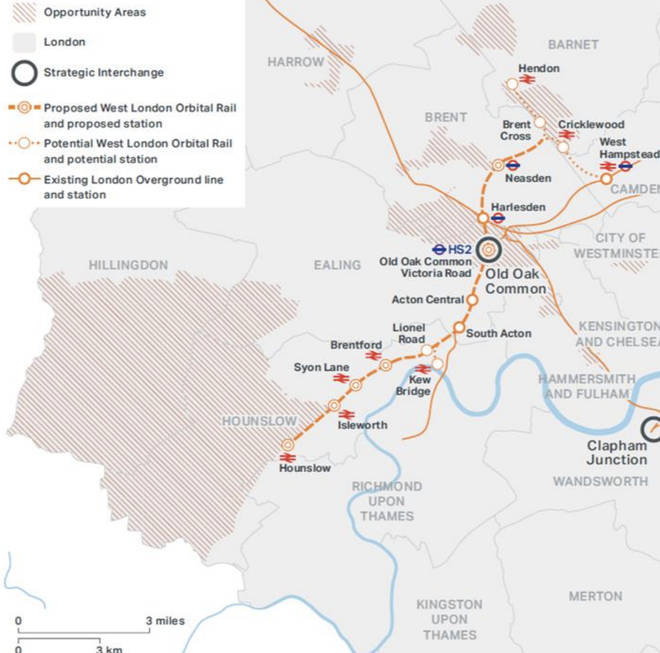 The proposed route and stations as laid out in the Mayor's Transport Strategy.

Picture:
TFL
"And also, for the 10 boroughs with the biggest number of premature deaths caused by air pollution in outer London, I want to clean up our air sooner, rather than later.
"So, for me human rights, rather than privilege."
Mr Khan has also unveiled plans for an orbital bus network dubbed the "superloop" that would connect London's suburbs as part of a £6million investment as the ULEZ extends.
The Mayor called it "a game-changing new network of express buses that will add over four million additional kilometres to our bus network in outer London, linking stations, town centres, hospitals and transport hubs."
"These new routes will make it much easier for Londoners to get around the capital, and help build a better, greener London for everyone."
But the proposal was branded a "Superflop" by the Conservatives, who called it a "repackaging of existing routes", and took aim at the "microscopic level of investment".
https://www.lbc.co.uk/news/sadiq-khan-confirms-west-london-orbital-rail-link-ulez-backlash/