3 January 2023, 14:47 | Updated: 3 January 2023, 15:19
Patients will be left in corridors after 45 minutes.

Picture:
Alamy
London ambulances will only wait 45 minutes before leaving patients in hospital corridors to be looked after by staff, a leaked email has revealed.
The email, seen by ITV, shows plans to tackle delayed handovers, where patients are stuck in ambulances outside hospitals for hours or face long waits for A&E staff to complete a handover.
It is understood to be from NHS England's urgent and emergency care lead for London and was sent to hospital managers.
The note said the current "operational challenges" in the NHS are "very significant" and "this is a difficult time for everyone".
Ambulance trusts across the country have been struggling to respond to 999 calls on time, with delays handing patients to A&E playing a major role.
Strikes from frontline workers have added to growing pressure on the health service, with paramedics, nurses and midwives among those walking out over disputes over pay and work conditions.
Read more: Critical incidents declared at NHS hospital and ambulance trusts across England amid record A&E demand
Read more: Patient 'forced to wait 99 hours for bed' as hospitals come under extreme pressure
EXCL: Yet another sign of the pressure in the NHS, as leaked email says from today London Ambulance Service crews will only wait 45 mins at hospitals before handing over patients.
Will mean more waiting on trolleys in corridors with hospital staff stretched even more thinly. pic.twitter.com/KexpUP71XP
— Paul Brand (@PaulBrandITV) January 3, 2023
The email says: "From January 3rd we are asking that any patients waiting for 45 minutes for handover… are handed over immediately to ED (emergency department) staff allowing the ambulance clinicians to leave and respond to the next patient waiting in the community.
"If the patient is clinically stable the ambulance clinicians will ensure the patient is on a hospital trolley or wheelchair/chair and approach the nurse in charge of the emergency department to notify them that the patient is being left in the care of the hospital and handover the patient."
The email added that if the patient is not clinically stable, ambulance crews will stay with the patient until handover is achieved but added that the clinical responsibility for the patient lies with the hospital.
Ambulances have been left queuing for hours waiting to drop patients off at A&E.

Picture:
Alamy
A spokesperson for the NHS in London said:  "The NHS is experiencing record demand for urgent and emergency care. We are working across London to speed up ambulance handovers at hospitals – where it is clinically safe to do so – so ambulance crews can get to more people who are unwell in the community.
"This is one of many ways we are strengthening the NHS response this winter, along with more beds, extra 111 and 999 call handlers, more ambulance clinicians and expanding the use of 24/7 control centres across the capital for urgent and emergency care."
Downing Street earlier said that the Government is doing "everything possible" to increase the number of beds available.
The Prime Minister's official spokesman said: "The NHS is already maximising its number of beds, so the equivalent of 7,000 additional beds, plus funding for discharges and increasing virtual wards. That's all to free up capacity.
"Again, that's all thanks to the extra funding, the billions of extra pounds we've put in.
"We are doing everything possible to increase the number of beds."
Labour's shadow minister for mental health and A&E doctor – Rosena Allin-Khan – told LBC the health service is at breaking point.
"The workforce crisis that we're facing, with over 100,000 vacancies across the NHS, is a result of staff feeling as though they cannot go on any longer with one arm tied behind their backs," she said.
"It is leaving our most vulnerable even more vulnerable and on shifts you feel as though you're unable to provide the care that you've been trained to deliver."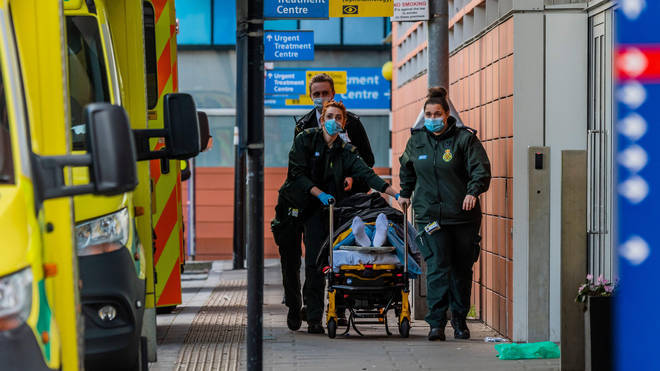 A patient is brought in on a trolley with a police escort.

Picture:
Alamy
NHS palliative care doctor Rachel Clarke said on Twitter the plan was unsafe.
She wrote: "This isn't safe. This isn't a solution. There aren't the ED beds, the ED doctors, the ED nurses, the ED spaces. Or is the proposal here merely to pile up more patients in ED corridors?"
Liberal Democrat health spokeswoman Daisy Cooper said: "This move shows the shocking reality of the NHS crisis and is yet further proof that a major incident must now be declared across London.
"The Health Secretary must act now to save the capital's hospitals from being overwhelmed.
"Corridors and waiting rooms are already full with patients coping with severe pain. The Government cannot wait any longer to act.
"London's NHS is collapsing before our eyes. Ministers have spent months arrogantly dismissing or ignoring all warnings from senior health leaders and MPs.
"This is now a life-and-death situation for Londoners. The Government needs to recall Parliament immediately, declare a major incident and above all else, pass a plan to get the country out of this health crisis before more people die."


https://news.google.com/__i/rss/rd/articles/CBMiWWh0dHBzOi8vd3d3LmxiYy5jby51ay9uZXdzL2EtYW5kLWUtY3Jpc2lzLWxvbmRvbi1hbWJ1bGFuY2VzLTQ1LW1pbnV0ZXMtcGF0aWVudHMtY29ycmlkb3Iv0gFZaHR0cHM6Ly9hbXAubGJjLmNvLnVrL25ld3MvYS1hbmQtZS1jcmlzaXMtbG9uZG9uLWFtYnVsYW5jZXMtNDUtbWludXRlcy1wYXRpZW50cy1jb3JyaWRvci8?oc=5