Old data center going, two new ones coming up, despite local grid limitations
Colt is planning a new data center in Hayes, West London, that would more than triple its existing footprint in the UK capital.
The Fidelity Investments-owned company is looking to develop the former Optimum Data Centre on the Springfield Road Industrial Area, as well as neighboring Tudor Works and Veetec Motor Group facilities, into a new data center campus. Press reports the company was granted permission for the project in April of this year.
– Colt DCS
Late last year Colt filed and was granted permission to demolish the Trinity/Optimum Data Centre and neighboring Tudor Works on Beaconsfield Road, Hayes, in order to 'deliver a new purpose-built 50MW 2.1-hectare data center campus' known as "London 4."
A subsequent filing from earlier this year showed the company aims to build "two data center buildings; associated energy and electricity infrastructure, buildings, and plant" totaling 38,355 sqm (412,850 sq ft). Plans will feature 48 air cooling units and 32 backup generators.
A wall-mounted solar panel array will be incorporated into building two with a collector area of 204 sqm (2,195 sq ft). Bio Solar Panels will be installed on the roofs of both buildings to provide a further 120 sqm (1,291 sq ft)of solar panel coverage.
The development will reportedly use air cooled chillers which incorporate free cooling for a large portion of the year, and incorporate plate heat exchangers connected to the chilled water network to allow for the export of low-grade heat to a district network should one become available
Both buildings will be five-stories tall and contain a total of 18 data halls. Work on the first building is due to start this year for a 2023 completion date; the second 2024 for a 2025 completion date. The company is investing 'more than £100 million' ($120.5m) into the project.
Colt never made an official announcement about buying the site and hasn't made one regarding its plans for new facilities.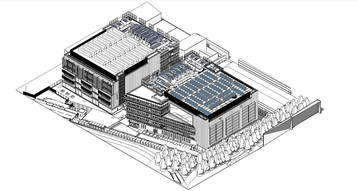 – Colt DCS
The long history of the Hayes data center
The site was previously home to a 10MW, two-story data center with a long history. It was built as a warehouse in the late 1980s, and extended in the 1990s, before being turned into a data center in 2000 known as the Digiplex Megaplex Centre. Digiplex was a short-lived UK company that went bust in the dot-com crash of 2001 – and is not related in any way to the Nordic operator DigiPlex that was recently rolled into Stack Infrastructure.
The data center was then leased to Deutsche Bank, but by 2009 the company did not need the property anymore. Sentrum, a colo firm founded in 2006, bought the data center and sublet it from the German bank. Sentrum grew to a portfolio of six facilities before – like many other providers – it was taken over by Digital Realty in 2012, for around £715.9 million (then equivalent to $1.1bn). However, Digital Realty did not take over the Megaplex, with a new Sentrum entity taking over operations at the site and rebranded as Optimum Data Centres.
Sentrum went into liquidation around 2015, and after a lengthy legal battle with Deutsche Bank failing to claw back rent, the facility was put up for sale in 2018. A new firm, Trinity DC, took over the data center in 2020. According to Companies House, Optimum Data Centers liquidated in 2020, with Trinity following suit in 2021. The site seemingly came to Colt last year.
The neighboring Tudor Works is a terrace of 16 industrial units with two-story office extensions; the Veetec Motor Group facility comprises a three-story office building, an open yard used for car storage, and an industrial unit.
West London power crunch costs Colt
Colt's plans to develop in West London were seemingly impacted by recently-revealed grid limitations. The Greater London Authority has told developers that new housing projects in West London could be banned till 2035, because data centers have taken up all the electricity capacity. Local government officials and data center operators have labeled the news scaremongering and scapegoating.
ComputerWeekly reports that an infrastructure assessment carried out as part of the planning process for the planned Colt facility concluded that there was "insufficient electrical capacity to meet the requirements of the new data center."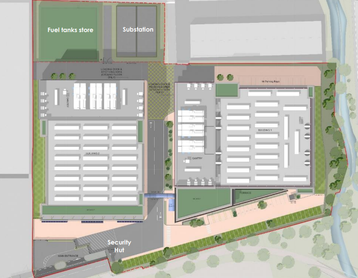 – Colt DCS
However, Colt has agreed to fund the "reinforcement" of a local electricity substation and cover the cost of new cables and connections at another substation closer to its proposed data center. These upgrades will take four years to complete and will provide "additional capacity for other users and allow expansion into the 2030s," the report said.
"Accordingly, the applicant has taken proactive steps to meet the infrastructure requirements of the development and demonstrates the scheme will not negatively impact future electricity suppliers within the Hayes area," the document added.
Founded in 1992 and originally known as City Of London Telecom, Colt was previously listed on the London Stock Exchange and part of the FTSE 250 Index until it was acquired by Fidelity Investments in August 2015.
In November 2021, Colt sold a portfolio of 12 non-hyperscale facilities across Europe to AtlasEdge, the new joint venture between Liberty Global & DigitalBridge.
Post-sale, Colt currently has six facilities across Europe; two each in London, UK, and Frankfurt, Germany; and one each in Paris, France, and Rotterdam, the Netherlands. It operates eight in APAC; one in Mumbai, India; two in Osaka and five in Tokyo, Japan.
The existing London West facility offers 3,700 sqm (29,825 sq ft) and 15MW; London North offers 12,500 sqm (134,550 sq ft).
Earlier this year Colt said it had acquired 10 land parcels around Europe – includes plots in London, Frankfurt, Paris, and Japan – that would see the capacity of its portfolio increase by more than 500MW. One of those 10 was likely the site in Hayes and acquired last year.
Thank you for subscribing to our EMEA newsletter series.
More in Construction & Site Selection
https://www.datacenterdynamics.com/en/news/colt-planning-50mw-west-london-campus-on-site-for-former-sentrumoptimum-data-center/