Show Fullscreen
Hawkins Brown has won planning permission for a 74-home residential development in east London that will house vulnerable families in need of emergency accommodation.
Its proposals for the four-storey Family Welcome Centre at Harold Hill also include new health facilities, a secure courtyard, and breakout spaces to support families' physical and mental wellbeing.
The U-shaped centre's homes will vary in size, with the largest able to accommodate up to eight family members. A health centre on the ground and first floors, positioned along Hilldene Avenue, will deliver accessible services to the wider local community.
The centre will replace the London Borough of Havering's existing hostels and forms the first phase of the Harold Hill town centre regeneration masterplan, which also includes redevelopment of the Farnham and Hilldene estate.
Hawkins Brown partner Nick Gaskell said the practice's proposals would provide a welcoming and uplifting environment for families going through a potentially distressing period in their lives.
Show Fullscreen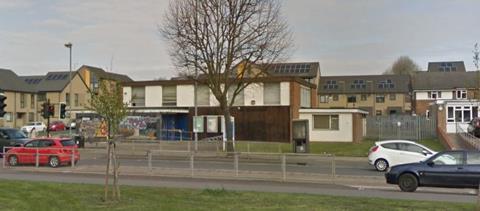 "It was important that the health and wellbeing of families were considered first and foremost through a visual link to nature, access to generous amenity spaces as well as a healthcare provision within the building," he said.
"We hope that it will set a new standard for this type of accommodation across the UK."
The Family Welcome Centre will be built on the site of the disused Harold Hill Library.
https://www.bdonline.co.uk/news/hawkins-brown-bags-planning-for-east-london-family-centre/5118624.article