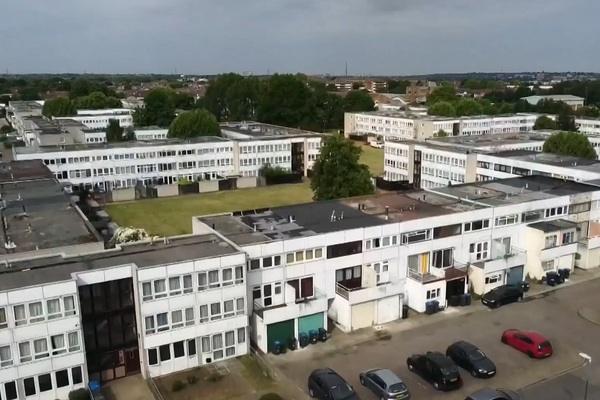 Until June this year, few had heard of the Eastfields Estate beyond its 466 households. That all changed when ITV News broadcast images of the squalid conditions those residents were dealing with: widespread disrepair, pervasive black mould and vermin running riot.
Now the estate, in Mitcham, south-west London, has become a touchstone for service issues in the social housing sector.
After ITV's reporting (with the story also covered by MyLondon, and by BBC News only last week), Clarion Housing Group apologised to residents and set to work fixing the immediate problems. It avoided a regulatory downgrade, but in a letter to the 125,000-home landlord, the Regulator of Social Housing called the episode "disappointing" and issued a warning about risks to the sector's reputation. A number of Eastfields residents are now pursuing claims under the Homes (Fitness for Human Habitation) Act.
Clarion also committed to investigating what went wrong in a "lessons learned" report.
Inside Housing was given an exclusive preview of that report, published today, as well as an interview with Clare Miller, chief executive of Clarion, to discuss the findings.
It is clear that the UK's largest housing association is trying hard to exercise transparency. She and the Clarion board, Ms Miller says, are "distraught by what we found at Eastfields" and wanted the report "to be as honest as possible and as comprehensive as possible".
Running at a decidedly succinct six full pages, the report is based on an extensive door-knocking exercise and interviews with staff. Its central finding is: "The approach we had taken in managing homes nearing the end of their life was not robust enough… We were too reliant on residents reporting issues and chasing us to ensure the work was done."
Eastfields is set for demolition as part of Clarion's £1.3bn regeneration programme for the Merton borough. At the time it was built for the council in the 1970s, the estate's single low-rise perimeter block was quite pioneering, but the landlord has emphasised that the buildings "were poorly designed" and are now "near the end of their life".
In case any readers are wondering, the estate passed into the ownership of Clarion precursor Circle in 2010 as part of a 9,000-home stock transfer from Merton Council. At the time, the association promised to invest £129m in improvements to the homes over the next decade.
The council said it was unable to tell Inside Housing how much was actually invested over that period as its agreement does not require Clarion to provide the information. Ms Miller is confident that the transfer agreement has been met.
Back to the report. "Our focus on the regeneration programme meant that we got the balance wrong in terms of investing in existing properties," it admitted.
Clarion made the decision to cut planned maintenance at Eastfields once the estate was condemned – meaning that its proactive programme for replacing kitchens and bathrooms, for example, was halted.
The logic here is easy to follow, but a problem identified by the report is that the regeneration project stalled before it had even really begun. Clarion has struggled to make its Merton programme financially viable – with the council this month agreeing a support package in order for the schemes to progress. Of course, it was always going to be around a decade before the Eastfields redevelopment was complete, suggesting that the issues would have emerged at some point regardless.
"What I don't think we had sufficiently understood was the impact of changing that [investment programme] from planned to reactive," Ms Miller says now. Clarion's engagement with residents since June found 15 kitchens and 14 bathrooms in need of urgent replacing.
Estate regeneration is a tricky, lengthy business and delays are common. Inside Housing wrote at length last year about a block in Barnet that also ended up on the television for its shocking conditions after being left to crumble as it waited – and waited – for the wrecking ball.
In that context, one might argue that the impacts of cutting planned investment are quite predictable. Should Clarion have seen the issues at Eastfields coming?
"So, with the benefit of hindsight, yes, absolutely we should have, and there were opportunities where we could have recalibrated our approach and we didn't take those opportunities," answers Ms Miller. "I have to say our experience of regeneration has not been like that… but when I look back at it now, clearly had we taken the opportunity to change our approach when we knew it was going to take longer, then undoubtedly we would have managed to avoid some of the worst of this."
In other words, Clarion missed several opportunities to reconsider its approach to investing in the Eastfields Estate when the regeneration was delayed. The report notes that these opportunities were missed partly because of a failure to engage properly with residents after September 2019 when the landlord began a "full review" of the scheme. "If we had, we may have identified problems and been in a position to address them sooner," it acknowledges.
All this begs the question of whether Eastfields is an isolated case – or whether these issues are being replicated across Clarion's other regeneration schemes around the country. Ms Miller says the association has "looked into that in some detail, and the answer is no".
She adds: "I do think there was a coming-together of a series of very unfortunate aspects that meant that at Eastfields we didn't understand the full extent of the issues that our residents were dealing with."
https://www.insidehousing.co.uk/insight/what-went-wrong-on-the-eastfields-estate-72631