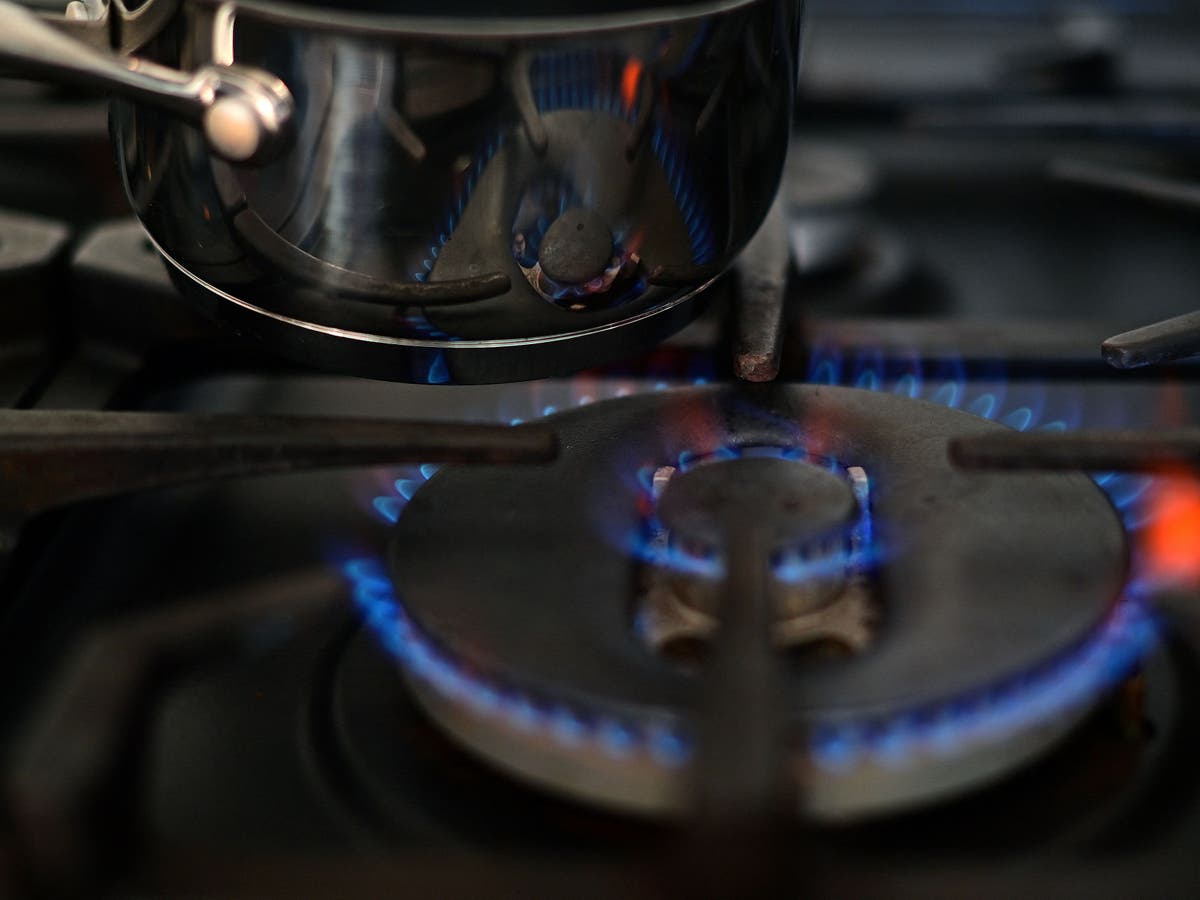 'We've got the perfect storm', says London mayor about energy crisis
The government has not been "complacent" over the energy crisis, Kwasi Kwarteng has insisted, after Labour's Ed Miliband produced a letter he claimed was sent by Ofgem to the business secretary 18 months ago warning of a "systemic risk" to the UK's energy market.
A 250 per cent spike in wholesale gas prices has seen seven firms collapse in a matter of weeks, with Avro Energy and Greenwill becoming the latest to fold on Wednesday.
With figures from the regulator Ofgem showing nearly 1.5 million households have now seen their suppliers go bust, junior minister Paul Scully said it was "not going to be possible" to guarantee that their bills would not rise – contradicting assertions by Mr Kwarteng days earlier that customers being transferred to new providers should "be expected to pay the same amount".
While all customers impacted by their collapse will continue to receive energy until Ofgem appoints them with a new – possibly more expensive – supplier, the regulator's boss Jonathan Brearley warned MPs that the number of households affected "may well go well above" the hundreds of thousands.
Mr Scully also admitted that the government was "having lots of conversations" with Ofgem and suppliers over whether a cap on gas and electricity prices for consumers may have to go up – just days after both Mr Kwarteng and the regulator insisted the cap should "remain in place".
Key Points
Show latest update
1632397291
MP attacks Commons recess as UK 'faces autumn of discontent'
Citing an "autumn of discontent", SNP Commons leader Pete Wishart attacked the "nonsense of a conference recess", telling MPs: "We will be taking a month off when the UK is facing an autumn of discontent, when hard-pressed families are facing one of the biggest assaults on their weekly incomes.
"As this House abandons its station to the conference halls and seaside resorts, there's Universal Credit cuts, energy prices going through the roof, a CO2 crisis, driver shortages, farming chaos, fishing chaos, an export crisis, the ending of furlough and Brexit killing a nation.
"This nonsense of a conference recess has surely run its course and it must now come to an end."
Andy Gregory23 September 2021 12:41
1632396544
Which energy firms have gone out of business and which are under threat?
My colleague Tim Wyatt has this guide to the business casualties of the spike in wholesale gas prices, and what to expect in the coming weeks.
Andy Gregory23 September 2021 12:29
1632395741
Soaring energy prices 'could be tipping point' towards renewables
"The current energy bull market is an unintentional, yet perfect storm for the UK's green energy transition," said Chris Bowden, managing director of Squeaky, which is a marketplace for clean energy.
He added: "If we look beyond the current carnage, this could a tipping point for the market. In short, paying more for gas and power could spur on the deployment of renewable energy. If history has taught us anything it is that for change to occur, the boat needs to be rocked. Riding this wave of chaos could prove to be very beneficial in the movement towards clean power."
"Let's be frank; it is easy to get sucked into the excuse that wholesale cost is the primary cause of this crisis. Yes, wholesale cost has tipped the energy industry into chaos, but the primary cause of this comes down to the monumental amount of trailing losses in the industry based on unsustainable business models."
Andy Gregory23 September 2021 12:15
1632394765
'We've got the perfect storm,' Sadiq Khan warns
London's mayor has lent his voice to warnings of a "perfect storm" for residents facing cuts to universal credit and rising energy bills.
Sadiq Khan alleged that the crisis "is a consequence of government's shambolic policy over the years", adding: "We should be diversifying our fuel supply" to include more renewable energy.
'We've got the perfect storm', says London mayor about energy crisis
Andy Gregory23 September 2021 11:59
1632393576
Kwarteng claims criticism of UK's limited gas storage is a 'complete red herring'
Kwasi Kwarteng has dismissed the claims the UK's limited gas storage capacity is causing prices to soar, arguing it is actually a "strength" rather than a weakness.
Labour's Matt Western told MPs: "Why is it that the storage capacity of the UK is just 2 per cent annual demand versus 25 per cent in Europe as an average. Is that part of the reason we don't have energy price resilience?"
Mr Kwarteng replied: "Only yesterday, there was a conference of EU energy ministers to discuss this very problem.
"It is not a function of storage to be able to mitigate a quadrupling of the gas price. This is a complete red herring. And one of the reasons why we have less storage is because we have a greater diversity of energy supply. That is a strength, not a weakness."
Andy Gregory23 September 2021 11:39
1632392758
Here's footage of small business minister Paul Scully defending the government's decision not to bail out energy companies.
Minister for Small Business defends the Government's 'no bail out' strategy for energy crisis
Andy Gregory23 September 2021 11:25
1632392508
Government has not been 'complancent', minister insists
Responding in the Commons to Ed Miliband, who produced a letter sent last year by Ofgem which warned of a "systemic risk" to the UK's energy market, Kwasi Kwarteng insisted the government had "not been complacent".
The business secretary said: "The whole point about the supplier of last resort process which was interrogated last year is that it is an organised process, well established, which can allow existing strong companies to absorb customers in failure.
"I remember the [Ofgem] letter last year. We interrogated all through the Covid process the systems that we had in place and during that period the supplier of last resort was found to work. So far this year it has been found to work."
He added that the "special administration regime" the government had prepared for energy crises was in place if needed.
Andy Gregory23 September 2021 11:21
1632392261
Ed Miliband produces Ofgem letter 'warning Kwarteng of systemic risk to energy supply sector'
Ed Miliband has brandished a letter he claims Ofgem wrote to then energy minister Kwasi Kwarteng last year "warning about systemic risk to the energy supply sector as a whole", which could place "significant burden and costs" on the public purse.
Labour's shadow secretary for energy accused the government of leaving the UK "dangerously exposed".
Andy Gregory23 September 2021 11:17
1632391333
My colleague Adam Forrest has more details from junior minister Paul Scully's media round this morning, notably his comments about government officials having "lots of conversations" about a possible energy cap increase with Ofgem and energy companies.
The energy price cap imposes limits on costs for 11 million people on default tariffs – but struggling energy firms want it scrapped so they can pass on higher gas prices to customers.
Andy Gregory23 September 2021 11:02
1632390501
Former BP gas chief urges rethink of gas procurement in UK
The current surge in prices should spark a rethink of the UK's approach to gas procurement, BP's former gas chief has suggested.
"The level of gas prices in the UK right now are eye-wateringly high. I don't recall seeing prices at this sort of level since the Fukushima crisis pulled a lot gas out away from Europe and into Asia," said David Knipe, now a partner in Oliver Wyman's energy and natural resources practice.
"The surge in prices should give us pause to consider the UK's overall approach to gas procurement."
"As a country we choose to effectively buy our gas largely at spot prices, which has benefited us over many years as spot gas prices have been relatively cheap," Mr Knipe said. "However, when worldwide gas shortages occur, we are exposed to the resulting price spike.
"Japan takes an alternative approach, choosing to buy much of their gas on long-term oil linked contacts with price caps to limit the upside, but also compensating price floors to protect the producers. As a consequence, their consumers are seeing very little impact from the worldwide price spike. However, the quid pro quo of this is that they did not benefit from the periods of cheap gas."
Andy Gregory23 September 2021 10:48
https://www.independent.co.uk/news/business/energy-companies-uk-bust-latest-b1925373.html