Living as good a later life as possible is a definite aim of the older people who have gathered on a chilly November morning to walk, talk and play carpet bowls in Stockton's beautiful Ropner park in north-east England.
But there are challenges. The regular Age UK walk and talk is taking place in a council ward that has the unenviable statistic of being a place with the lowest life expectancy for women in England (71.8 years).
Most of the walkers don't live in the ward and are in enviably good health, but they recognise the shocking conclusions revealed in the State of Ageing report.
Nick Winn, a retired painter and decorator, knows about the north-south life expectancy gap. "We are a deprived area," he said. "The north-east lacks investment and people do resent Westminster. Most of them, if you said where's Stockton they couldn't pick it out on a map.
"Levelling up is just a catchphrase, a gimmick."
Winn is originally from Hull and now lives in the centre of Middlesbrough, which, like Stockton, is extremely deprived. "It's one of the poorest postcodes in the country and I see the poverty every day, lots of it.
But there's also lots of good stuff up here, lots of groups and that's the stuff that doesn't get noticed."
The weekly walk and talk around Ropner park. Photograph: Christopher Thomond/The Guardian
Several people on the walk talked about the scourge of loneliness.
Heather Rowlandson, a 73-year-old retired nurse, recently moved to the area from Perth in Scotland. Her husband died more than a decade ago, aged 64, and she was by herself during the pandemic. "It was very, very lonely. You don't go out the house, it was terrible … I hadn't been lonely like that before.
"Loneliness is a big problem and I think there should be a lot more out there for the elderly. We have clubs but some of them are not appropriate for everyone's needs – they need to be broadened, made more accessible."
Martin Wharton, a fit, active and healthy 79-year-old, said the north-east's industrial heritage must surely play a part.
"People in the 1940s, 50s and 60s were exposed to all sorts of hazardous materials and it is probably coming home to roost."
Working conditions have taken their toll on Nicholas Deacon, 85, who is getting ready to play carpet bowls with his wife Janina, 74. His hearing is poor and he has health issues made worse by an infection picked up in hospital, "but we do actually cope well despite all of that," said Janina.
Originally from Poland, she came to England 45 years ago and recalls being shocked by the diet. "People here didn't eat many vegetables."
No one the Guardian spoke to had a good word to say about the government or its levelling up agenda.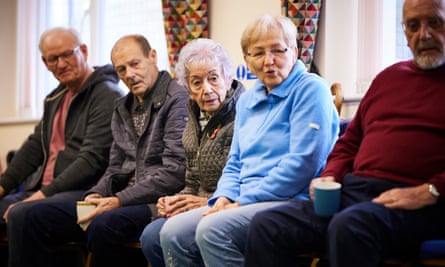 Locals at Ropner Park Bowling Association. Photograph: Christopher Thomond/The Guardian
Julia Jones, 74, said she had little truck with the Conservatives now Boris Johnson has gone. "I did give them a cheque for £20 so they remember me but I've just sent them an email saying I'm not voting for them again. Whether it gets through is another matter."
Jones is originally from the south-east, an area where the statistics show they might live longer, but she would never move.
It's the same for Marian Hughes, 78, who was born and bred in north London and moved to the north-east about 60 years ago. She still hasn't picked up the accent.
"I know, isn't that weird," she said. "Although when I talk to my sister she can hear the way I say certain words – like 'no'.
"I was going on 17 and I remember people saying, 'Don't go up there, they all wear cloth caps and clogs,' and I said, 'I'll soon find out and if I don't like it I'll come back'."
She stayed and is about to play carpet bowls with her husband, Patrick, who has dementia. "I remember writing to my mum and saying it's like being on holiday, I've never seen so many green fields and trees in my life."
https://www.theguardian.com/society/2023/nov/19/levelling-up-is-a-gimmick-life-in-the-northern-town-with-the-lowest-life-expectancy