Jonas Eidevall admits Arsenal have a "problem" with the lack of diversity in their first-team squad – but believes it is an issue across all of women's football in England.
The Gunners were heavily criticised last month after their squad photograph for the 2023/24 season contained no players from diverse backgrounds.
Having initially declined to comment on the issue, Arsenal later published a statement admitting it was a "key priority" to improve diversity.
"We acknowledge our current women's first-team squad does not reflect the diversity that exists across the club and the communities we represent," it read.
"Increasing participation among young women and girls from diverse backgrounds is a key priority for us at academy level, with specific measures in place to improve pathways and accessibility."
Eidevall admits Arsenal's lack of diversity 'is a problem'
Watch highlights from the WSL match between Bristol City and Arsenal
Eidevall was asked about the widespread condemnation of the picture ahead of Arsenal's Women's Super League clash against Manchester City on Sunday.
"I haven't seen much reaction online but I think where we come from, north London, we are very proud of our community," he said.
"It is a diverse community. The history of the club, both the men's first team and the women's first team has a very proud history of players coming from diverse backgrounds as well and made the club very proud of that.
"So, us not having that diversity in the women's first team today – of course, that is a problem."
The lack of diversity in the women's squad is in contrast to the make-up of the Arsenal men's squad with Bukayo Saka, Eddie Nketiah, William Saliba, Thomas Partey, Gabriel, Takehiro Tomiyasu and Gabriel Jesus some of the players at manager Mikel Arteta's disposal.
Back in September 2002, the Gunners also became the first team in Premier League history to include nine Black players in a starting XI, with Patrick Vieira, Sol Campbell, Lauren, Ashley Cole, Kolo Toure, Gilberto Silva, Nwankwo Kanu, Thierry Henry and Sylvain Wiltord all included by then manager Arsene Wenger.
'Diversity an issue across women's football'
England women's head coach Sarina Wiegman says that better representation in football 'doesn't change overnight' and that she is 'happy with all the things' being brought in to encourage access to football for everyone
The lack of diversity is a microcosm of the wider issue within women's football. Players from ethnically diverse backgrounds are often in the minority in elite squads and issues around access and opportunity are mitigating factors.
For example, all of England's starting XI at Euro 2022 were white and only three (Nikita Parris, Jess Carter and Demi Stokes) in the squad were from mixed-heritage backgrounds.
At the 2023 World Cup, Carter and Lauren James were used regularly, but were the only ethnically diverse players on Sarina Wiegman's squad.
Eidevall went on to call on the whole league, as well as the Football Association, to improve diversity in the women's game in England.
"I think women's football has a diversity problem in that, in getting especially people of colour involved more in football, not only at the top level, but also at the grassroots level and I think we have to work with it but also the FA and other clubs," he added.
Arsenal's statement, meanwhile, concluded: "Across all our teams, including our men's and women's academies, we're proud of our players from diverse backgrounds who have contributed to our history, success and culture.
"It's a priority for the club to continue to drive greater diversity and inclusion and create a sense of belonging for everyone connected to the club."
Wiegman: Women's game will become more inclusive but won't happen overnight
England manager Sarina Wiegman acknowledged things are "not going to change overnight" in light of the lack of diversity in the women's game coming under further scrutiny this week.
Back in February, Chelsea manager Emma Hayes made pointed comments that professional women's football in England was a middle-class sport and that the academy set-up did not bring in diverse talent.
There were three Black players in the Lionesses' squad of 23 that won Euro 2022 and three Black players – Lauren James, Ebony Salmon and Jess Carter – were named in the 26 for the Arnold Clark Cup eight months ago.
"I'm happy with all the things we're doing but that doesn't change overnight," Wiegman said at her press conference ahead of England's Nations League encounter with Belgium on Friday.
"It's not going to change in a month or two months. With the discovery of talent training centres, there's more access for everyone. Hopefully we'll soon see what we see in society where the best in football are playing at the top level."
Beattie: The club know it's not good enough
Arsenal defender Jen Beattie recognises the need for more representation within their first team, and hopes change can be made at all levels of the game.
Listen to the full episode of Three Players and a Podcast wherever you get your podcasts.
Arsenal Women player Jen Beattie told the Three Players and a Podcast:
"The club knows it's not good enough not to have representation at the top level. The men's team have that, a lot of men's football has that. But in women's football, it's not good enough and it's not good enough for us at the minute.
"You see the likes of Rach [Yankey] on the side of the Emirates, Anita Asante and other top players, who have been a huge part our history of Arsenal so to not have that at the minute is disappointing.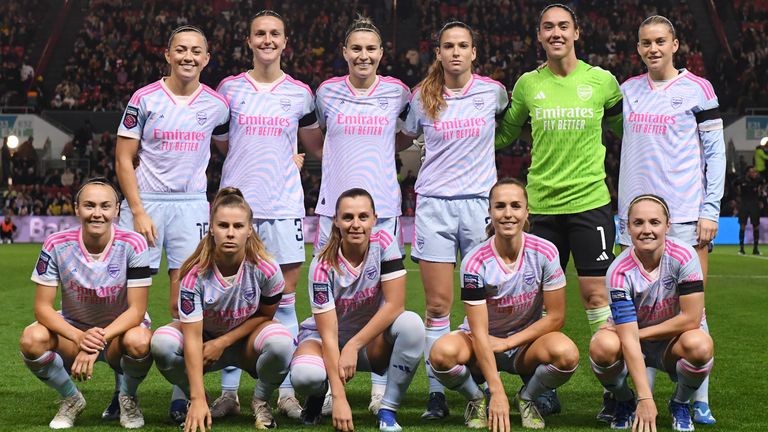 If you're a young kid now, you're able to switch on the TV, you're able to look at magazines and you're able to find information about footballers so you want to have a role model that looks like you and you can relate to in some sort of way.
Rachel Yankee on Three Players and a Podcast
"But it has to happen at grassroots level. Our academy are making steps towards that, in terms of allowing coaches and buses to come from inner-city London up to Hertfordshire to allow girls to train as part of the academy to make it more diverse, make it more inclusive and more accessible for everyone.
"But it has to happen at both levels and for me, representation is even more important at first-team level."
Hayes critical of lack of diversity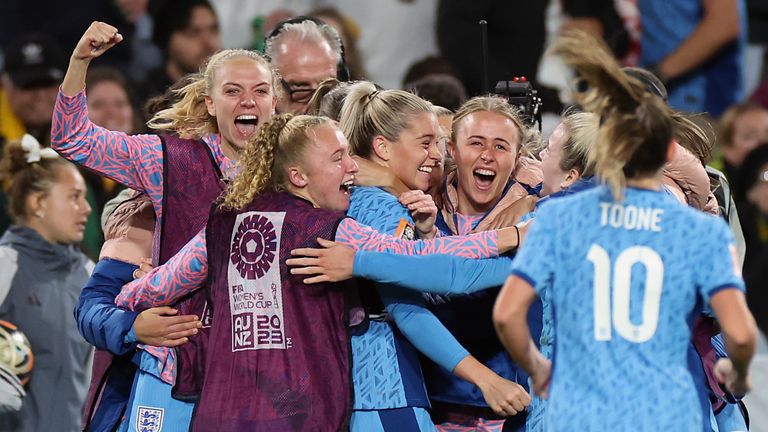 Image:
England players celebrate Alessia Russo's goal

Chelsea manager Emma Hayes has been among those to criticise the lack of diversity in the women's game, calling it a "middle-class sport".
"Women's football is quite a middle-class sport in my opinion," Hayes said. "In terms of the locations, the pedigree of player, they're often coming from suburban belts around the training grounds.
"They're not the Alex Scotts, the Rachel Yankeys, the Anita Asantes. They're not coming to our facilities in the same way and you've got to ask yourself the question: why?
"Look at the number of footballers that came out of south-east London and into the England men's team; an unbelievable number. Why aren't they in the women's side? I often ask that question [at Chelsea]. They're all from Surrey. They're the most talented kids in Surrey. But are they the most talented kids around? I beg to differ.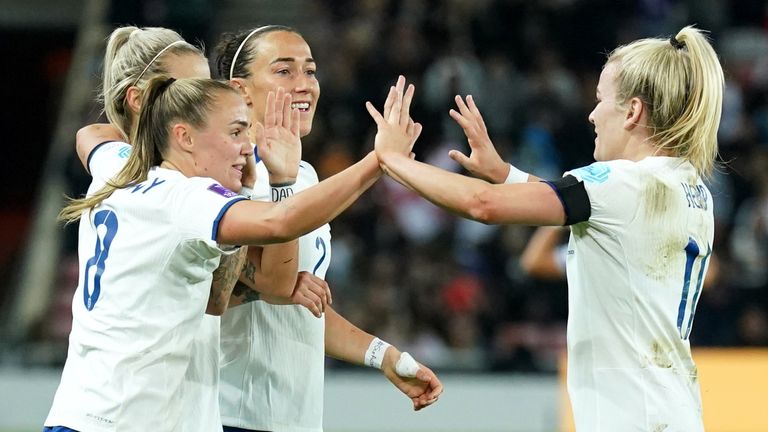 Image:
England's Lauren Hemp (right) celebrates scoring the second goal against Scotland

"Why aren't we going into London? Why aren't we hosting our academies right in the heart of London? Who in their ivory tower has been dreaming up this prawn sandwich girls football club?
"Girls don't travel. Boys in the academy game either have parents who will take them somewhere or they'll get on trains to do it.
"Families won't let their girls go to games [by themselves]. It's going to have to be parent-led and kids coming from the city, often their parents are working and might not have the same [opportunity].
"So our starting point should be…that if you want a diverse group involved with our game at an elite level then perhaps we should be travelling into the cities in a more profound way.
"But why are you going to do that if you don't have player protection, if you're investing into something where you could lose a player at any point? Both have to be supported."
Arsenal defender Beattie admits bumper Emirates Stadium crowds are 'surreal'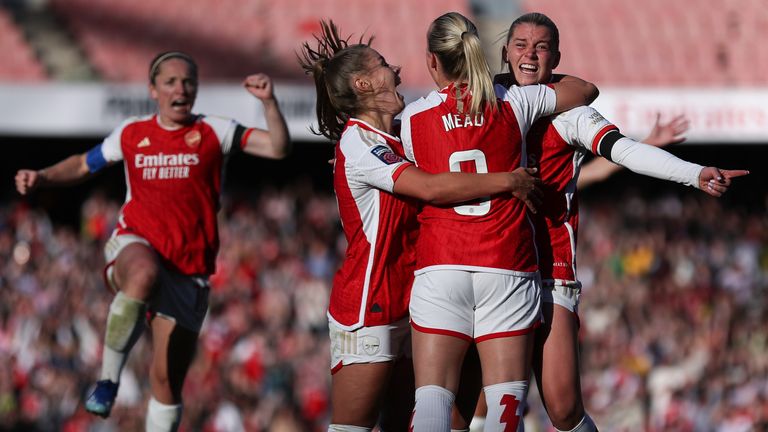 Image:
Alessia Russo celebrates after scoring the winning goal against Aston Villa at the Emirates Stadium

Meanwhile, Arsenal supporters may now be accustomed to packing the Emirates Stadium for women's matches but the experience of playing in front of tens of thousands remains "surreal" to veteran Jen Beattie.
The Glaswegian returned for a second spell with the Gunners in 2019 having previously won a league title, two FA Cups and a pair of League Cups in a four-year stint between 2009 to 2013.
On Tuesday, Arsenal announced 40,000 tickets have already been sold for their Women's Super League encounter with defending champions Chelsea at the Emirates Stadium on December 10 – a figure which is becoming a regular occurrence rather than any kind of novel development.
Despite the large attendances becoming more routine, Beattie admitted: "They're still exciting. I don't think it will ever not be.
"I mean I'm 32, I've been in the game for a long time, I've played in front of crowds that aren't that big, so to still be a part of it now and to see the crowd numbers growing and becoming consistent is surreal, to be honest.
"But it's credit to the club, the way that they've pushed the funding behind the marketing, behind games, and of course, the fans that have bought into what we're trying to do.
"I don't think selling out the Emirates will ever become normal for me. It will be just as surreal and just as exciting every single time. I don't think I'll ever get used to that."
Stream the WSL and more with NOW
https://www.skysports.com/football/news/11095/12999528/arsenal-boss-jonas-eidevall-womens-football-has-diversity-problem