From jazz to calypso, dub poetry to UK drill lyrics, drum'n'bass raves to grime freestyles, the brilliance and cross-cultural richness of Black British music will be the focus for the inaugural exhibition at the V&A's new outpost in east London.
Opening in 2025, The Music Is Black: A British Story will span from 1900 to the present day, celebrating everyone from pioneers such as Winifred Atwell and Janet Kay to today's generation including Stormzy and Little Simz, and explore how artists from Fleetwood Mac to the Beatles adopted elements of the music created by the UK's Black community.
Drawing on BBC archives, photographs, artefacts, ornaments, paintings, prints, playbills, film and more, the curators promise "immersive AV and large-scale installations" where attenders can walk through different eras and experience multi-sensory modes of storytelling. The V&A has been lauded for earlier immersive music exhibitions such as the 2017 Pink Floyd retrospective Their Mortal Remains, described as "stunning" in a five-star Guardian review; the new east London location will also hold an 80,000-item David Bowie archive.
The Music is Black: A British Story will look into how migration has influenced music, including how the Windrush movement brought a wave of new sounds from the Caribbean to the UK, birthing the sound system culture which informed the massively successful British clubbing scene and beyond. It will also look at how influences from Black communities in the global south are being heavily featured in today's chart toppers – such as west African highlife in pop songs, and drum patterns stemming from Caribbean reggae in dance music.
V&A East under construction in 2022, with the new London College of Fashion behind it. Photograph: London Legacy
V&A East is a new branch of the V&A made up of two venues: V&A East Museum, where this exhibition will be held, and the V&A East Storehouse a 10-minute walk away, which will house the V&A's archive and exhibit highlights in its collection hall space.
The new building whose design was inspired in part by a Johannes Vermeer painting and X-rays of a Balenciaga gown, is part of the £1.1bn East Bank cultural quarter in Stratford, east London, on the border of the Queen Elizabeth Olympic Park. The development will also feature Sadler's Wells East, campuses for London College of Fashion and UCL, and BBC Music studios – each of these institutions will collaborate on events and displays for The Music is Black: A British Story.
Gus Casely-Hayford, director of V&A East, has said he wants to make the new site welcoming to those who are often left out of museum spaces, including young people from minority backgrounds, and to reflect the diversity of the surrounding area. In 2021, he pledged to cycle to 250 schools across east London boroughs Waltham Forest, Hackney, Tower Hamlets and Newham to spread the word about V&A East.
He described The Music Is Black: A British Story as "a landmark show that will foreground multiple perspectives and tell a long-overdue story about the creation of our national sound and its impact on culture around the world."
The exhibition will also honour east London's own influence on Black British music – notably for being the birthplace of grime – and will tell the story of venues that made the area famous, such as the basement of grime MC Jammer where the Lord of the Mics freestyle series took place; the Blue Note in Hackney, home of Goldie's Metalheadz club night and more; and the record store Rhythm Division.
skip past newsletter promotion
Get music news, bold reviews and unexpected extras. Every genre, every era, every week
","newsletterId":"sleeve-notes","successDescription":"Get music news, bold reviews and unexpected extras. Every genre, every era, every week"}" config="{"renderingTarget":"Web","darkModeAvailable":false}">Privacy Notice: Newsletters may contain info about charities, online ads, and content funded by outside parties. For more information see our Privacy Policy. We use Google reCaptcha to protect our website and the Google Privacy Policy and Terms of Service apply.
after newsletter promotion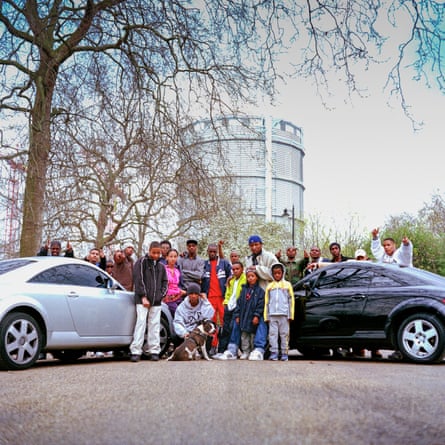 So Solid Crew pictured in Battersea Park, 2001. Photograph: © Eddie Otchere
The exhibition looks set to be the most ambitious survey yet of Black British music, though other institutions have recently been mounting their own retrospectives. The Museum of London documented the grime scene in 2022, and the British Library is collaborating with University of Westminster's Black Music Research Unit for a 2024 exhibition set to "foreground and reposition six centuries of African musical contributions to the UK".
In September, Google Arts and Culture launched an interactive website that explores the impact of Black culture in the modern-day arts scene and delves into the rich history of genres and adjacent subcultures. Named Union Black: Sounds of a Nation, it is a free online accessible multimedia platform that guides readers and listeners through videos, photographs, documentaries, and podcasts. It was co-created by BBC radio DJ Trevor Nelson, who has also hailed the arrival of the V&A exhibition, saying: "The fact that we haven't had a national exhibition on Black British music is quite surprising to me. I feel it needs to be documented. But more importantly, to tell the stories that are untold."
Curator Jacqueline Springer also wants Black British musicians to get greater recognition for their contributions. Announcing the exhibition, she said: "Set against a backdrop of British colonialism and evolving social, political, and cultural landscapes, we will celebrate the richness and versatility of Black and Black British music as instruments of protest, affirmation and creation, and reveal the untold stories behind some of the world's most popular music of all time."
https://www.theguardian.com/music/2023/nov/01/black-british-music-v-and-a-east-museum-in-2025