Haworth Tompkins has drawn up plans to transform a grade II-listed former library in east London into a museum and community space for Newham Council.
The Stirling Prize-winning practice has submitted plans to bring Canning Town Old Library, which has been vacant for six years, back into public use.
It is the second set of proposals for the site following an application in 2018 to turn the building into a Nando's restaurant, which was later withdrawn.
Show Fullscreen
The two-storey neoclassical building at 105A Barking Road was built in 1894 to designs by West Ham borough's civil engineer and architect Lewis Angell, who had also designed the neighbouring grade II-listed town hall in the 1860s.
The former library building has been unoccupied since 2017 when the library was relocated, but is said to still be costing the council a significant amount to maintain with the largest single cost being 24-hour security to prevent illegal entry and occupation by squatters.
The condition of the building is also deteriorating, with damp penetrating into several walls and ceilings.
Haworth Tompkins' plans would see the site repurposed as a flexible exhibition space, cafe and classroom with a community space on the upper floor.
Show Fullscreen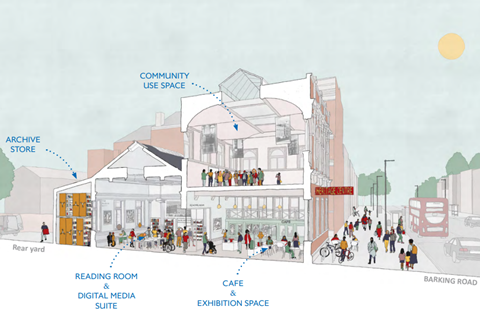 A single-storey extension would be added to the rear of the building to house a purpose built archive space for Newham council, and a two-storey extension at lower roof level would contain a new lift and stair to improve accessibility.
The project team also includes structural engineer Price & Myers, quantity surveyor Bristow Consulting, planning consultant First Plan, heritage consultant Alan Baxter, landscape architect ME Landscape Studio, transport consultant Heyne Tillett Steel and access consultant David Bonnett Associates.
https://www.building.co.uk/news/plans-drawn-up-to-turn-listed-east-london-library-into-heritage-centre/5126033.article