31 October 2023, 00:16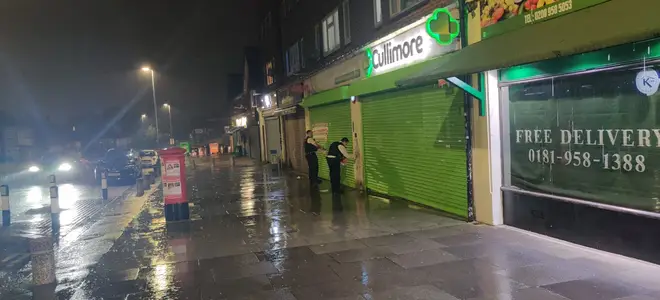 The officers are seen taking off the posters at Cullmore pharmacy in Edgware.

Picture:
X/Twitter/@schinds21

A row has broken out after Metropolitan Police officers were seen tearing down posters of those kidnapped in Israel in north London.
Two Met cops were seen removing the posters from the shutters of Cullimore Chemist in Edgware, north London, on Sunday evening.
The posters were of hostages taken from Israel and currently being held captive by Hamas.
The officers' actions have been slammed as 'disgusting' by some, though the Met has defended its officers, saying they were acting to prevent the 'escalation of tensions' in the area.
After the photo of officers removing the posters was posted online, the Met put out a statement to justify their actions.
A spokesperson for the force confirmed that the posters were put up on Saturday night, which they say led to at least two calls from concerned local residents.
"They believed the posters were put on these specific shutters as a retaliation for comments about the conflict between Israel and Hamas that were made on social media by a person associated with the business," the Met said.
"It appears print outs of those comments may also have been put up next to the posters.Both people who reported the posters to us were concerned that it would escalate an already tense situation."
Read More: Israel says female soldier captured in Hamas assault freed during Gaza operation
Read More: Israel refuses to agree to ceasefire as it would be 'surrender to Hamas terrorism' – as Israeli soldier freed from Gaza
They added that the officers went to the shop after receiving the calls and "in good faith", removed the posters "in an effort to prevent any such escalation".
It comes after a series of posters were torn down by members of the public in London in recent weeks.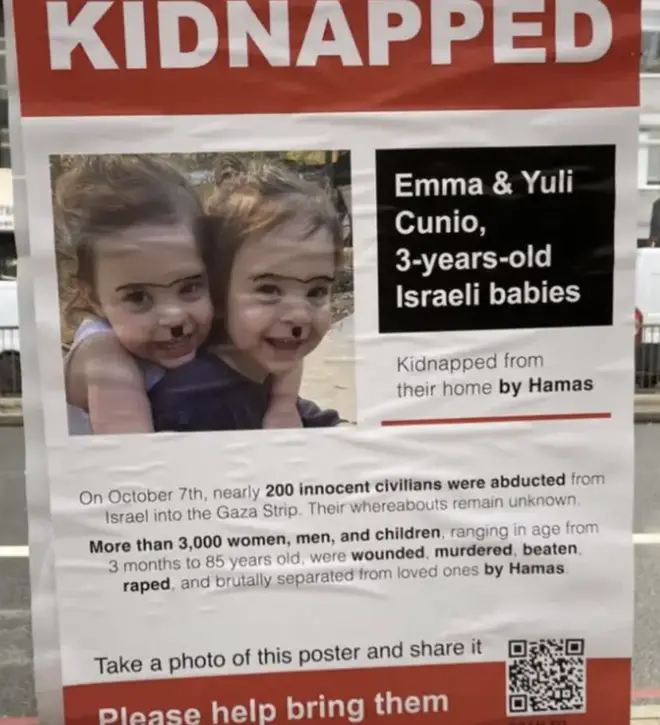 This poster of Israeli children was defaced with Hitler moustaches.

Picture:
social media
Footage posted online shows a group of people tearing down posters of Israeli hostages in Leicester Square, central London, last week.
Meanwhile, police previously said they were investigating a hate crime after a poster of missing Israeli children was defaced to give them Hitler moustaches in north London.
The leaflet had a picture of Emma and Yuli Cunio, both aged three, who it says were kidnapped by Hamas terrorists in the October 7 attack.
https://www.lbc.co.uk/news/met-police-slammed-officers-caught-removing-israeli-hostage-posters/