Oleksandr Usyk's promoter has insisted Tyson Fury "cannot escape" an undisputed world title fight on December 23, despite the latter's punishing points win over Francis Ngannou.
Fury escaped an astonishing upset defeat on Saturday when he climbed off the canvas to narrowly, and highly contentiously, edge out Francis Ngannou on a split decision.
The fight was tougher than expected for Fury and he will need to be assessed before he returns to action, leading to speculation that he would push the unification fight with Usyk into 2024.
But Usyk's promoter Alex Krassyuk says the fight will go ahead as expected.
He said: "Everyone, including Usyk, did not give much chance to Ngannou. But the man has shocked the world.
"Fury underestimated his opponent. Arrogance, lack of discipline, and thirst for money lead to these kind of circumstances.
"But we have December 23 inked and Fury cannot escape that."
Sky Sports News has contacted Queensberry Promotions for comment.
In the ring afterwards, Warren said: "Tyson's got a cut there so it's no good setting a date whilst he's got that
cut on the top of his head – we've got to see how that heals.
"He's going to rest up, that's what's going to happen next then he'll make his decision (about) what he wants to do because he's the boss. But this fight is on. It's just a matter of now setting a date."
Fury and Usyk also faced off in the ring in the immediate aftermath of the Ngannou fight, with Fury saying: "It'll be our next fight, guaranteed. I'm going to go home, take a long, hard rest and we'll see what's next."
Usyk added: "I'm going to be fighting him, amazing."
Image:
Oleksandr Usyk holds the IBF, WBA and WBO heavyweight titles

Between them, Fury and Usyk hold all four of the major heavyweight world titles.
Usyk, like Fury, has never lost a professional bout. Since Usyk completed his second victory over Anthony Joshua last year to defend his unified championships, the clamour to see him fight Fury, the WBC heavyweight titlist, has continued to grow, even if that most unlikely boxer of all – Ngannou – has inserted himself into the conversation after 10 unexpectedly competitive rounds.
Fury did sign for the Usyk fight before his 10-rounder with Ngannou so likely saw the former UFC champion more as a tune-up bout than a competitive outing.
Usyk has been his ultimate target. They engaged in a high-profile war of words as negotiations for their bout started up in the early part of this year but then stalled.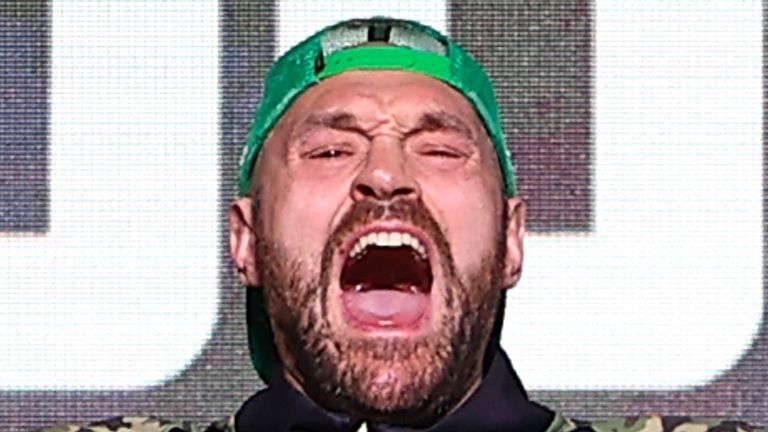 Image:
Fury had signed to fight Usyk before boxing Ngannou (Photo: Mikey Williams/Top Rank)

Instead, Usyk defended his WBO, IBF and WBA belts against spirited British challenger Daniel Dubois in August and then Fury agreed to box Ngannou.
Fury vs Usyk had to happen
Britain's Fury first became a unified world champion when he sensationally defeated Wladimir Klitschko in 2015.
He never lost those titles in the ring but they became vacant when he didn't box for more than two years.
He made a remarkable return in 2018 and controversially drew with Deontay Wilder that year. Fury beat Wilder in a rematch to win the WBC title and triumphed again in a sensational 2021 trilogy fight.
Last year he headlined two stadium fights in London, stopping both Dillian Whyte and Dereck Chisora to defend his title.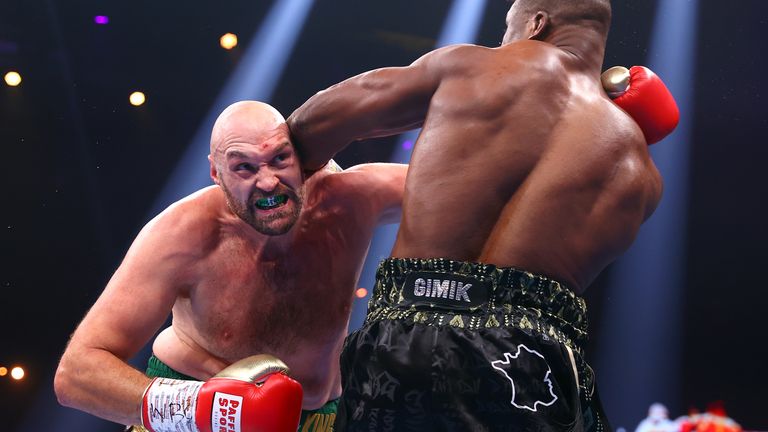 Image:
Tyson Fury unexpectedly struggles with Ngannou

Meanwhile, Oleksandr Usyk, a former undisputed cruiserweight champion, established himself alongside Fury at the top of the heavyweight division.
An Olympic gold medallist at London 2012, he soared through the cruiserweight division, winning the World Boxing Super Series as well as going undisputed.
He stepped up to heavyweight and in 2021 dethroned Anthony Joshua to win the IBF, WBO and WBA titles.
The Ukrainian defended the belts with another emphatic win over Joshua last year and beat Dubois in his first bout of 2023 in Poland, the closest he could get to a homecoming bout with the ongoing war in Ukraine.
Usyk became a renowned global figure after returning to his Ukrainian homeland when Russia invaded in February of 2022 and he continued to represent his country on a global stage when he returned to his boxing career.
With the Tyson Fury fight confirmed, boxing is set finally to get its first undisputed heavyweight champion since Lennox Lewis.
The long wait for undisputed
It's been two decades since boxing had an undisputed heavyweight king.
Lennox Lewis was universally recognised as the number one heavyweight in the world. After his retirement in 2003 the division was dominated by Wladimir and Vitali Klitschko. Together they did hold all four of the major titles at the same time but of course the two brothers would never fight one another.
Tyson Fury beat Wladimir Klitschko in 2015 to scatter three of the belts, while Deontay Wilder would pick up the WBC crown that same year.
Fury was out of the sport for two years. Anthony Joshua then unified the WBO, WBA and IBF titles in an impressive championship-winning run. But he never fought Wilder when the American had the WBC belt.
It was Fury who came back in 2018 to beat Wilder. A clash between the two Britons when both were champions was never put together. Joshua subsequently lost decisively to Usyk twice.
The significance of Fury-Usyk now being made is that on paper it pits the two top heavyweight boxers in the world against one another to decide the number one.
The simplest question for boxing – which for so long has not had a simple answer, has been: who is the true heavyweight champion?
With Fury-Usyk set, the sport will finally get the answer it's been waiting for. Only now it's going to happen after an MMA fighter, in his first boxing bout, gave potentially the world No 1 what as he says was "probably one of my toughest fights in the last 10 years".
The path to undisputed, it seems, never was going to run smooth.
https://www.skysports.com/boxing/news/12183/12995711/oleksandr-usyks-promoter-says-undisputed-heavyweight-world-championship-title-fight-with-tyson-fury-will-happen-on-december-23