Super Son starring without Kane
FREE TO WATCH: Highlights of the Premier League match between Arsenal and Tottenham
Heung-Min Son is relishing his new role at Tottenham since the departure of Harry Kane.
Now playing as a central attacker, the Spurs captain delivered again on the biggest stage with two clinical finishes in Sunday's pulsating 2-2 draw with fierce rivals Arsenal.
Son's fine performance at the Emirates saw him score for the 150th time for Tottenham and he now has five goals in six Premier League games so far this term, but that does not tell the whole story.
As well as scoring from his two shots on target, the South Korea international ended the game with a passing accuracy of 93 per cent, played two key passes, and created one big chance against an impressive and organised Arsenal side.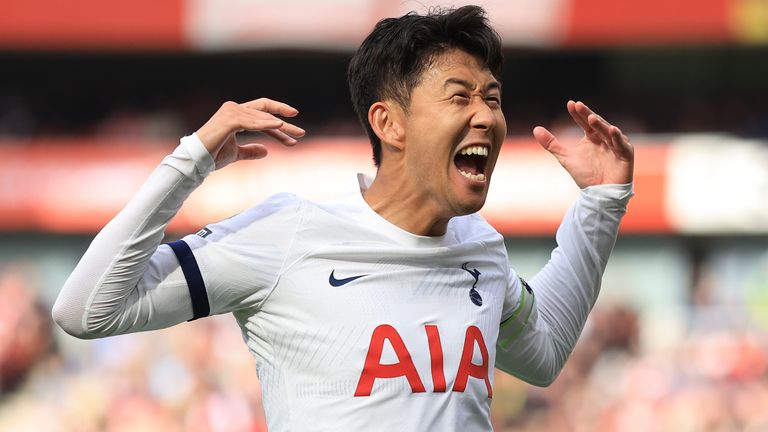 Image:
Heung-Min Son has scored five goals in six Premier League games this season

Son loves playing against the Gunners. After failing to score or assist in his first nine Premier League north London derbies, the 31-year-old has since found the net six times and registered two assists in his previous eight games against them. He is also the first Spurs player to score a league double at Arsenal in over 30 years.
"He's been outstanding as a leader and as a player," Tottenham boss Ange Postecoglou said after the match. If Son's fantastic form and positive influence continue, Spurs will have a successful season.
Dan Sansom
Apple Podcasts
Due to your consent preferences, you're not able to view this.
Open Privacy Options
Liverpool's midfield creativity impressive
FREE TO WATCH: Highlights from the Premier League match between Liverpool and West Ham
Alexis Mac Allister was hooked at half-time by Jurgen Klopp at Wolves last weekend, the deep-lying playmaker leaving Liverpool exposed to the counter-attack. There was a worrying moment early on against West Ham when he was dispossessed and Tomas Soucek almost opened the scoring.
"Macca lost the first ball," said Klopp. "And then he started to really play."
Ultimately, it was Mac Allister's invention with the ball at his feet that turned the game decisively Liverpool's way, lifting the ball over West Ham's retreating back line for Darwin Nunez to restore their lead. In just two moments, the give and take of Liverpool's new midfield was clear.
Klopp has had trios in there that are more difficult to play against than this current version, a little more suited to the defensive aspects of the game, harrying the opposition when out of possession. This version can appear vulnerable when teams are able to play through them.
But there is a creativity there now that adds a vital dimension – particularly in the absence of Trent Alexander-Arnold. Mac Allister provided the key assist but alongside him Dominik Szoboszlai, all flicks and tricks, oozing flair, is just as capable of picking the pass that will win the game.
It is an adjustment for Liverpool and the balance of that midfield will not always be right. But for the supporters who left Anfield smiling on Sunday afternoon, it also makes for an entertaining side – one that has now scored in their last 16 Premier League games. Creativity is no longer an issue.
Adam Bate
Chelsea's apathy from the stands is the worst condemnation
FREE TO WATCH: Highlights from the Premier League match between Chelsea and Aston Villa
The saying goes that it is better to be hated than be ignored.
If that is the case, things are even worse for Chelsea than they might seem.
Already enduring their worst start to a top-flight season in 45 years and unable to score for toffee, it was the resignation of the home support to their latest capitulation which really stuck the knife in.
Chasing a late equaliser in 11 minutes of second-half injury time, where was the groundswell of noise from the stands? The desperation for something – anything – to paper over the cracks, at least, on an otherwise infuriating afternoon in West London.
The atmosphere was as flat as it had been all afternoon despite the tension in the scoreline. Plenty headed for the exits, unconvinced – rightly – of the Blues' ability to find an equaliser.
Who can blame Chelsea fans for a lack of belief, watching the Premier League's most wasteful side week after week?
Nicolas Jackson was as profligate as he has been all season in missing a fine chance before half-time, Raheem Sterling wasted two promising positions and full-backs Ben Chilwell and Axel Disasi both failed to score when played in one-on-one.
A better side would have taken advantage of Villa's high line and the numerous opportunities it presented. Mauricio Pochettino hinted at his frustration after the game. "We have the squad we have, we can't change anything," he told reporters.
With limited options and his first-choice No 9 now ruled out by a bewildering fifth yellow card in just his sixth game, there are few clear solutions for the new Blues boss before January.
Certainly, there is no guarantee things will get better by then. But Chelsea fans will do worse than ignore their club if they do not.
Ron Walker
Heckingbottom to be afforded chance for redemption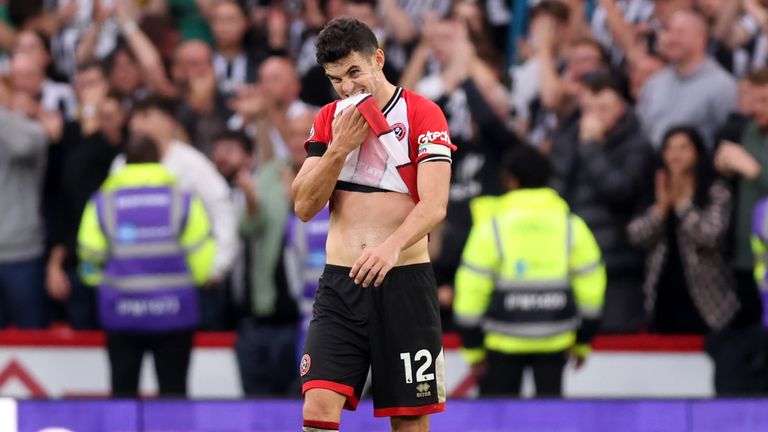 Image:
Sheffield United suffered their biggest-ever home defeat as they went down 8-0 to Newcastle

Sheffield United have no immediate plans to dismiss their manager, but Paul Heckingbottom looked on wide-eyed and white as a sheet as his side lost 8-0 at home to Newcastle. It was noticeable that, by the end, it was his assistant Stuart McCall who had come forward to bark at his crestfallen players.
A lady with a red and white scarf wrapped around her shoulders was spotted reading the book she had brought with her to Bramall Lane. It was just as well she had remembered to pack it. The clock showed 15 minutes of normal time remaining, and few could blame her.
Never before in the club's history had Sheffield United conceded eight goals on their own patch. Not since 1956 when Rotherham scored seven had it been this bad, and then Alexander Isak made it worse.
Jamie Redknapp said: "I have so much sympathy for the manager. He has to stand at the sideline and give his all. That is a dark place for any manager. He will be so low right now.
"You should never lose a game 8-0. They've been in every game of this Premier League season. There was a lack of quality but also at times, which is quite damning, there was a lack of effort. You can't do that."
Jamie Carragher called the defending "horrific" on a "devastating night" for the club. Somehow, they must find the steel this city is renowned for to pick themselves up from the canvas.
Ben Grounds
Could Bramall Lane romp prove a springboard for Howe and co?
FREE TO WATCH: Highlights from the Premier League match between Sheffield United and Newcastle
On paper at least, Newcastle United's trip to Bramall Lane looked a testing-looking fixture, coming just four days after they made their long-awaited Champions League return in Milan.
These were the games where the strength of Eddie Howe's squad would be tested and their ability to juggle their European commitments with a domestic programme in which they are expected to challenge on both fronts would also come under scrutiny.
Even more so after a stuttering start to their Premier League campaign that had seen the Magpies lose already to Man City, Liverpool and Brighton, and, given the way Sheffield United started Sunday's clash, it looked like the visitors were in for a long afternoon in the Steel City.
However, as soon as Sean Longstaff had opened the scoring, the Newcastle of last season began to emerge, and by the full-time whistle, their old swagger and confidence were back for all to see.
So much so that looking back come the end of the season, this thumping win could very well prove to be a watershed moment for Howe and co as they look to continue their momentum from the previous campaign.
Richard Morgan
Aston Villa show no signs on European hangover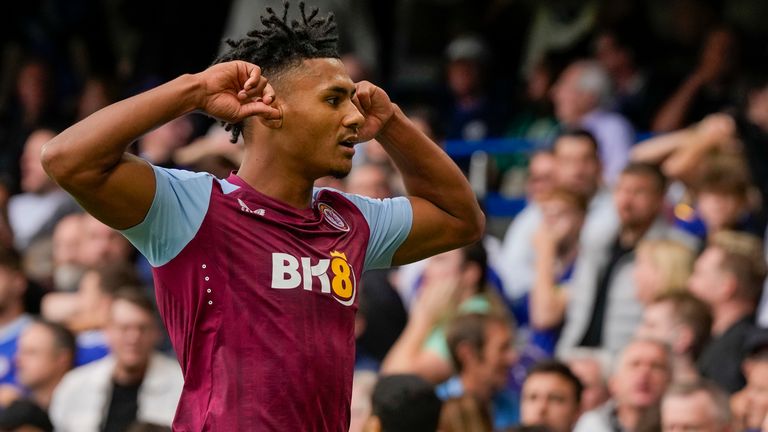 Image:
Aston Villa's Ollie Watkins celebrates after scoring against Chelsea

This is the new normal for Aston Villa, playing midweek Europa Conference League games before a quick turnaround on a Sunday for the Premier League.
Having not played in Europe since the 2008/09 season, it is not unreasonable to wonder how their ventures in continental competition would affect their other domestic ambitions. But if Sunday is anything to go by, it looks like they will have the balance of both.
It was a hard opening match against Legia Warsaw on Thursday, with the addition of late travel home from Poland followed by another away trip to London. Unai Emery rotated his five players back into the XI from Thursday, looking to utilise a squad that is starting to show strength as well as depth.
And they matched Chelsea with their performance, having more shots and the better of the play in the second half, which included the all-important goal from Ollie Watkins. They have a manager too who knows how to navigate these European ventures. His four Europa League winners medals are testament to that.
Emery told Sky Sports after the game: "Those three points are very important for us to try to keep the balance in the Premier League and keep the balance after playing in the Europa Conference League.
"But we are building the team, there is still work to do, but today was good to use different players. We need to add the players and build a stronger squad, then try to keep it going forward, working on the things we have to improve."
Of course, further proof of Aston Villa's mettle will be in the coming weeks, as the Carabao Cup comes back into rotation on Wednesday. But it has been a good reaction so far from this team as they continue to compete on multiple fronts.
Charlotte Marsh
A year of De Zerbi, Brighton are rocking
FREE TO WATCH: Highlights from the Premier League match between Brighton and Bournemouth
We truly are blessed to have Roberto De Zerbi unleashing his brave and buoyant football in English football. He celebrated his first anniversary at Brighton on Monday – it is a year the home fans will not forget in a hurry. In that time Brighton have scored 79 goals and conceded 56 in 38 Premier League games in charge – that is an average of 3.54 goals per game.
It is the highest goals-per-game ratio of any manager in Premier League history to manage 30 or more Premier League games. He would not have liked what he saw from his team in the first half against Bournemouth though. They failed to register a touch in the Cherries' box until 44 minutes were on the clock and were second best.
But good managers make the big calls at the right time and his decision to send on Kaoru Mitoma at the break kicked Brighton into gear. They are now third after winning five of their first six Premier League matches. The future remains very bright.
Lewis Jones
Evans produces throwback performance on Man Utd return
FREE TO WATCH: Highlights from Manchester United's win against Burnley in the Premier League
Jonny Evans stepped up for Erik ten Hag in his time of need at Burnley. Aside from his superb assist and disallowed goal, Ten Hag said the defender was a coach on the pitch for him at the back.
Few would have expected the 35-year-old to be so decisive when he was announced in Man Utd's starting line-up at Turf Moor. After all, the last time he started for Man Utd he played in a back four with Antonio Valencia, Chris Smalling and Marcos Rojo at Newcastle on March 4, 2015.
Just as it did at Turf Moor the result ended in a 1-0 win for Man Utd, however the outcome was far different for Evans. That game was remembered for his alleged spitting at Newcastle's Papiss Cisse. Louis van Gaal would cut the United academy product loose after that.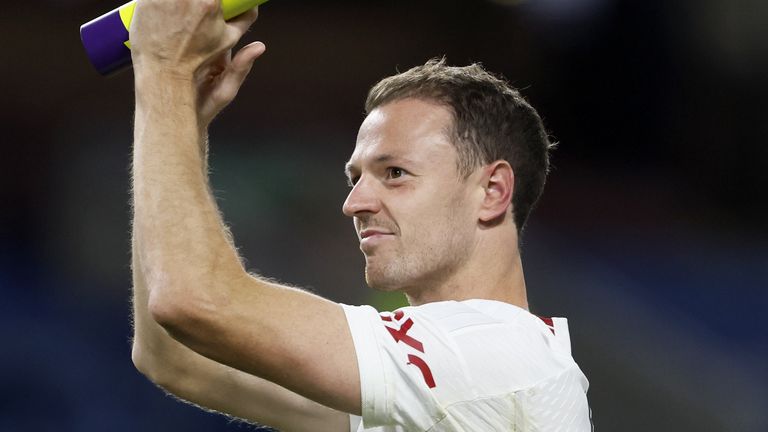 Image:
Jonny Evans was player of the match at Turf Moor on his 200th Man Utd appearance

Ten Hag offered Evans a second shot at Old Trafford after many felt he was let go too soon all those years ago. Critics derided his return but Evans' presence on the pitch proved to bring calm for Man Utd on Saturday in a season that has been defined by chaos.
Evans had the most clearances on the pitch on Saturday night, and was United's top performer in touches, passes and fouls won. It was a throwback performance that reminded us why he was Sir Alex Ferguson's most trusted defender in his final season in charge at United.
Ten Hag had to protect Evans with two holding midfielders as he brought in Scott McTominay to play alongside Casemiro to set up in a 4-2-3-1, but the defender offers his manager an alternative while the team is struggling for confidence. He is repaying the faith Ten Hag showed in him by bringing him back.
Zinny Boswell
Everton show they have firepower to survive
FREE TO WATCH: Highlights from Everton's win against Brentford in the Premier League
There was a huge roar from the Everton supporters as Jordan Pickford sent the ball into the early autumn sky one final time and Michael Oliver blew his whistle. Relief and joy. They got what they deserved tonight. There is a line in a popular chant sang by Evertonians – The Spirit of the Blues – which includes the line 'we don't know the meaning of losing'.
Against Arsenal, after home defeats to Fulham and Wolves, it looked as though they'd forgotten how to win. But had they not come away from west London with three points based on their performance on Saturday, you may have wondered if they ever would this season. Such was Everton's dominance, this must now act as a springboard for their season.
Brentford lost their previous Premier League game when going into half-time level against Newcastle. Not since January 2022 had the Bees lost successive such games, doing so against Manchester United and Wolves – but they failed to capitalise on Jensen giving them a foothold.
With the Merseyside club in the middle of a proposed takeover by American investment firm 777 Partners, Dyche continues to face questions over his leadership and the direction of the squad – but this result certainly puts a different complexion on the road ahead.
With Calvert-Lewin back fit and back among the goals as an alternative to Beto, Everton demonstrated they have the firepower to survive.
Ben Grounds
Johnstone justifying Hodgson's faith
FREE TO WATCH: Highlights from Crystal Palace's draw against Fulham in the Premier League
Any thoughts that the £20m signing of Dean Henderson from Manchester United late in the transfer window would bring an end to Sam Johnstone's brief status as Crystal Palace's No 1 have already been snuffed out thanks to the incumbent's impressive form.
Johnstone claimed the starting job from Vicente Guaita when Roy Hodgson returned towards the end of last season and his display against Fulham was further evidence of why he retains the manager's faith.
While none of Johnstone's five saves quite took the breath away, they were all executed perfectly and demonstrated the confidence the 30-year-old is currently playing with.
A return to the England squad earlier this month shows it is not just Hodgson, but also Gareth Southgate, that appreciates Johnstone's form – meaning Henderson's wait must go on.
Joe Shread
Do 'crazy' Wolves have a discipline problem?
FREE TO WATCH: Highlights from Luton's draw against Wolves in the Premier League
Perhaps it was because Gary O'Neil was incensed about yet another dubious handball decision which VAR declined to intervene on. Or because, for well over an hour at least, his side were outfought and outclassed by the league's bottom side.
But the former midfielder appeared to hit out at Wolves' players for a lack of discipline post-match. "We need to fix the craziness in the group," he said, as if the issue was far more deep-rooted than Jean-Ricner Bellegarde's rash and ill-advised decision to kick out at Tom Lockyer.
Gary O'Neil says the controversial awarding of a penalty against Luton was a 'terrible' decision. Former Premier League referee Mike Dean believes it will set a precedent for future handball decisions
In isolation, that can be disregarded as a loss of temper. In the heat of competition emotions run high and particularly in hostile atmospheres, like the one created at Kenilworth Road, lapses in judgement can happen.
But couple that with the fact Bellegarde's red card was Wolves' eighth in the Premier League since the start of last season, more than twice as many as any other side, and that poses a problem for O'Neil.
The 40-year-old is attempting to change Wolves' playing style, while also cultivating better behaviours and culture – a complete break with the way the club has been run under previous managers, he admits.
"The players are very loose within their structure, that's naturally how they've played, I'm not criticising, it's just a different way. It's a big shift," O'Neil says.
But just how big of a shift does the manager need to instigate? And how quickly can Wolves get up to task without being dragged into a dogfight in the meantime? Only time will tell.
Laura Hunter
Will Luton ever have better chance to claim first win?
Rob Edwards felt Luton dominated the game, playing quick, entertaining football against Wolves and should have got all three points
Rob Edwards remained upbeat post-match. He emphasised the progression, made a point of highlighting his pride, and praised his team's mentality. All within reason. But ultimately, Luton only have a point to show for their industrious efforts.
Edwards knows, deep down, this was an opportunity missed against 10-player Wolves. The improvement was there for all to see – stats columns are positive – and they looked far more polished, and further along in their evolution, than their Midlands counterparts. But polish doesn't translate as points.
Luton need something tangible to hold on to. One point is better than none, it must be said, but it's far inferior to three, which is what Luton needed and deserved.
Maybe the Hatters are here for a good time, not a long time. Or perhaps things really are starting to click and that will draw the spoils, but with games against Everton and Burnley in coming weeks, a first win is an absolute must.
Laura Hunter
Man City show steel as well as skill
FREE TO WATCH: Highlights from Manchester City's win against Nottingham Forest in the Premier League
A game of two halves and yet, Pep Guardiola, in his own way, may feel that his Manchester City side won both of them. City were utterly dominant in the first half of their 2-0 win over Nottingham Forest and though the momentum shifted dramatically following Rodri's red card, the manner of their performance thereafter will have pleased him.
It was almost embarrassingly easy for his side early on, passing relentlessly and then picking the moments to penetrate the back line, through Rodri's vision, Julian Alvarez's positioning and Jeremy Doku's dribbling. The sending off presented the champions with a different kind of challenge.
The crowd became involved, much more so than when City had appeared to be cruising to victory. More than once, Guardiola gesticulated towards them, earning a rousing response each time. The defence, five of them following Nathan Ake's introduction, revelled in their task of maintaining the clean sheet.
"You can lie to one person but not almost 60,000," said Guardiola afterwards. "They see that they are not lazy, they do everything to defend the result. The spectators are involved in that. that is why they can give you more energy when not involved."
The reaction upon the full-time whistle was one of pride as well as satisfaction, in a way that would not have been the case had Rodri not had his rash moment. That error by his midfielder will have disappointed Guardiola. Everything else, from the early class to the resilience shown late on, was a reminder of why they are so, so good.
Adam Bate
https://www.skysports.com/football/news/11661/12968833/premier-league-hits-and-misses-heung-min-son-starring-without-harry-kane-at-tottenham-but-apathy-sinks-in-at-chelsea