satish jassal architects hides a compact home in north london
In the bustling heart of North London's Haringey neighborhood, a new timber and brick bungalow has been built by Satish Jassal Architects to challenge the notion of what can be achieved on a constrained plot. The project exemplifies a harmony between planning, context, and materials to create a two-bedroom dwelling that redefines urban living. It can be discovered hidden behind a butcher's shop on the busy Turnpike Lane, and is accessible solely through a narrow one-meter-wide covered passageway sandwiched between neighboring retail premises. This unassuming entrance shelters the welcoming, sunlit interiors that open up beyond.
images © Richard Chivers | @richchiversphoto
pyramidal skylights flood the interiors with sunlight
The Haringey Brick Bungalow takes shape as a pair of offset volumes crowned by Satish Jassal Architects with pyramid-shaped green roofs. These distinctive pyramids, opened up by skylights, achieve a strategic alignment despite their asymmetrical orientation. More than just an aesthetic choice, this unique rooftop serves a functional purpose — it floods the interiors with sunlight while closing off views of the jumbled neighborhood of ad-hoc retail and restaurant extensions.
The architects form two sunlit courtyards through these offset volumes — one marking the entrance and the other a rear garden. These two contrasting courtyards play a pivotal role in illuminating the interiors, infusing the bedrooms and living spaces with natural light while lending views toward a sunny seating area infused with plantings.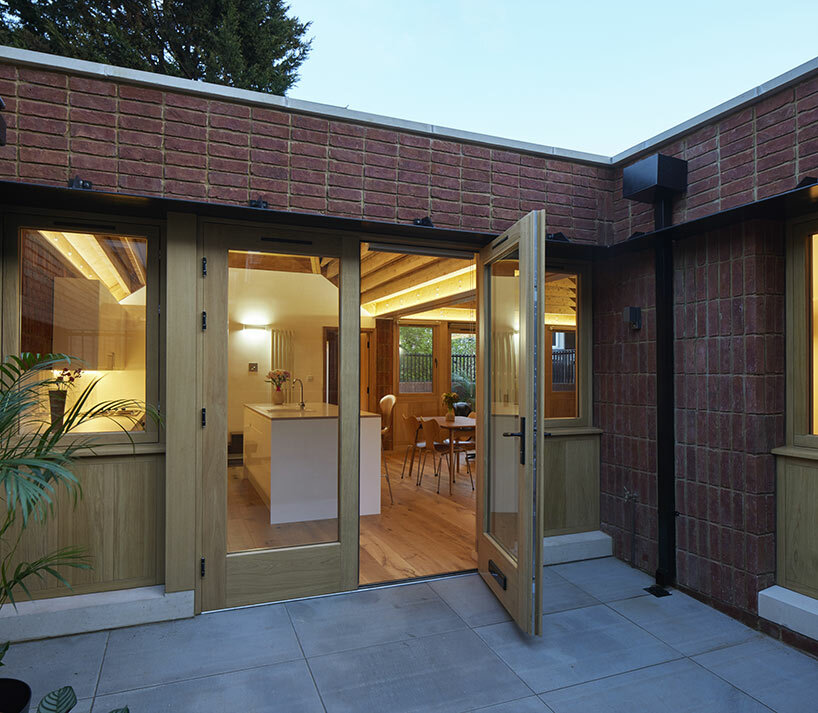 inside the haringey brick bungalow
Satish Jassal Architects curates a consistent material palette of handmade red brick and oak extends from the interior to the courtyards, forging a visual continuity throughout the Haringey Brick Bungalow. White stone sills, black steel railings, and brise-soleils complement this palette, enhancing both the aesthetics and functionality of the bungalow. Thus, the building's construction expresses transparency and clarity with its exposed structure and materiality. Inside the home is a central living, dining, and kitchen space which together spanning the two pyramids. The coffered glulam roofs punctuated by skylights each gradually ascend to a lofty 3.5 meters at their highest points, a design choice that transforms the compact space into grand, inviting sanctuaries.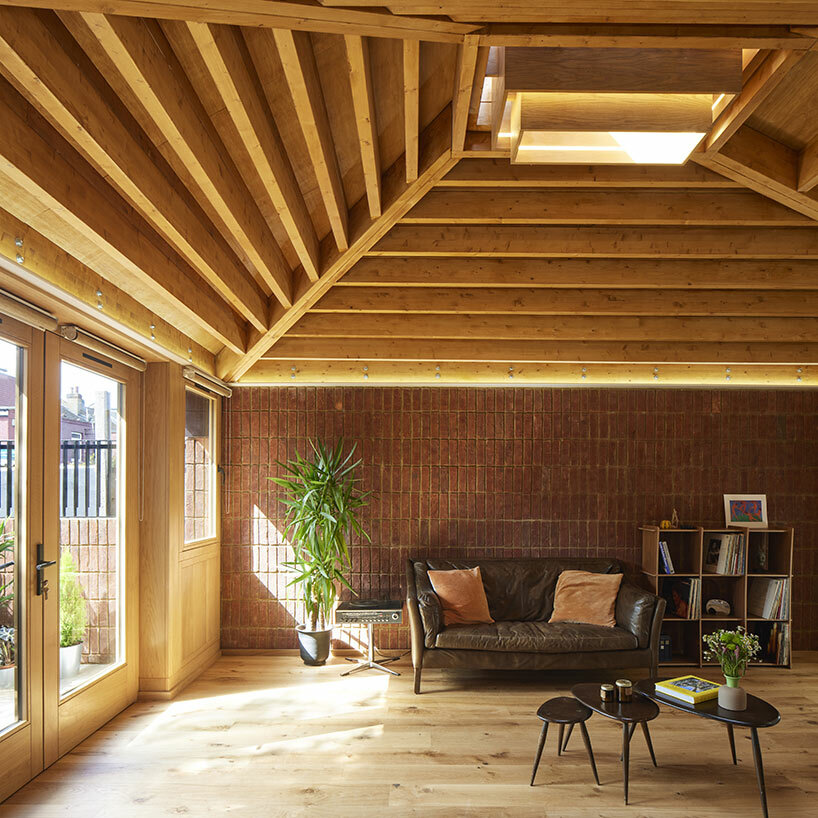 the brick structure is topped with a green roof of glulam timber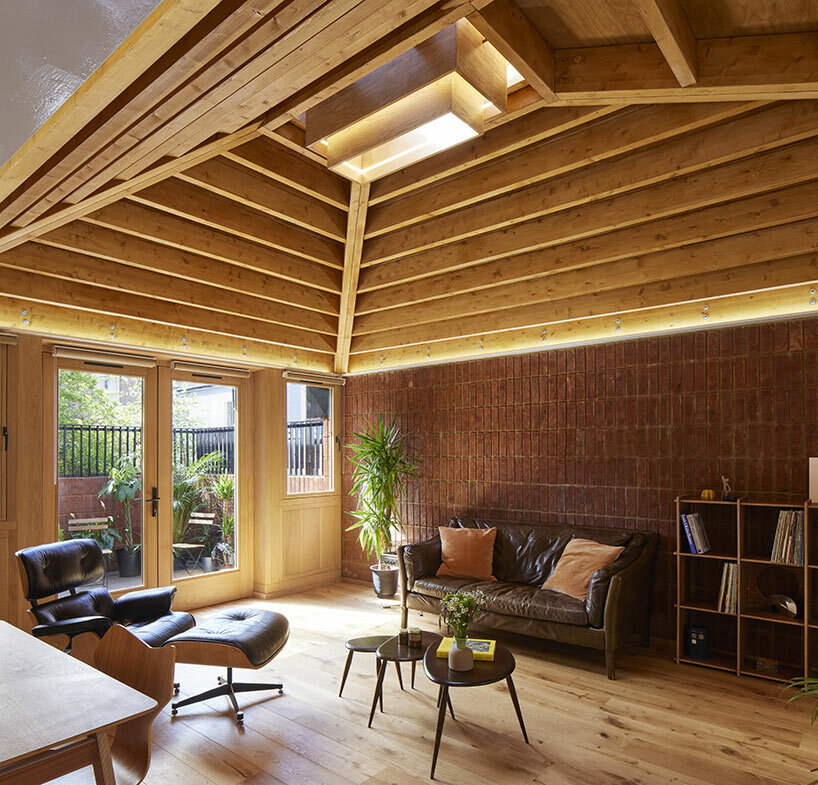 interiors open onto an intimate rear garden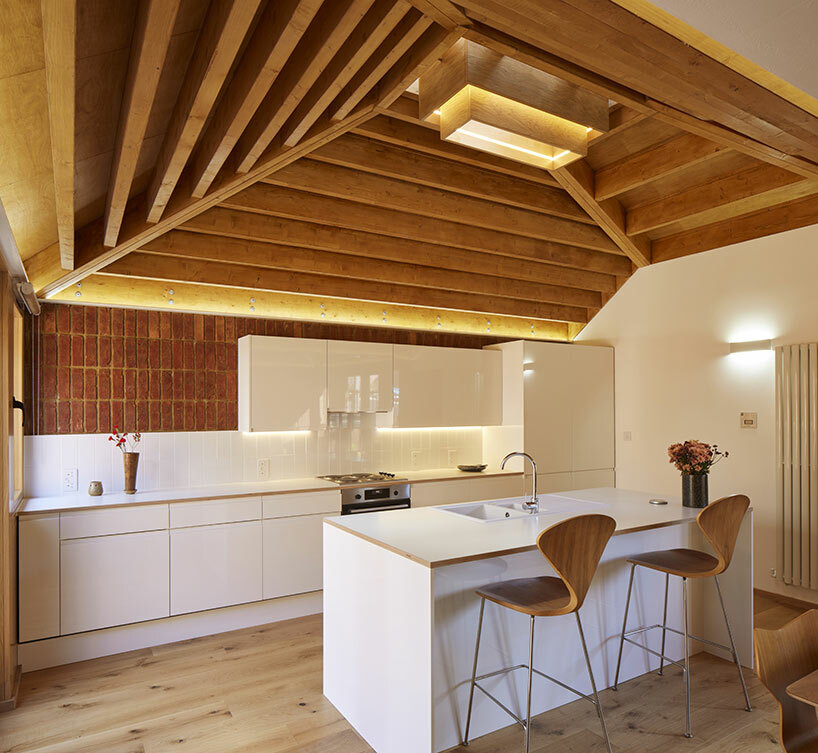 bright spaces are flooded with sunlight from skylights overhead
https://www.designboom.com/architecture/satish-jassal-architects-haringey-brick-bungalow-london-uk-09-05-2023/