The first day of secondary school is always a daunting experience – and it is especially so this term for year 7s in west London starting at a school with crumbling concrete panels.
Parents outside the school gates at the Ellen Wilkinson school in Ealing, west London, said they had spent the weekend worrying for their children's safety.
Parents received an email on Friday saying there were concrete panels in the canteen, science block, old gym and a hall, and that the school would open as planned on Monday, but these buildings would be shut for repairs.
Rebecca Hegarty: 'I really hope the other parts of the building are OK.' Photograph: Jill Mead/The Guardian
"I'm worried about her safety – I really hope the other parts of the building are OK," said Rebecca Hegarty of her daughter. "I don't want her to get in any accident, so that made me dubious about sending her in. I heard that they were closing other schools and sending kids home. With her starting school, I'd prefer she got a full education."
Because the canteen was closed, busy parents had to make packed lunches for their children. Hegarty's daughter is on free school meals, and although the school has said it will send out vouchers for food, Hegarty had not received one. "So that's an extra cost," she said.
She was irked at the thought that ministers had known about the problems with crumbling concrete for some time. "If the government knew there was a problem, then we should have been informed."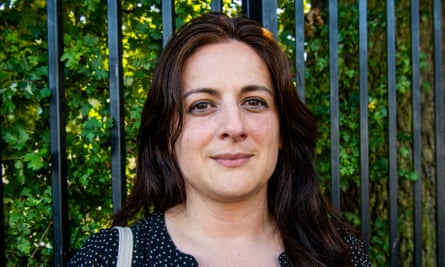 Melanie Momdjian. Photograph: Jill Mead/The Guardian
Her views were shared by Melanie Momdjian. "I was concerned. I think they should have done something during summer instead of letting us know last minute. It's another concern to add to everyday problems," Momdjian said.
Jacqueline Nuth said her family had chosen not to share the full details of the concrete problems with her granddaughter as she suffered from anxiety that they did not want to exacerbate.
She said her granddaughter had been disappointed not to be able to use the school canteen and pay for her own lunch with a money card, which she felt was a valuable lesson in independence and responsibility. She said the need for a packed lunch was a "nuisance with the family dynamics". "It's lucky I'm available," she said.
Hanen Osman: 'A couple of days' notice is not reasonable.' Photograph: Jill Mead/The Guardian
Hanen Osman said she had been surprised to learn of the problems at such late notice, but not surprised that the issue had been rumbling on unaddressed, as she had observed crumbling buildings in her daughter's former private school.
"There has to be better health and safety, more checks before they open school – they have to contact parents. If they could have sent the email a week ago … A couple of days' notice is not reasonable," she said.
Ellen Wilkinson school did not respond to requests for comment.
https://www.theguardian.com/education/2023/sep/04/im-worried-about-her-safety-parents-voice-fears-over-schools-concrete