Emma Hayes and her son Harry celebrated with the trophy in front of Chelsea fans at Reading
Emma Hayes has got used to that winning feeling, but Chelsea's latest Women's Super League title – their fourth in a row – brought a new sense of relief.
"It's gin o'clock," was Hayes' immediate response after celebrating with the trophy in front of raucous travelling fans.
"You'll find me tomorrow in north London on a park bench with a bottle of gin," she told Sky Sports.
But despite the usual trophy-laden finish to the season for Hayes, who has now won seven WSL titles with Chelsea and led them to the Double this campaign, it has not been an easy one for the 46-year-old.
"This has definitely been the hardest year. I'm relieved that it's over, for lots of reasons," she said.
Hayes had emergency hysterectomy surgery in October, leaving the team in the capable hands of her assistant coaches for almost two months.
"Having to recover from a hysterectomy midway through a season is not something most managers will be able to relate to. Let me tell you, it was really tough," Hayes told BBC Sport.
It was a rollercoaster campaign which saw Chelsea chasing for most of it, playing catch-up with games in hand, while balancing a run to the Champions League semi-finals and both domestic cup finals.
The title race went down to the final day with Chelsea knowing victory over Reading, whose defeat confirmed their relegation, would see them end the day as champions, two points above challengers Manchester United who won 1-0 at Liverpool.
'To keep going you have to survive'
For most of the season, Hayes says she has just been "surviving", adding: "I'm keeping my head above water while everyone is chasing."
With Manchester United, Arsenal and Manchester City all wanting a slice of the pie, Chelsea had to find new ways to win this season to fight off competition.
As well as Hayes' health problems, injuries to key players throughout the campaign have added further strain on the squad.
"Sometimes it's survival. In order to keep going, you have to survive," said Hayes.
"[My assistant] Denise Reddy says it's like snorkelling and you're swimming past the rocks. Sometimes this job feels like you're bobbing, your legs are kicking and you just have to keep going.
"It's just what you do because you know everyone is chasing you and you don't want to drown.
"The fear of losing drives me more than the will to win."
Chelsea have done more than just survive this season. But while they celebrated another piece of silverware at the Select Car Leasing Stadium, their defeated opponents Reading were processing relegation from the WSL after eight years.
Reading boss Kelly Chambers, a friend of Hayes, has been at the club for more than 20 years and was in tears at full-time.
"I'm upset for Kelly – she's heavily pregnant and doesn't need this stress," added Hayes, as she reflected on the mixed emotions she was feeling.
"To be in this business for 20 years – I often say this but women don't get the chances men do and if I was a club in the top division in this country I would be going after Kelly. She doesn't get the recognition for the work she's done for that football club."
Also thrown in the mix was an emotional farewell to instrumental Chelsea duo Magdalena Eriksson – who has captained the Blues to their four consecutive WSL titles – and striker Pernille Harder, with both departing the club this summer.
'I'm coming for your record'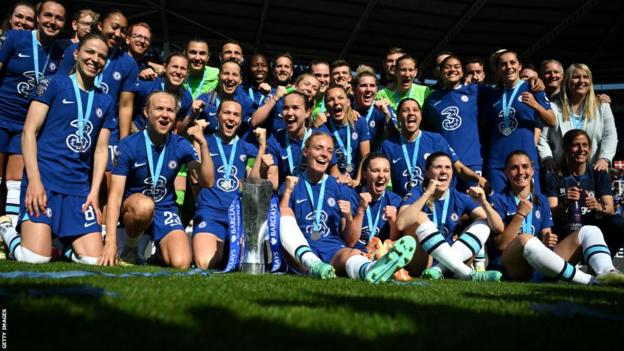 Chelsea also won the Women's FA Cup in May, beating Manchester United in the final at Wembley
Hayes likes to enjoy living in the moment but still has ambitions – and that includes winning more trophies with Chelsea.
Having previously worked with Vik Akers at Arsenal, the legendary coach who won 36 trophies with the club between 1993 and 2009, Hayes is eyeing his record.
Saturday's WSL crown was Hayes' 14th major trophy with Chelsea, so she still has some catching up to do.
"I think we've carried the spirit of that team to here," said Hayes. "Why wouldn't I? Vic coached me as a 10-year-old and he's always been in my life.
"He sat with my dad at the FA Cup final this month. For me to look up and see Vic with my dad – he always comes to the biggest games.
"I know he's Arsenal, but he's always been a champion for me. I said to him, I'm coming for your record. He laughed and said: 'You ain't gonna get it'. But I said: 'I am, I'm coming for your record'.
"I think it's a different time now and he acknowledges that. It is much harder to win. When sat with you lot in a pub in years to come, I'll turn around and say, 'what a brilliant achievement'."





https://www.bbc.co.uk/sport/football/65735885