Few industries have enjoyed as much of a boom during recent years as podcasting.
Improvements in the ease of production and distribution, with more affordable and efficient recording equipment and an explosion in the availability of smartphones and listening devices, have helped make podcasts easily accessible to vast audiences.
Media companies have been quick to identify the growth potential and have invested heavily in podcasting, not only the quality of production but also in talent, with a number of big names being lured away from established broadcasters like the BBC.
It has created a host of specialist podcasting publishers, such as London-listed Audioboom and Nasdaq-listed iHeartMedia, although in some countries the market has quickly become dominated by established media names who have swooped to acquire rivals.
In the United States, for example, although the specialist podcasting publishers like iHeart enjoy the biggest audiences, breathing down their neck are the likes of the New York Times, NBC (which shares common ownership with Sky News), Fox, Disney, Paramount and CNN.
In the UK, again, established names have a big presence. They are led by Global, the UK's biggest commercial radio operator, which owns stations such as Heart, Capital, Classic FM and LBC.
It produces and distributes podcasts, many of which build on its radio programming, through its Global Player platform.
The BBC is also a major force in UK podcasting, not only by publishing its own podcasts, but also by distributing them via its BBC Sounds app. The BBC also exerts influence over the sector by commissioning productions from independent companies.
Image:
Gary Lineker is a major investor in podcast provider Goalhanger
But the UK also boasts a number of independent podcasters, most notably Goalhanger Podcasts, whose biggest single shareholder is the Match of the Day presenter and former England football captain Gary Lineker.
Goalhanger's productions include The Rest Is Politics and The Rest Is History, respectively currently No 1 and No 6 in the number of downloads via Apple podcasts.
Advertisers have been quick to get on board, not least because two-fifths of podcasts – in the UK at least – are consumed by people between the ages of 26 and 35, an attractive demographic that can be difficult to reach.
:: Listen and subscribe to The Ian King Business Podcast here.
Research suggests nearly half of these people are tuning in to learn something new, again a demographic advertisers are keen to reach, while those commuting to and from London also form a disproportionately large part of the audience.
The average ad spend per podcast listener in the UK, which stood at £2.31 in 2020, is forecast to have grown by 79% by the end of next year. Despite the rapid growth, though, the advertising revenues garnered by the podcasting industry remain comparatively small.
The UK podcasting industry's ad revenues, even after several years of growth, are expected only to be around £64m by 2025. By contrast, UK national newspaper, regional newspaper and magazine advertising revenues last year – despite years of decline – still came in at nearly £2bn.
The big question is who is making the most money from all this activity.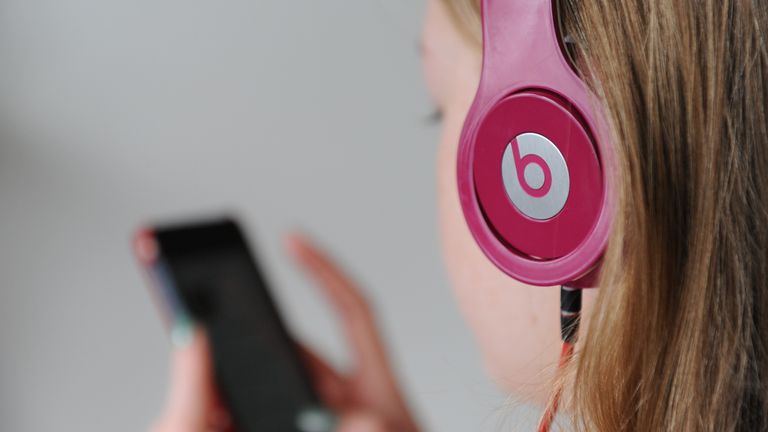 Image:
Podcasting has proved popular among younger people, helping producers reach a new audience. File pic
The answer is, unsurprisingly, the big tech giants – Apple, Spotify, Google and Amazon – all of whom have played a huge role in accelerating the growth of podcasting. Apple can be credited with kickstarting the boom when, as long ago as 2005, it added podcast support to its iTunes music platform – making it easier to for a mass market to listen to podcasts.
Apple remains one of the biggest and most important podcasting platforms, not least by having installed its podcast app on iPhones.
Spotify, meanwhile, has become a leading podcasting platform and has invested heavily to become a podcast producer in its own right, not only buying podcasting companies such as Anchor, Parcast, The Ringer and Gimlet Media, but also signing up individual personalities, such as the American controversialist Joe Rogan, on exclusive deals.
Another of these agreements saw it sign an exclusive deal with the Duke and Duchess of Sussex – whose actual podcasts turned out to be considerably less interesting than the news of their signing with Spotify in the first place.
Google, meanwhile, has also been making inroads into the sector since the launch of its dedicated podcast app.
So, too, has Amazon. It already had a strong presence in the market through its ownership of Audible, which hosts audiobooks and podcasts, but has built on this. It began to make podcasts available on Amazon Music, its music streaming platform, as long ago as September 2020 and has since branched out into owning a podcast publishing business of its own via acquisitions, most notably the podcasting publisher Wondery, which it snapped up in December 2020.
It has since sought to attract more podcast listeners by making podcasts available on an ad-free basis to members of its Prime subscription service. These include not only podcasts produced by Wondery itself but also shows from the likes of CNN and the New York Times.
The strategies vary subtly: while Apple and Google are both happy to host podcasts but not publish podcasts under their own steam, Spotify and Amazon are going for a more vertically integrated model by not only hosting and distributing podcasts but also producing them.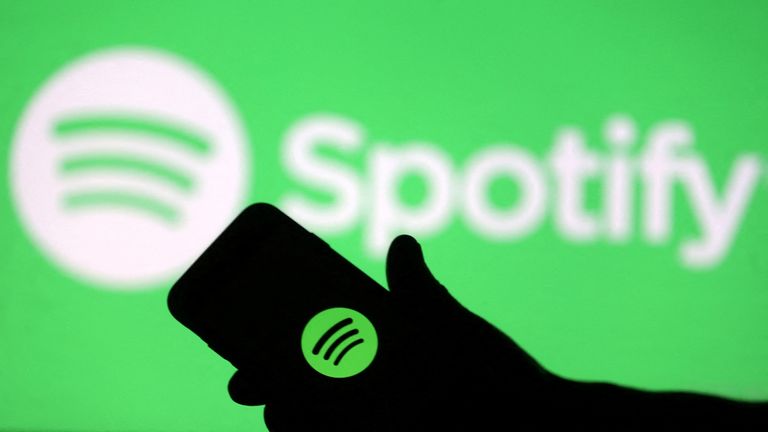 Image:
Spotify, like Amazon, produce their own content
The activity of these four should tell you though that, while there is room in the market for specialist publishers like Goalhanger or Global, most of the money made from podcasting will be collected by the tech giants.
It certainly won't be made by most podcast publishers. It is estimated that the top 1% of podcasts already account for around 99% of podcast downloads. That doesn't leave much for anyone else. It helps explains why, along with the abundance of choice, only a minority of podcasts make it past a dozen episodes or so.
The high casualty rate among podcasts also explains why there is already talk in some quarters of the podcasting boom having peaked.
The number of new podcasts launched in 2022 was down by 80% on 2021, according to some estimates, while the proportion of the population – in the US at least – that regularly listens to a podcast has also fallen during the last year.
The big podcasting publishers are being more discriminating. One of the main UK players is reputed to have decided against launching any new podcasts unless they can guarantee an audience of at least 100,000 downloads per edition.
All of this means that, while the business of podcasting has enjoyed meteoric growth in recent years, the future for the sector is rather less clear.
Ian King Live will be broadcast live from The Podcast Show 2023 on Wednesday 23 May and will see Ian joined by leading figures in the podcast industry
https://news.sky.com/story/podcasting-boom-may-have-peaked-as-big-tech-is-sound-for-the-pounds-12887691