Nineteen-year-old Molly Bell arrived in London early last week from Brisbane. By Wednesday, she had found her way to a tiny toy emporium in a nondescript street in north London to fulfil a dream. She needed to move fast as the Sylvanian Families shop, selling the eponymous toy animals and their habitats, closes on 22 April after more than 30 years.
Since 1992, the charming Highbury shop has been a magnet for thousands of collectors of the anthropomorphic animals – a magical grotto reminiscent of a bygone idyll.
"We saw on TikTok in Australia that the shop was closing, so we bought air tickets even though that might seem absolutely mad," says Bell. "I collect them, but they are hard to get in Australia. The look of this shop also seemed irresistible."
Since its closure was announced in January, hundreds of collectors have made a final pilgrimage to the only independent shop in the world devoted to Sylvanian Families. Most have come from the UK, but many others have arrived from Europe and, in particular, from the Far East. Alisa Min, a Chinese national studying in Britain, came on behalf of her mother. "A friend here is going back soon to China and will take her some animals. Though they're sold in China, there is nothing like this beautiful shop."
Sylvanian Families were first made in Japan in 1985 by Epoch, which still produces the ranges and distributes them in Britain. The concept was to create a sylvan world of toy animals, including rabbits, bears and cats, for children in the high-rise flats of Japanese cities. This is partly why they have been so successful in other urbanised Far East countries such as China, Hong Kong and South Korea.
But in Britain, too, the appeal has been huge (more than 60 million Sylvanian figures sold since the late 1980s) and enduring as a hankering for a past age and escapism from today's fast-moving world.
Sylvanian Families in the shop in north London. Photograph: Antonio Olmos/The Observer
The Highbury shop was opened by Angela and Simon Harwood, who in their spare time had run a Sylvanian Families collectors club. Though still owners, they are retired and the shop has been managed for several years by Ben Miller-Poole, who turned his love as a child collector into his career.
"Sylvanian Families are timeless classics," he says. "There's a wholesomeness to them – a life where there are no problems except deciding what to eat at a picnic."
This "wholesomeness" has also been nurtured by websites such as Mumsnet, where posts would contain messages from mothers saying that the Sylvanian Families' animals, along with their homes and little cars, encourage imaginative play.
Millar-Poole says: "There's a huge amount of nostalgia, too, among adults who remember them from their own childhoods. In most families, we are into our second generation of fans as the original collectors have children of their own, who inherit a love of Sylvanians."
People such as Amanda Waples, who came from Saffron Walden with her two daughters, Martha and Ella, both in their 20s. "We've been regularly over the years – making it a day out, often for a birthday," says Waples. "Afterwards, we'd picnic in a nearby park as if re-enacting the Sylvanian Families."
Sylvanian Families represent a wholesome world where there are no problems except deciding what to eat at a picnicBen Miller-Poole, aka Rocky, shop manager
Her daughters, while no longer avid collectors, have kept their Sylvanian toys in the attic of the family home.
According to Miller-Poole, the continued success of Sylvanian Families is "partly because they are the antithesis to tech-based toys and screen-time activities".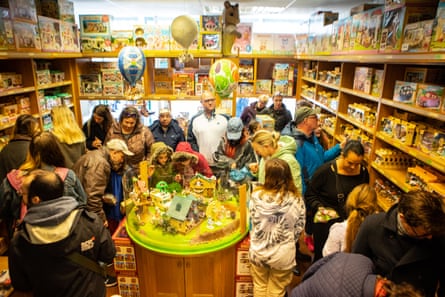 Families gather to buy toys at the Sylvanian Families shop. Photograph: Antonio Olmos/The Observer
Susannah Quinsee, who came with her three young daughters, agrees. "When I was a child it was dolls houses. But with my children it has been Sylvanian Families, which offer a world where the sun always shines. It's an old-fashioned innocence with no edge. The shop, too, is delightfully old-fashioned and frozen in time."
The Harwoods' decision to close the shop and sell the property has not only brought a surge in customers, but much more demand on eBay for animals and characters that are no longer being produced – sometimes fetching hundreds of pounds.
"Sadly, our closing is part of a trend which has seen the disappearance of so many independent toy outlets in the UK," says Miller-Poole. At least, after the doors are shut next Saturday, the ranges will still be available in large stores and via the Sylvanian Families website. "It means we can provide the same selection along with our trademark customer service and specialist knowledge," says Miller-Poole, who will himself be leaving.
As manager he wore, like everybody else connected to the company over the past three decades, a Sylvanian name badge. He was Rocky, a shop-owning rabbit. The website is being taken over by the Harwoods' daughter, who will be known as Daisy Timbertop, a Sylvanian brown bear. Clearly a very competent ursine, too.
https://www.theguardian.com/lifeandstyle/2023/apr/15/london-sylvanian-families-shop-shuts