Article content
A London man was seriously hurt in a stabbing after surprising an intruder in his home Tuesday.
Article content
Surveillance footage captured two men entering their home at 51 Paddington Ave., in the Manor Park neighbourhood northwest of Base Line and Wharncliffe roads, about 11:05 a.m. before a third man in a reflective vest and carrying two bags runs out minutes later.
Article content
The Free Press reviewed the footage captured by a nearby home's surveillance camera, showing the two residents chasing the heavyset man, who appears to remove something from one of the bags before the three begin fighting on the sidewalk.
The fight spills onto the street as the two residents punch and kick the intruder, whose reflective vest is pulled off and whose pants fall down around his knees.
The intruder tries to run with his pants down, but trips as he reaches the sidewalk, where the two men kick him in the head multiple times before one also falls.
Article content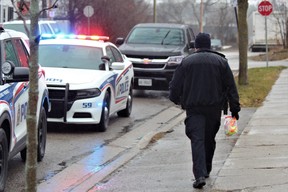 A London police officer carries a bag of evidence following a break-in and stabbing on Paddington Avenue on Tuesday, Jan 3, 2023. (Dale Carruthers/The London Free Press)
As residents emerge from nearby homes, the fight breaks up, the intruder pulls up his pants and flees south on Paddington Avenue.
Officers responding about 11:10 a.m. to a reported break-in in progress at a Paddington Avenue home found a stabbed man who was taken to hospital with serious injuries, police said.
Officers, aided by a search dog, arrested a suspect, but no charges had been laid Tuesday afternoon, police said.
An officer recovered a reflective vest from the porch of the home where the break-in occurred and put it in an evidence bag as he spoke with one of the men involved in the fight.
"We came home and he was in the bedroom," the resident was overheard saying to the officer.
It's unclear whether the injured man was stabbed during the fight or inside the house.
"He didn't even know he was stabbed because they were fighting," said a neighbour who witnessed the events.
The two men involved in the fight live at the multi-unit home, the neighbour said, adding crimes such as break-ins and thefts from vehicles are a major problem in the area.
"I'm surprised the cops got here that fast," he added.



London police probe serious crash on Springbank Drive




London police union joins call for tighter bail rules on gun charges
https://news.google.com/__i/rss/rd/articles/CBMiYmh0dHBzOi8vbGZwcmVzcy5jb20vbmV3cy9sb2NhbC1uZXdzL3N1c3BlY3QtYXJyZXN0ZWQtYWZ0ZXItYnJlYWstaW4tc3RhYmJpbmctYXQtbG9uZG9uLWhvbWUtcG9saWNl0gGQAWh0dHBzOi8vbGZwcmVzcy5jb20vbmV3cy9sb2NhbC1uZXdzL3N1c3BlY3QtYXJyZXN0ZWQtYWZ0ZXItYnJlYWstaW4tc3RhYmJpbmctYXQtbG9uZG9uLWhvbWUtcG9saWNlL3djbS8yNTExYmU3OS05N2E5LTQ4MWYtOTIxNC0wNmZmZmRjNjllNzMvYW1wLw?oc=5