Emma Thompson is a woman who tries to live fully in the present. "I'm not a big one for thinking back," says Thompson when she speaks to Screen International over Zoom from her north London home. "And I like the horizon to be nice and clear — the future is a mystery and not to be tampered with."
Of course, the discussion of her latest film roles — following a 40-year career spanning film and television and more than a dozen screenwriting credits — does come with a necessary amount of reflection.
Thompson certainly delivers memorable performances in Matthew Warchus's adaptation of his own stage musical, Roald Dahl's Matilda The Musical, and in Shekhar Kapur's culture-clash comedy What's Love Got To Do With It?, but it is in indie drama Good Luck To You, Leo Grande that she has made a particular impact. Written by Katy Brand and directed by Australia's Sophie Hyde (Animals), the film stars Thompson as widowed, sexually repressed retired schoolteacher Nancy who, seeking the fulfilment she never experienced in her marriage, hires the services of the titular young sex worker, played by Daryl McCormack — the Irish actor and 2021 Screen International Star of Tomorrow who is best known for the likes of TV's Peaky Blinders and Bad Sisters.
"I just thought [Brand's script] was one of the most interesting things I'd read in years," says Thompson. "Here was this woman who, if she's represented at all on screen, is next to the person who's doing the big heroic thing, or the interesting thing, and suddenly there she is, central to the story. We haven't seen these people be heroes before — I found it completely original."
Good Luck To You, Leo Grande filmed in Norwich in March and April 2021; due to pandemic protocols, Thompson and McCormack were bubbled in the same hotel for the duration of the shoot — not unlike the film itself, which takes place almost entirely in one hotel room. That experience helped bond the duo, whose characters — together or apart — are barely off the screen.
The two actors "are both very open, quite gregarious people, even though when I'm working I don't ever go out at night", notes Thompson. "On our day off, we might have spent it with other people but we weren't allowed. So we would go for long walks, we talked a lot, we sometimes cooked meals together. The only time we weren't together is when we'd go to sleep. And the intimacy of Leo and Nancy in that hotel room, of them just talking to each other, was absolutely mirrored by our lived experience from day-to-day."
Making Leo Grande brought up memories of her 1988 BBC TV comedy sketch show Thompson. "One of the sketches was about someone who suffered from continual spontaneous orgasm. The sketch was just an opportunity for me to do some physical gags, but the last line was from the psychiatrist and he just says, 'Get out, you filthy cow.' So it's all about women's sexuality. Men expressing sexual appetites means they're manly and virile, but it's not feminine to express appetite, sexual or otherwise."
Leo Grande premiered at Sundance Film Festival in January, where it was bought by Searchlight Pictures and released via Hulu in the US in June. Lionsgate released theatrically in the UK and Ireland, grossing $1.3m (£1.1m) at the box office; the film has also been successful in territories including Germany, the Netherlands and Australia, and has taken $9.3m worldwide. It achieved four British Independent Film Award nominations, including one for Thompson and McCormack in the new joint lead performance category.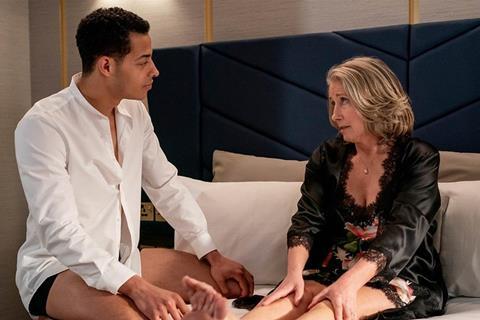 Perpetual motion
With more than 90 screen roles under her belt, Thompson seems to be in a constant state of motion and shot three films back-to-back during 2020 and 2021. What's Love Got To Do With It?, in which she plays the life and soul of the party who likes to play matchmaker for her adult daughter (Lily James), gave her the opportunity to work with Bafta-­nominated director Kapur (Elizabeth). "Shekhar is hilarious because he appears to be slightly shambolic, but of course he isn't," she reveals.
Warchus, for whom she plays villainous headteacher Miss Trunchbull in Working Title Films' big-budget adaptation of the Matilda stage musical, offered a contrast. "He is sort of eccentric in his own way. Very, very quiet, doesn't say much. But what he does say is sharp as a scalpel," Thompson notes. "I learned a lot from both of them. All those three directors were great. They were three wonderfully different directors [for] three wonderfully different pieces."
Roald Dahl's Matilda The Musical opened this year's BFI London Film Festival and hit UK cinemas on November 25, where it grossed $9.6m (£7.8m) in its first 10 days for Sony Pictures. Netflix has rights outside the UK.
The actress has a knack for picking projects, and her work has earned five Oscar nominations and two wins: for leading actress in Howards End in 1993, and her adapted screenplay for Sense And Sensibility in 1996. She remains the only person to have won Oscars for both screenwriting and acting. She has also been the recipient of numerous Bafta and Primetime Emmy nominations, and was recently honoured by the London Critics' Circle with their Rosebowl Award for services to the arts.
With Thompson receiving attention for her role in Leo Grande, she also appreciates the chance it allowed to get out of her comfort zone and challenge the traditional Holly­wood preoccupation with youth. The story required her to get naked, both literally and emotionally; in one scene, she stands fully unclothed and contemplates her body in the mirror.
Just as happened with Joanna Scanlan, who undertook a similar sequence (and won a best actress Bafta) for last year's After Love, 63-year-old Thompson has been described as "brave" for taking on the role — something the actress rails against. "It's just a disguised version of, 'It's brave of an old, fat lady to take her clothes off,'" she says. "It's code for, 'You are presenting something that's not acceptable and that's very brave.' It's not really even an insult, but it is code for something else. And that's absolutely fine. Twenty years ago, if we'd done it and I was 63 then, I think it would've been very different. I'm glad at least they're saying brave and not ugly or unacceptable."
Thompson, whose screenwriting credits include two Nanny McPhee films for Working Title, is now writing a stage musical version for London's West End. "I always used to think of writing as very solitary. It doesn't feel quite as solitary anymore. It's a lovely thing because it's a focused solitude that I enjoy," she says. And in the case of the Nanny McPhee musical, she has been developing the project in workshops alongside actors and director Katy Rudd.
"That is the ideal as I get to hear actors speak these lines, and then I understand how it can be improved or changed. And the way [Rudd] has helped shape the writing, it's just been bliss. That kind of collaboration where I'm not acting, I'm writing, but I'm hearing actors, is something I've enjoyed more than I can say."
https://news.google.com/__i/rss/rd/articles/CBMiiAFodHRwczovL3d3dy5zY3JlZW5kYWlseS5jb20vZmVhdHVyZXMvZW1tYS10aG9tcHNvbi1kb2VzbnQtd2FudC10by1iZS1jYWxsZWQtYnJhdmUtZm9yLWdvb2QtbHVjay10by15b3UtbGVvLWdyYW5kZS1udWRpdHkvNTE3NzU4OC5hcnRpY2xl0gEA?oc=5