Breadcrumb Trail Links
Local Sports
Junior Hockey
Hockey
Author of the article:
Jim Parker  •  Windsor Star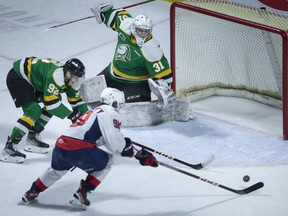 Windsor Spitfires player Christopher O'Flaherty fails to get his stick on the puck for a scoring opportunity in front of the London Knights net during OHL action at the WFCU Centre in Windsor, on Saturday, Nov. 12, 2022. (DAX MELMER/Windsor Star)
Article content
WINDSOR – The Western Conference-leading Windsor Spitfires became just became the latest victim of a London Knights squad now surging in the standings.
Advertisement 2
This advertisement has not loaded yet, but your article continues below.
Article content
The Knights are riding a three-game winning streak for the second time this season following a 6-1 win over the Spitfires on Saturday before a crowd of 5,268 at the WFCU Centre.
By clicking on the sign up button you consent to receive the above newsletter from Postmedia Network Inc. You may unsubscribe any time by clicking on the unsubscribe link at the bottom of our emails. Postmedia Network Inc. | 365 Bloor Street East, Toronto, Ontario, M4W 3L4 | 416-383-2300
Thanks for signing up!
Article content
"I think stuff's starting to click finally," said Knights co-captain Sean McGurn, whose team is 7-2 in its last nine games after a 1-4-1-0 start to the season. "We had a really tough start, but things are going our way now. We got over .500 (on Friday) and we're trying to build off that."
It was London's largest margin of victory this season and marked the first time in 10 games the Spitfires dropped a match in regulation at home this season.
"Frustrating one for sure," said Spitfires head coach Marc Savard, who gave his players two days off after the loss to refresh. "There's been no signs of something like this happening, but it happens. It's hockey and it's a good time for a little break for the guys.
Advertisement 3
This advertisement has not loaded yet, but your article continues below.
Article content
"It is a good lesson. You've got to be ready every night. That's one of those games you toss out and move forward and get back on the same page."
The Knights hit the Spitfires with a three-goal blitz in the opening 20 minutes with George Diaco, Brody Crane and McGurn, on London's only power play of the game, staking the club to a 3-0 lead.
Windsor appeared to get on the board late in the period when Matthew Maggio beat Zach Bowen, but the goal was waved off after video review showed the play was offside entering the zone.
"From 3-0 to 3-1 is a big difference after the first (period)," Spitfires centre Jacob Maillet said. "It was just tough to get going after that."
Rusland Gazizov pushed the lead to 4-0 and chased former Knights goalie Matt Onuska from the Windsor net after facing just a dozen shots. Things weren't much easier for backup Joey Costanzo, who was beaten by Landon Sim to put the Knights up 5-0 less than six minutes into the second period.
Advertisement 4
This advertisement has not loaded yet, but your article continues below.
Article content
"We had a good game," McGurn said. "I think we were all clicking. All four lines were going. Everyone was playing good."
The Knights opted to leave No. 1 goalie Brett Brochu back in London to rest ahead of Sunday's match with the Sault Ste. Marie Greyhounds. It denied the Belle River native a chance to play against the team he grew up watching, but Bowen was solid with 38 saves in just his third start of the season.
"Three-in-three (games in days), we thought we would give Brochu a rest and Bows stepped up," McGurn said. "He's such a great kid and he's an even better goalie it looks like."
Ethan Miedema put home his own rebound to spoil Bowen's shutout bid, but Crane added his second of the game before the two teams played through a scoreless third period.
"We know (the Spitfires are) a really good team this year," McGurn said. "They have a really good record, I don't think they had lost at home yet (7-0-2-0 coming in), so we made sure we were prepared for their offence and stayed tight defensively."
twitter.com/winstarparker
Check out our sports section for the latest news and analysis. Care for a wager? Head to our sports betting section for news and odds.
Share this article in your social network
Advertisement
This advertisement has not loaded yet, but your article continues below.
Advertisement 1
This advertisement has not loaded yet, but your article continues below.
Comments
Postmedia is committed to maintaining a lively but civil forum for discussion and encourage all readers to share their views on our articles. Comments may take up to an hour for moderation before appearing on the site. We ask you to keep your comments relevant and respectful. We have enabled email notifications—you will now receive an email if you receive a reply to your comment, there is an update to a comment thread you follow or if a user you follow comments. Visit our Community Guidelines for more information and details on how to adjust your email settings.


https://news.google.com/__i/rss/rd/articles/CBMiamh0dHBzOi8vbGZwcmVzcy5jb20vc3BvcnRzL2xvY2FsLXNwb3J0cy9zdGFydGluZy10by1jbGljay1sb25kb24ta25pZ2h0cy1oYW5kLXdpbmRzb3ItcmFyZS1ob21lLWljZS1kZWZlYXTSAQA?oc=5