The Seats at the Table proposal will explore the intersection between equity, accessibility, and sustainable design.
The team will work with local disabled and non-disabled young people to co-design spaces of 'sharing, making, learning, nourishment and socialising'.
The other finalists were: Beyond the Box and Scale Rule; Build Up Space Black; Lemonot and Rain Wu; Nebbia Works and Urban Lexicons; and SoUP.
Artists, architects, designers and social enterprises were invited to draw up concepts for one or more temporary public realm interventions that could be deployed in Smithfield and east London to 'collectively develop a deeper understanding of the public's experience of streets and public spaces'.
The six shortlisted teams were each invited to develop a fully costed, feasible design that included public engagement with relevant local groups during the design development and delivery phase of the project.
The project – backed by the City of London Corporation and the Foundation for Future London – aims to boost equal access to public spaces, encourage inclusive design and promote the involvement of young people in city-making. The winning team will now receive £50,000 to deliver its concept by next spring or summer.
Re-Fabricate and The DisOrdinary Project said: 'We are very excited to be bringing Seats at the Table to life at the LFA 2023 and start the co-design process with young people, Culture Mile and the public.
'Seats at the Table will explore the intersection between disability, accessibility and sustainability, and challenge what kinds of bodies or spaces are valued and devalued in conventional design processes.'
Foundation for Future London chief executive Maria Adebowale-Schwarte said: 'The vision that the Foundation for Future London had for this design competition was to address inequality in our society through design and placemaking and to provide an opportunity for true collaboration to achieve this.
'So we are more than pleased that Seats at the Table had addressed this brief, by using participatory approaches to create temporary structures to challenge ableism. We look forward to hearing the conversations that are provoked by this invention across Smithfield and east London.'
Last year LFA held a contest for the City of London, won by Unknown Works, to rethink the traditional police box – the inspiration for Doctor Who's Tardis
The latest competition is part of a collaboration between communities in east London and the corporation's Culture Mile initiative, which will transform the north-west corner of the Square Mile between Moorgate and Farringdon into a cultural hub over the next 10 to 15 years.
The district will include three major building projects: the transformation of Beech Street; the new Museum of London designed by Stanton Williams and Asif Khan; and a competition-winning renewal of the Barbican Centre by Allies and Morrison and Asif Khan Studio.
Other planned developments nearby include Studio Egret West and HawkinsBrown's competition-winning regeneration of the Grade II*-listed Smithfield market and Architecture00 + Studio Weave's contest-winning scheme for Finsbury Circus Gardens and Pavilion.
The judging panel for the public realm contest included Foundation for Future London chief executive Maria Adebowale-Schwarte; Esme Fieldhouse, head of public realm at HawkinsBrown; Open City head of accelerate Siraaj Mitha; Clarisse Tavin from the environment department at City of London Corporation; LFA director Rosa Rogina; and Manijeh Verghese, founding director of Unscene Architecture.
The winning team and shortlist in full
Winner: Re-Fabricate and Dis/OrdinaryWinner: Re-Fabricate and Dis/Ordinary
The Re-Fabricate and Dis/Ordinary team will explore the intersection between equity, accessibility, and sustainable design. Between us, we have extensive experience in engaging the public, youth, and disabled art groups across London. Re-Fabricate is a collective of architects and architectural professionals focusing on eradicating waste by promoting a circular economy and sustainable design in the built environment. The Dis/Ordinary Architecture Project is a platform that works across various projects to show how starting from disability – from the rich differences that biodiversity and neuro-divergence bring – is a powerful creative force for design. The team will bring together disabled and non-disabled architects and creatives at different stages of their careers to creatively engage with diverse co-creation and co- partnering methods for making inclusive and adaptable sustainable urban spaces.
Beyond the Box and Scale Rule
Beyond The Box is a creative practice that helps young people and communities find their voice. And use that voice with vigour. We help architects design better spaces, developers form places communities enjoy, and brands build services that have a purpose, which people actually want. We collaborate with others who believe in getting much better outcomes from working with people – outcomes that are meaningful, and that have a lasting difference. We do all of this through co-design.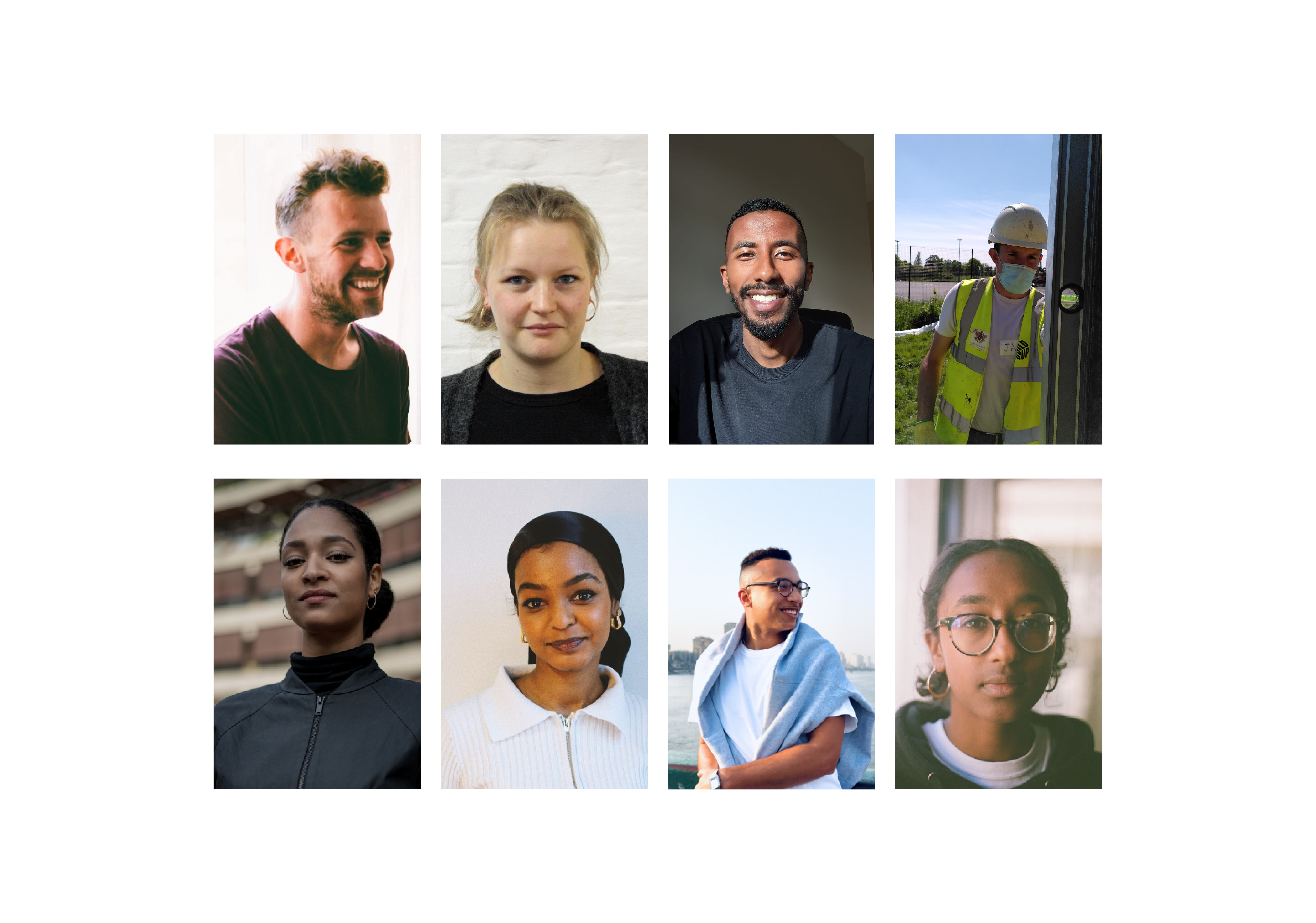 Build Up Space Black
Build Up is a charity that runs practical construction projects across London for young people aged 10 – 23 to design and build public and community spaces. Our work helps young people make decisions about their local area and become skilled, capable, and confident citizens. Space Black is a London based built environment collective of young engineers, designers, and artists. Through organic and intentional engagement, they look to support the delivery of projects that uplift commutes that are underrepresented in the design process.
Lemonot and Rain Wu
Lemonot is a multidisciplinary duo (Sabrina Morreale and Lorenzo Perri) based in London, operating at the intersection of performative arts, architecture, and relational practices.
Their projects re-invent the relationship between the urban fabric and human rituals through a wide range of media: pavilions, exhibitions, short films, and performances. Rain Wu is an artist, architect and educator based in London. Her work is conceptually driven and materialises in different forms and scales from drawing, sculpture, food performance, essay film to architectural installation.
Nebbia Works and Urban Lexicons
Design research community Urban Lexicons, and multidisciplinary studio Nebbia Works, combine collaborative insight with imaginative design — putting new creative tools in the hands of young people to dream up and design city spaces for their future. Urban Lexicons is a collaboration between Marcus Willcocks, urban designer and Central Saint Martins Research Fellow, and Rosanna Vitiello, co-founder of The Place Bureau and Central Saint Martins Research Associate. For 15 years they have explored how we build more equitable relationships in the ways a city speaks to us and how we speak back. For this project, they bring into the fold collaborators photographer and researcher Noel Moka and creative technologist Katrin Ho. Nebbia Works is a London based architecture, design and art studio founded by Architects Brando Posocco and Madhav Kidao. The studio is driven by curiosity of the idiosyncrasies and undefined boundaries of our world. They work with lived experiences and stories of the future to create exquisite, crafted designs. Nebbia Works designs through meticulous experimentation; collectively exploring narratives, technology, and materials to fabricate new public and cultural environments.
SoUP
Attracted by the possibility to explore new models of community-led design, SoUP, The People Speak and Price & Myers are collaborating, with the ambition to meaningfully influence the use of public space. SoUP (Studio of Urban Practice) is a collaboration between Yang Yang Chen, Andrew Kwok and Roy Coupland founded on a common interest in community-led public architecture. We believe that the creative process is a collective endeavour that is as important as the outcome itself. The People Speak is a group of international artists based in East London with 25 years' expertise in creating fun, interactive participatory formats and interventions where we articulate collective imagination, inform public decision-making and deepen connections between diverse groups of people. Katherine, of Price & Myers, is an engineer with a keen interest in the possibilities technology presents for the built environment to improve efficiency in the construction industry and reduce environmental impact.
https://news.google.com/__i/rss/rd/articles/CBMibGh0dHBzOi8vd3d3LmFyY2hpdGVjdHNqb3VybmFsLmNvLnVrL25ld3MvbGZhLW5hbWVzLXdpbm5lci1vZi1jaXR5LW9mLWxvbmRvbi1wdWJsaWMtcmVhbG0tcG9wLXVwcy1jb21wZXRpdGlvbtIBAA?oc=5