Searching for the best 4 star hotels in London? For a totally luxurious experience –  without the price tag of a five-star stay – check out one of these dreamy hotels in the capital.
These hotels truly know how to combine style and comfort – from places with indoor pools and decadent decor to those boasting award winning cocktail bars.
We're certain one of these decadent hotels will tick all your boxes and be the perfect base for your London trip. 
Best 4 Star Hotels in London : At a Glance 
Best 4 Star Hotels in London 
Park Plaza London Park Royal
Wembley
££
Park Plaza London Park Royal is one of the best 4-star hotels in London to stay at after a day or night at Wembley Stadium, whether you've danced the night away at a concert or cheered your favourite football team on.
This 4-star contemporary hotel is stylish with modern furnishings and decor, and there's also a state of the art fitness centre to indulge at throughout your stay. 
Hang out at the Westway Bar and Restaurant and you'll be treated to first class service and even better food and drinks in a chic dining space. 
Hux Hotel
Kensington
££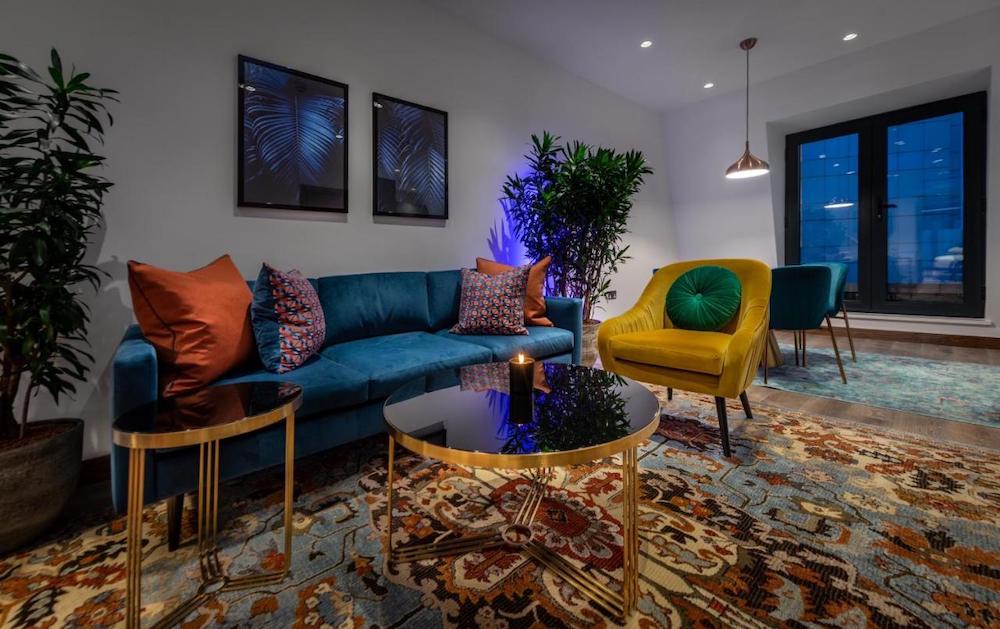 Located in the heart of Kensington, Hux Hotel is a quirky boutique hotel that's designed with your total comfort in mind. 
Hux Hotel's rooms are filled with sleek furnishings and vibrant colours, and no two rooms are the same. Leave the ordinary behind and step into Hux Hotel's whimsical world filled with a vibrant live lounge playing music each week. While the Hux Bar has sumptuous indulgent cocktails poured to perfection. 
This London four star hotel offers an array of treatments from the award winning MediSpa that will leave you feeling refreshed and pampered.
Dorset Square Hotel
Westminster
££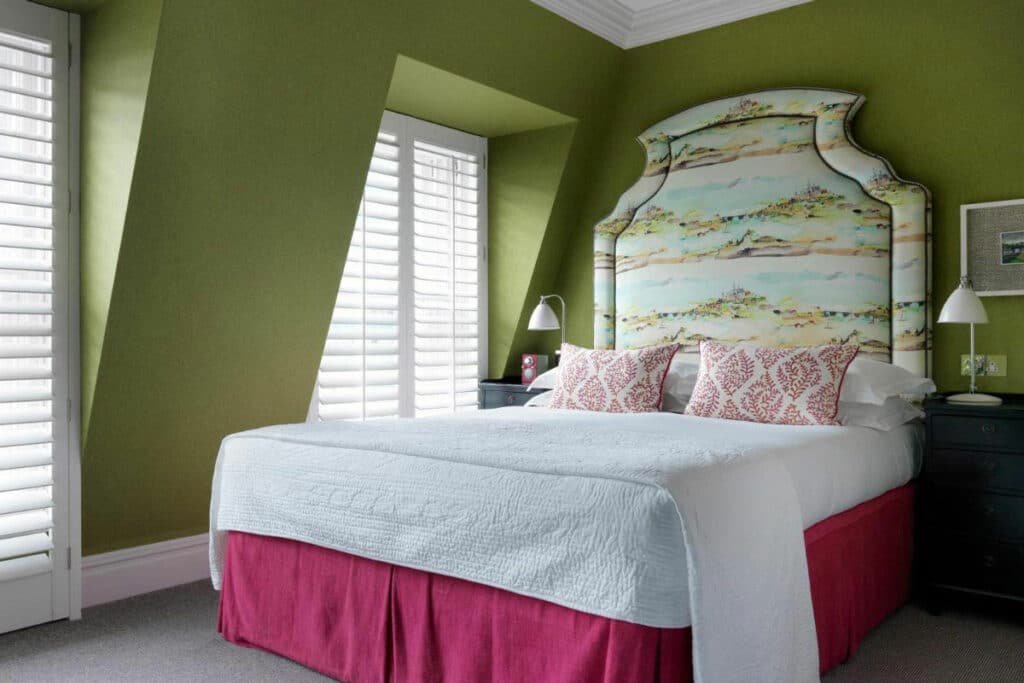 This hotel is beautiful, both inside and out. Dorset Square Hotel is a stunning Regency townhouse with individually designed rooms. 
Step inside the downstairs lounge with a roaring fireplace, or head over to The Potting Shed Bar and Restaurant which is open all day long for everything from indulgent dinners to afternoon tea. 
No two rooms are the same at Dorset Square Hotel, there's plenty of character to be seen throughout the rooms and hotel. To top it off, some rooms overlook the leafy Dorset Square, offering charming and secluded views and complete privacy. 
The Westminster London, Curio Collection by Hilton
Westminster
£££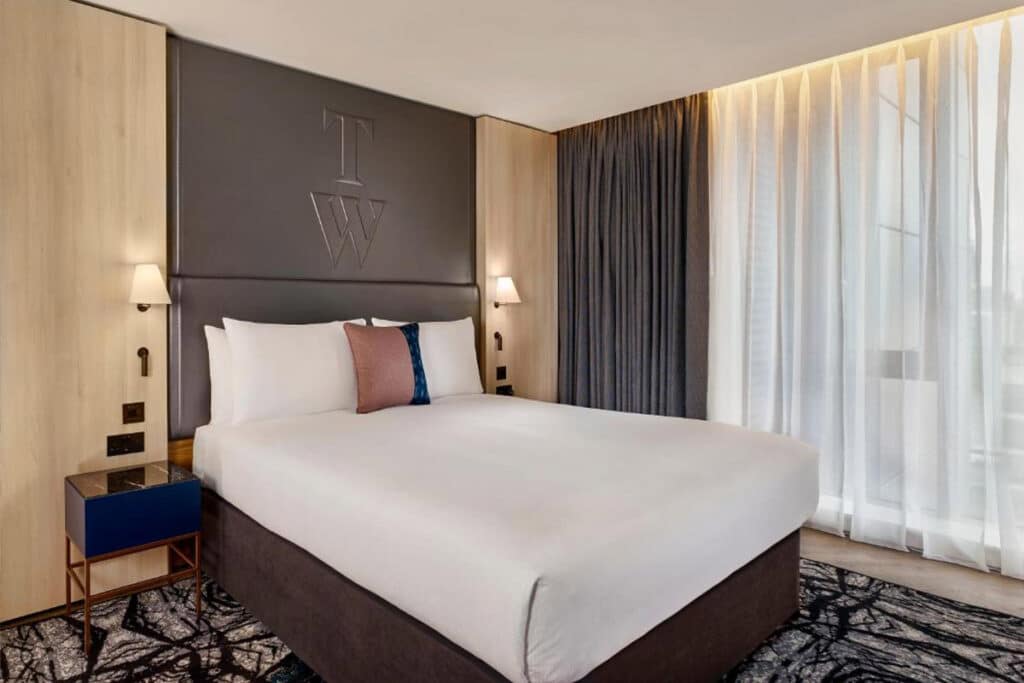 The Westminster London, Curio Collection by Hilton is a luxurious 4 star hotel just a short walk from the River Thames and also closeby to other fun attractions like Buckingham Palace and Tate Britain.
As well as a stunning location, this fabulous hotel has expertly designed rooms with luxurious rain showers and bespoke beds… Because it's the little things that make your stay perfect, right?
Convenience is The Westminster London's middle name, dine-in or grab and go with delicious food from Bao Yum for breakfast, lunch or dinner. 
The Hoxton
Holborn
£££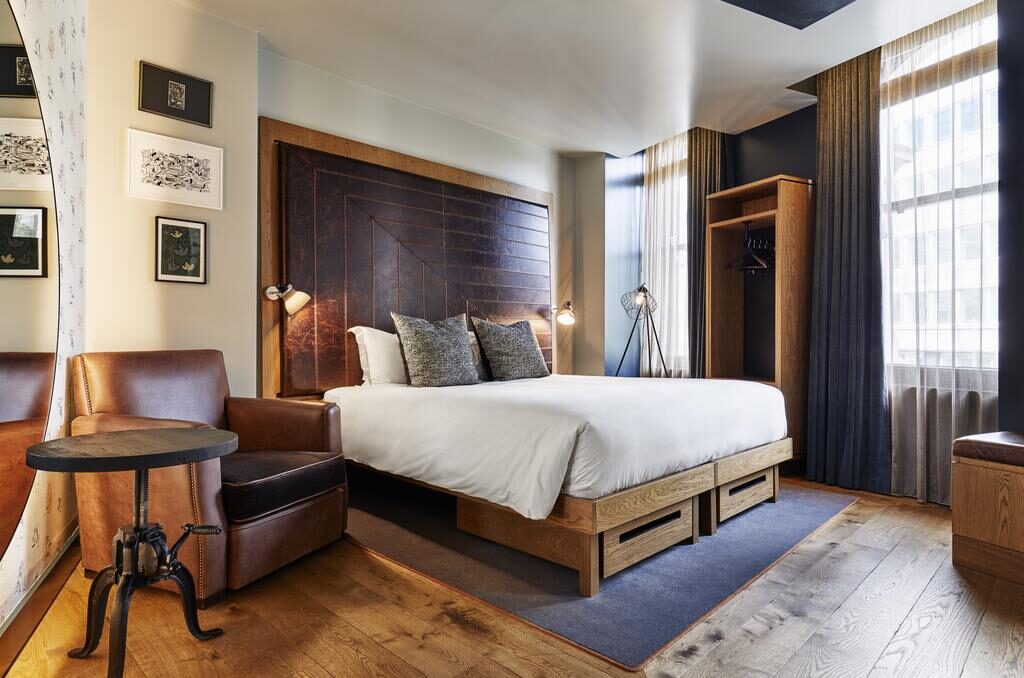 Right in the middle of Covent Garden and Oxford Street, you'll find The Hoxton hotel. It's the best London 4 star hotel near Covent Garden and it's your home away from home. 
There's plenty of choice here too, with room sizes ranging from showbox to luxurious suites. No matter the size, they all have parquet wooden floors, super comfy beds and industrial inspired features. 
Dining at The Hoxton Holborn during your stay should be top of your to do list; Rondo is a neighbourhood restaurant with seasonal dishes and La Cave is a wine bar pop-up with locally-sourced bar snacks. 
Britannia International Hotel
Canary Wharf
££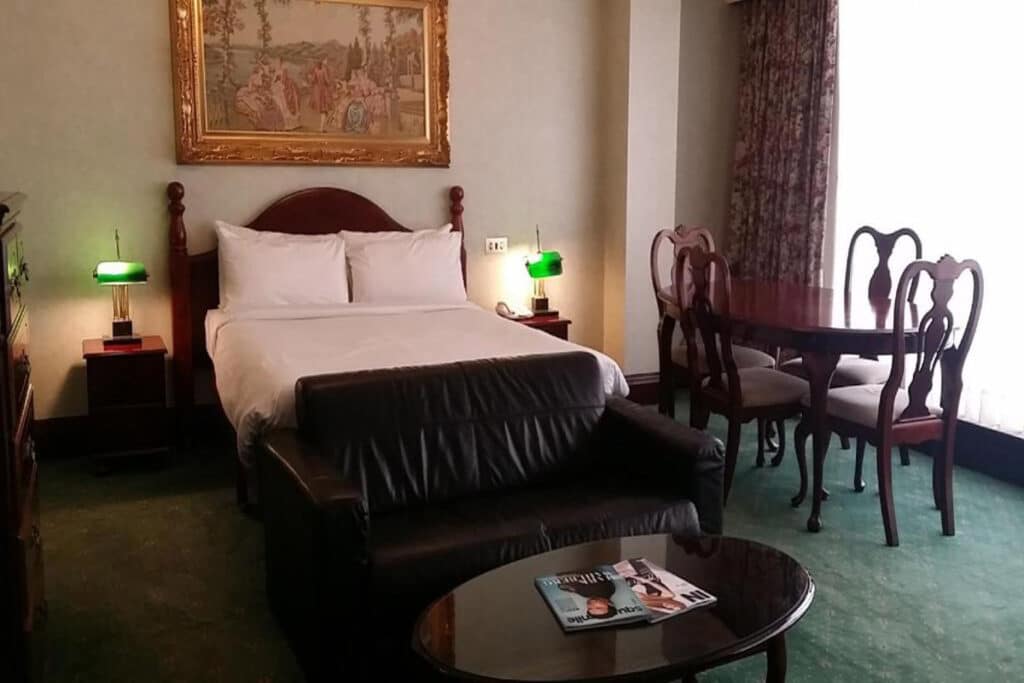 Britannia International Hotel in Canary Wharf is the best place to stay if you're planning a trip to the O2, which is closeby.
The modern, glass-fronted hotel has spectacular views over the London skyline and, if you're travelling with a furry friend, your pet can even stay here too in one of Britannia International Hotel's pet-friendly rooms. 
The hotel has two on-site restaurants offering breakfast, lunch and dinner as well as some seriously gooey overstuffed pizzas perfect for any time of the day. There are also two bars for some drinks before heading out to explore London at night. 
All rooms come equipped with comfy beds and some have picturesque views of the Thames.   
Millennium Gloucester Hotel
Kensington
£££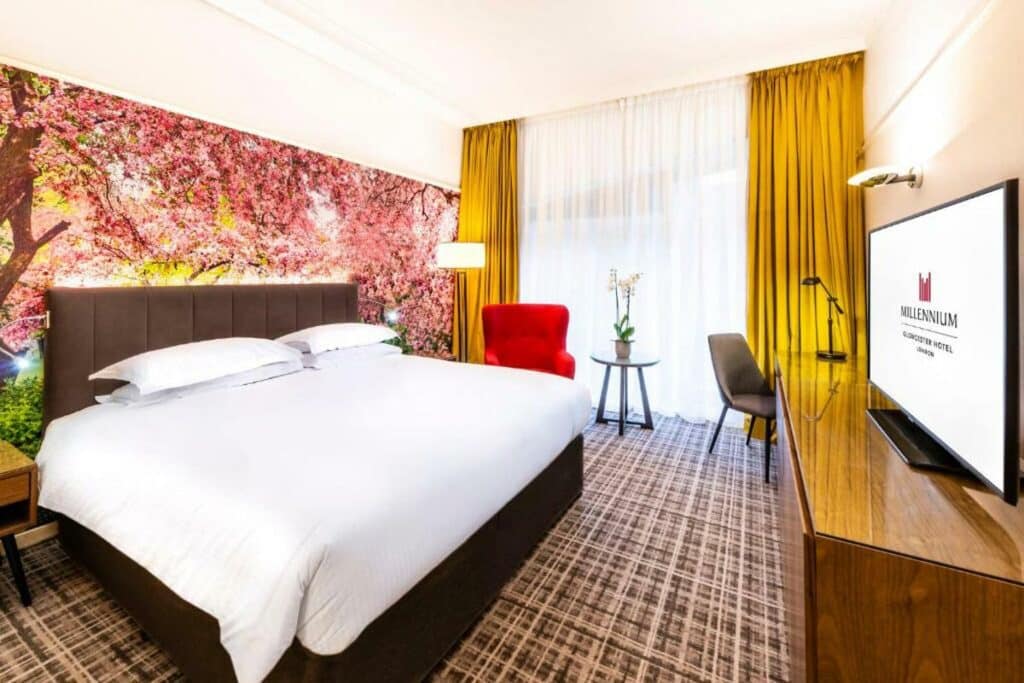 Located in the fashionable Kensington, Millennium Gloucester Hotel is a great place to stay and explore the surrounding attractions like Kensington Park, Royal Albert Hall and Hyde Park– all are within walking distance. 
Whether you're looking for luxurious suites or deluxe or executive rooms, Millennium Gloucester Hotel's rooms are a welcome retreat from the busy London streets. Some of the luxury suites in this 4 star hotel boast amazing views of the London skyline, as well as featuring two-pillar beds and fancy period features. 
The Tower Hotel London
Tower Hamlets
£££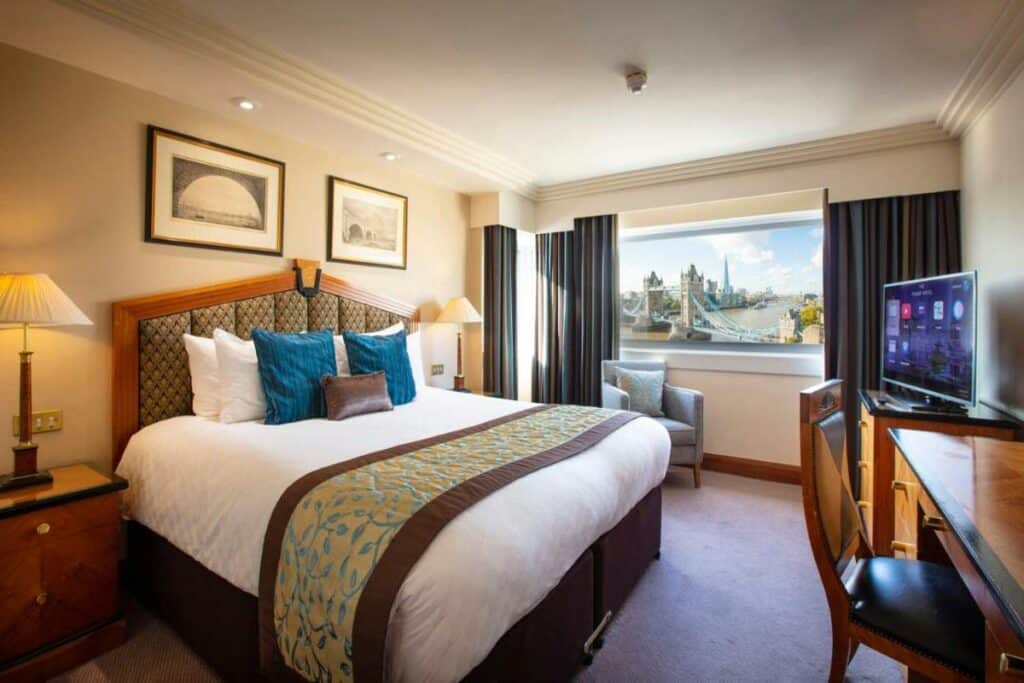 Fancy a unique view of the Tower Bridge from your hotel room? The Tower Hotel London offers views of the River Thames and the iconic Tower Bridge and it's also close to the Tower of London, St Katherine's Docks and the Shard. 
Settle into four star comfort at this hotel and relax in super comfy beds with a flat screen TV, although you'll most likely be checking the view out over watching TV. 
The Vicinity restaurant at The Tower Hotel has a floor-to-ceiling window bar as well as outdoor decking – you should make sure you dine here during your stay.
Hotel 55
Ealing
££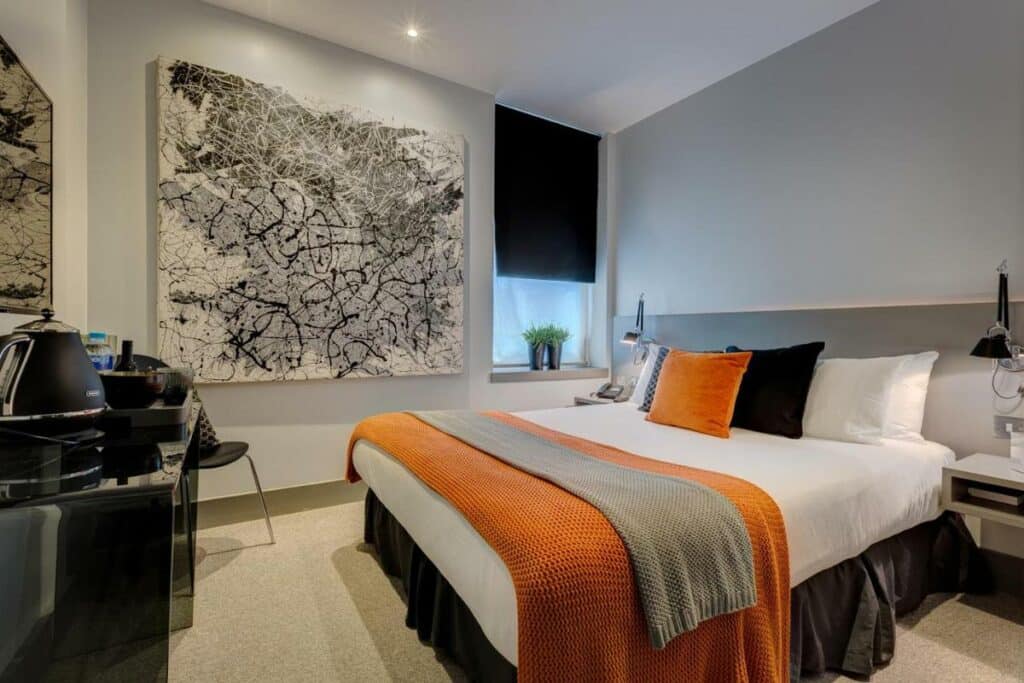 Hotel 55 is a stylish boutique hotel located in Ealing. The location of this hotel is great for a trip to the Royal Botanic Gardens, or the London Transport Depot is within walking distance too.
The creative rooms here are filled with colourful furnishings and lively decor as well as coffee machines and flat screen TVs. 
Mornings are a breeze at Hotel 55, enjoy a full continental breakfast during your stay and head to the bar and lounge for a few drinks in the evening. 
The Bloomsbury Hotel
Camden
££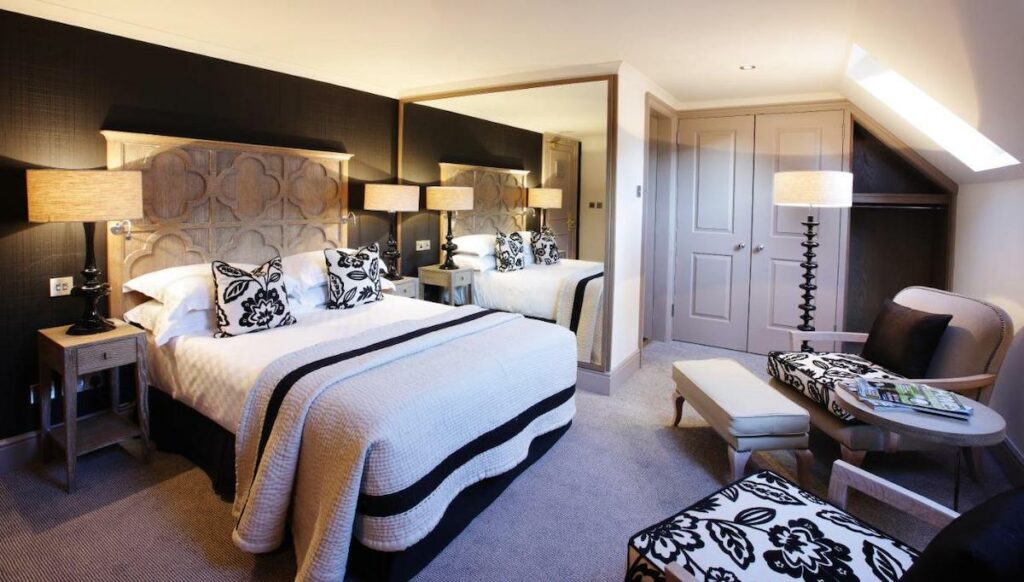 Located near Covent Garden, The Bloomsbury Hotel would make a great addition to your trip if you're planning to watch a West End show. 
This 4 star hotel in London is luxurious and does not compromise comfort and style. Stylish rooms have luxurious bedding, fluffy bathrobes and the indulgent Mailn Goetz toiletries. 
If you're hoping to dine at the hotel, you're in luck, there's a choice of three restaurants and bars, and on the weekends you'll find live music playing at the Bloomsbury Club Bar.
Hyatt Place London City East
Tower Hamlets
££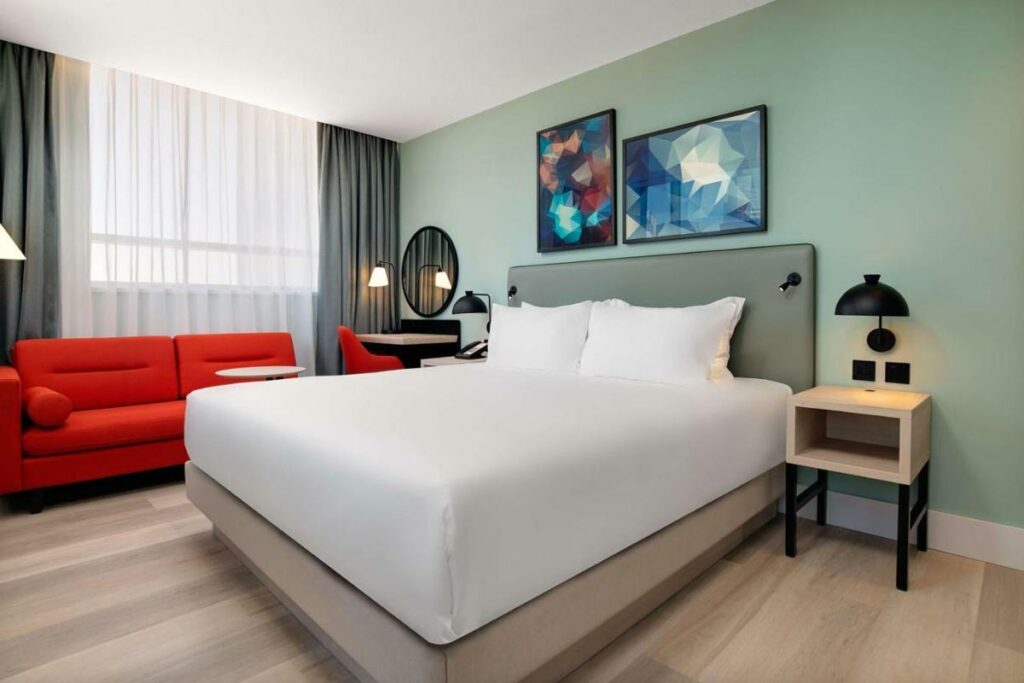 If you need a place to stay in East London, Hyatt Place London City East is the best place to stay with all the perks. 
This hotel ticks all the boxes for add ons, there's a 24 hour fitness centre and restaurants, one of which has a gorgeous outdoor terrace to soak in some London views. The breakfast bar will see you start the day right with your choice of full English, artisanal pastries, coffee and fresh juices. 
Rooms are urban chic and offer breath-taking views over the London skyline as well as 55" smart TVs for some lazy morning entertainment. 
Corus Hyde Park Hotel
Westminster
£££
Corus Hyde Park Hotel is a rather grand large white building that you couldn't miss located opposite Hyde Park. Convenient rooms have air conditioning, comfy beds and on-demand movies, so that's your lazy morning in bed sorted. 
It's one of the best 4 star hotels in London city centre for location, you're closeby to lots of fun activities. Most of which you wouldn't even need to hop on the Tube for, Oxford Street is just a stroll away and Kensington Palace is a must see in the area too.
The Beaufort Hotel
Knightsbridge
£££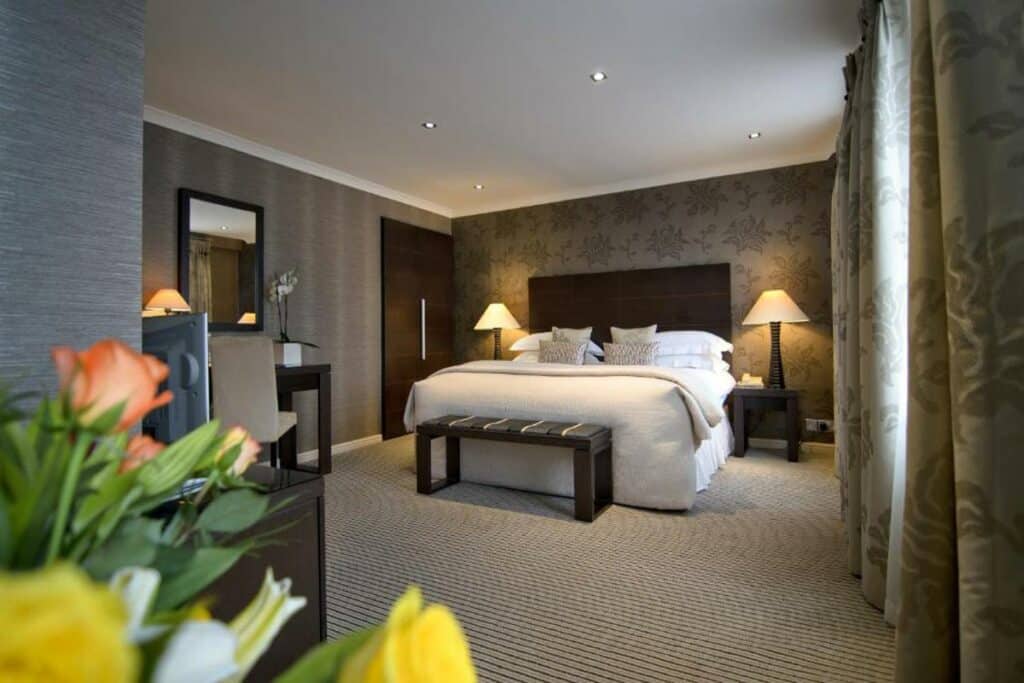 The Beaufort Hotel is a charming, family-owned boutique London hotel. If you're looking to shop until you drop, this is the perfect location for you, as you're staying just moments away from Harrods and Harvey Nichols. 
But there's more than just shopping on your doorstep, visit the V&A Museum, Hyde Park or Buckingham Palace for some fun historical London days out. 
Bright and airy rooms feature fresh flowers, watercolour paintings, and of course dreamy beds with Egyptian linen. The best part about the rooms here is probably the elegant marble bathrooms and luxurious toiletries. 
Ruby Lucy Hotel & Bar
Southbank
£££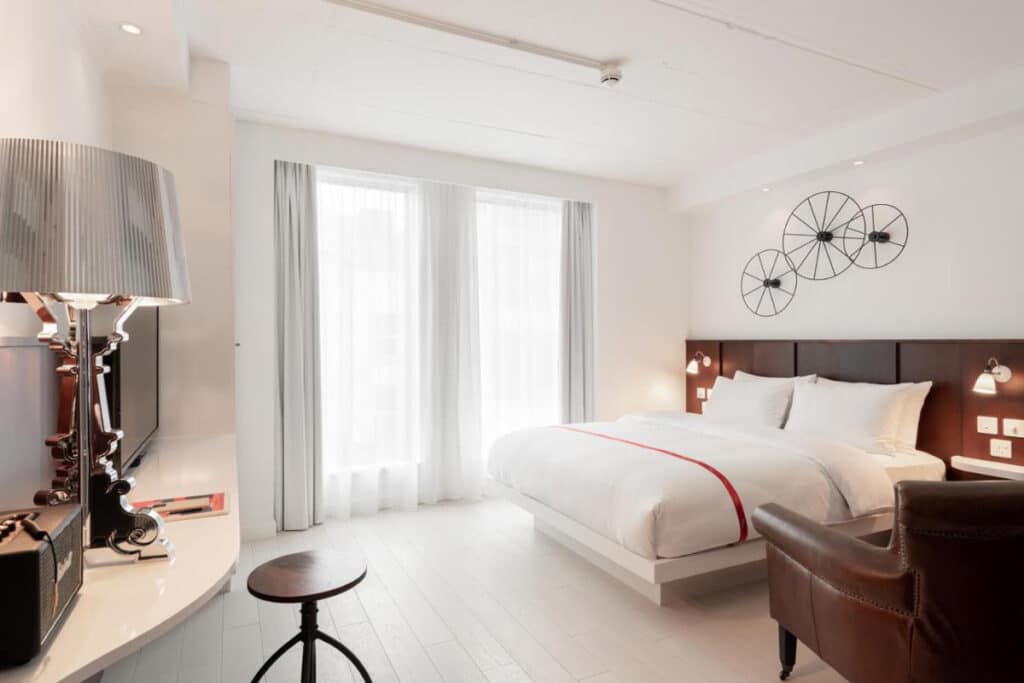 Located in Southbank, Ruby Lucy Hotel & Bar is a magical world of colours and oozes the mystical charm of London's funfairs. 
This 4 star London hotel draws inspiration from the amusement of the area it's in, expect to find heavy, dark tones, shiny base accents and stripe designs with circus drums and juggling clubs. 
In contrast to the quirky lounge and bar, Ruby Lucy Hotels rooms are minimal by design and ooze calm and tranquillity with fresh whites and dark woods. All rooms can enjoy a continental or buffet breakfast in the morning as well as snacks and drinks from the 24/7 bar. 
Lansbury Heritage Hotel 
Tower Hamlets
££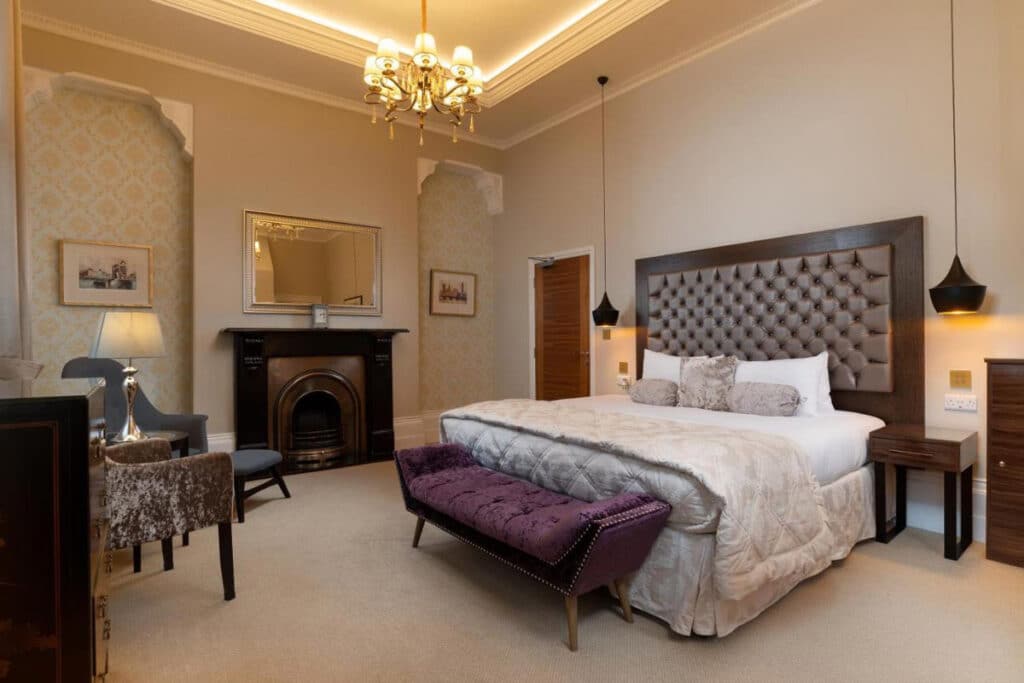 We couldn't not mention this boutique luxurious hotel in Canary Wharf, it really is one of the best 4 star London hotels. 
Lansbury Heritage Hotel is nestled in between leafy churchyards and Grade I listed buildings, this heritage site has lots of history from the East India Company buildings first chapel to famous Labour politicians. 
Boutique rooms feature king or queen size beds and rich Egyptian linens and in-room control systems. With a fitness centre, bar, and restaurant on-site serving a full English and a delicious dinner menu you might not even want to venture out during your stay. 
St George's Hotel
Wembley
££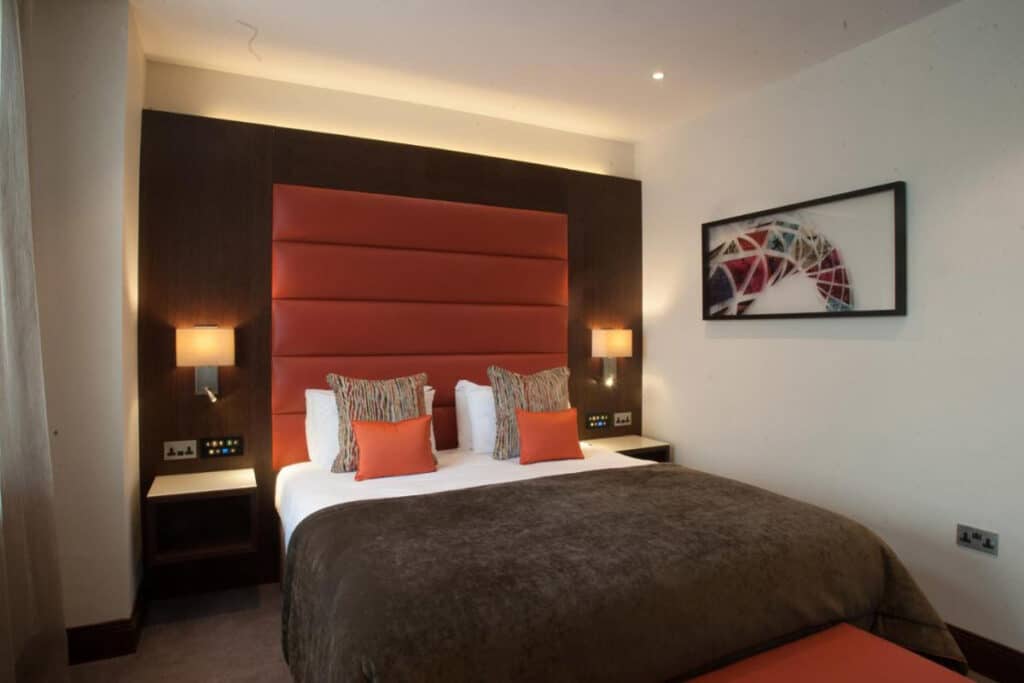 The St George's Hotel overlooks the iconic Wembley Stadium and it's a great place to stay if you're planning a shopping trip. The hotel is also opposite The London Designer Outlet with lots of shops and places to eat on your doorstep.
For a small fee, enjoy a continental or full English breakfast every morning throughout your stay at St George's Hotel. As well as that, guests can dine at La Regina Cafe Restaurant serving up authentic Italian cuisine. 
Rooms here are minimal by design and big on comfort, beside your bed there's a control panel for lights and heating. 
Warren House Hotel 
Kingston 
££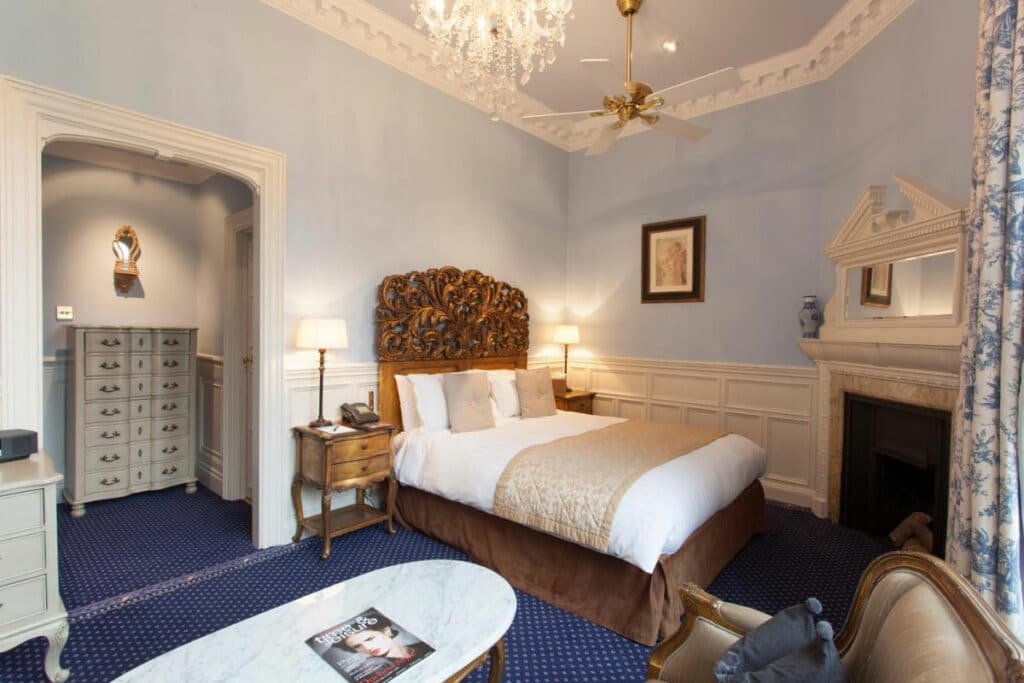 This breathtaking Victorian Grade-II listed hotel is a privately owned venue on the outskirts of Kingston Upon Thames. 
The Warren House Hotel is luxurious and quite often is the backdrop for weddings, set inside 6-acres of beautifully landscaped gardens it's easy to see why. 
The 4-star Victorian hotel has 50 luxurious bedrooms capturing Warren House's history and hidden tales. Make sure you dine at any of the two bars and restaurants at Warren House Hotel and take a morning stroll around the grounds, it's stunning.
The Clermont Hotel
Victoria 
£££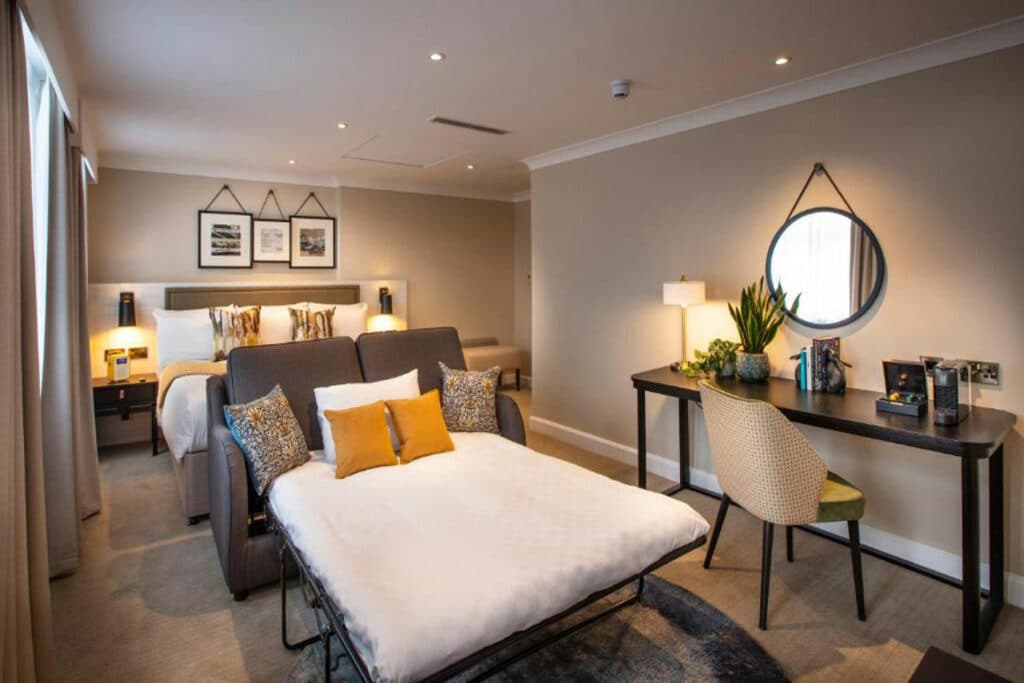 This beautiful and historic Grade-II listed railway hotel in Victoria station was designed by James Thomas Knowles and opened in 1862.
The Clermont Victoria is a great location to stay for exploring Buckingham Palace, Hyde Park and Big Ben – all within walking distance from your hotel room. This 4-star hotel is nothing short of grand from its lavish decor with period features to late check out and luggage service. 
Pestana Chelsea Bridge Hotel
Chelsea
££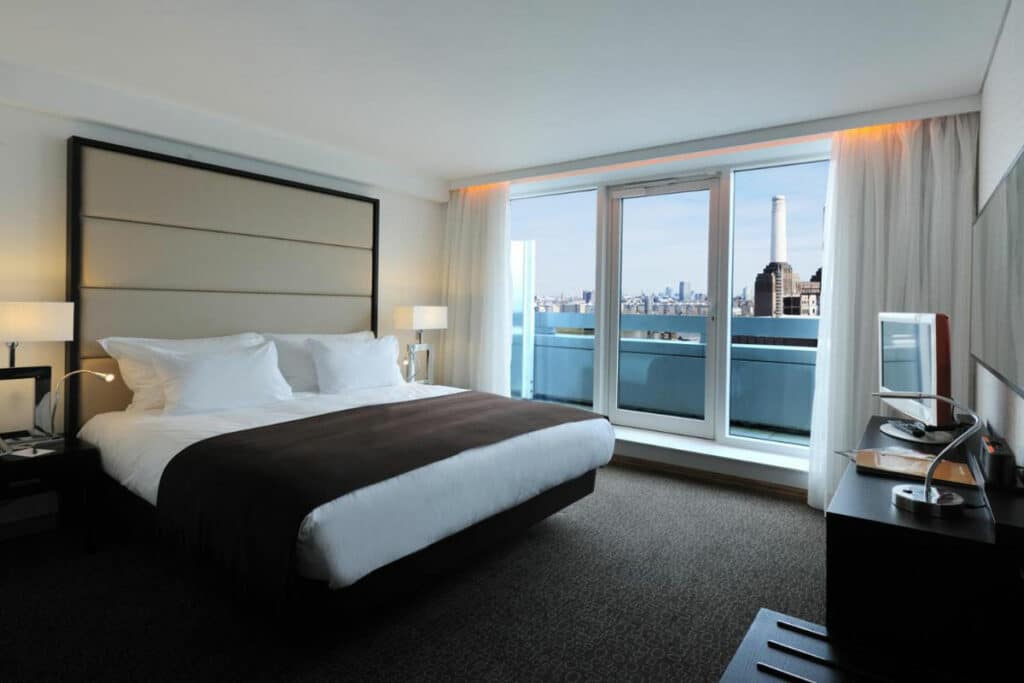 Located in the trendy Chelsea, Pestana Chelsea Bridge Hotel is nestled between Battersea Park, the River Thames and the iconic Battersea Power Station. 
You'll be treated to modern spacious rooms with luscious views as well as a fabulous indoor heated swimming pool – so make sure you take a dip during your stay at Pestana Chelsea Bridge Hotel. 
The Atlantico restaurant and lobby bar has breakfast on hand for the morning and dinner is sorted too.
Park Grand Paddington Court
Paddington
£££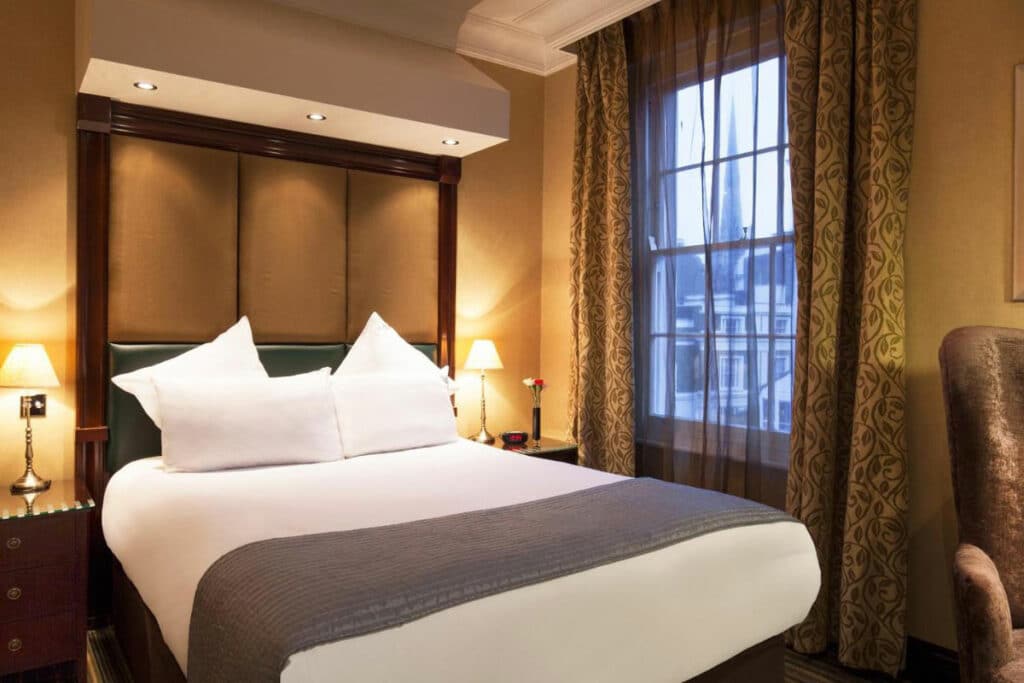 The name says it all here, everything is grand about Park Grand Paddington Court hotel. Set inside an elegant Victorian building, rooms bring about old world charm with modern amenities. 
Interactive TV's are in every room here as well as modern bathrooms equipped with luxurious toiletries for you to indulge in. Closeby to Paddington station this 4-star hotel is a great base for exploring Central London and beyond as it's well connected to most areas. 
The Zetter Townhouse
Islington
£££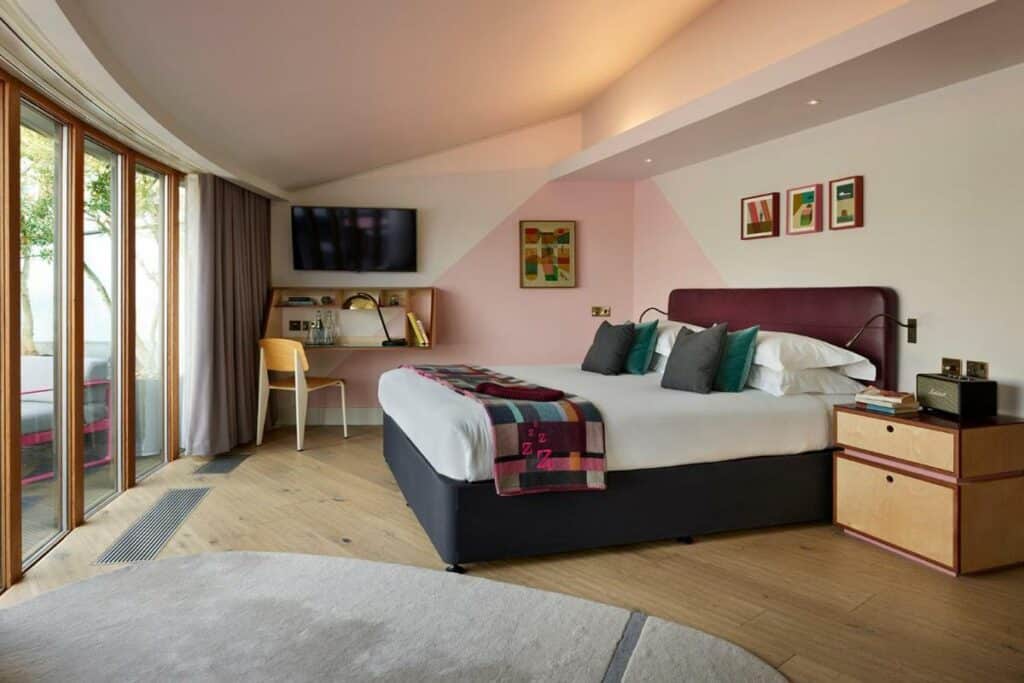 Fancy staying in a quirky Georgian Townhouse? The Zetter Townhouse in the bustling Clerkenwell is independently owned and located on a picturesque cobbled square. 
The hotel also boasts an award winning cocktail lounge and free bike hire, so that's your activities sorted. 
As for the rooms at The Zetter Townhouse they're also well-thought out with snack trays, air conditioning and flat screen TV's. Now for the best bit, rooms come with free standing baths, REN products and a radiance shower. 
Sunborn London Yacht Hotel
Newham
£££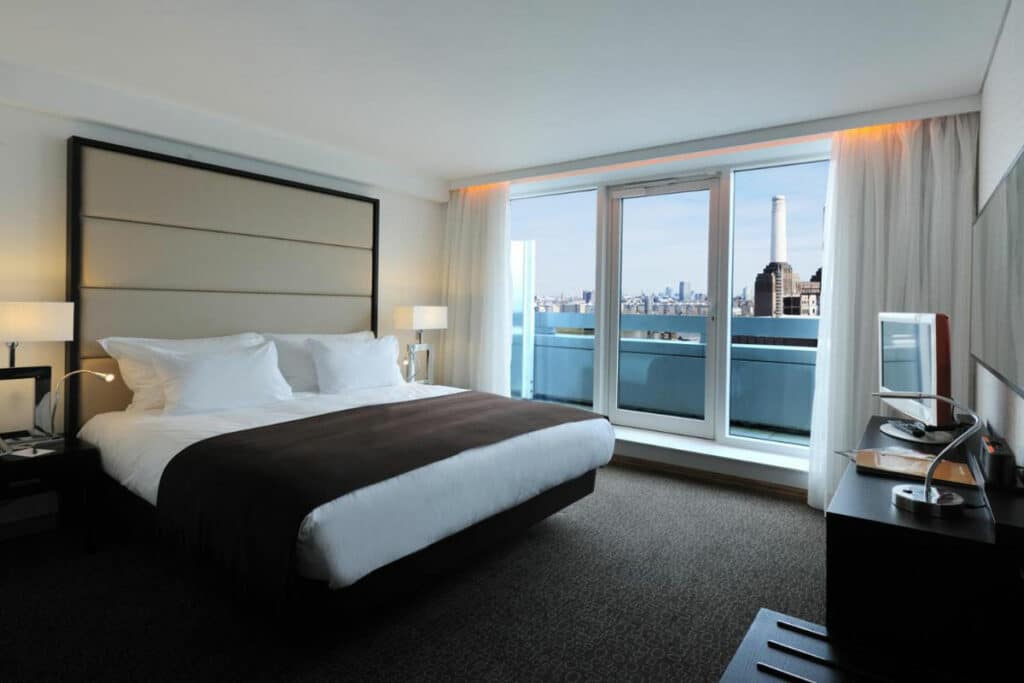 Fancy staying at a floating superyacht hotel? Duh. Sunborn London Yacht Hotel is docked in Royal Victoria Dock and it's the best 4-star hotel in London for a unique stay.
All rooms are smartly designed with air conditioning and luxury beds and some rooms even overlook the Royal Docks. 
Whilst onboard you can dine at the restaurant serving a buffet style breakfast with hot and cold food and an a la carte menu in the evenings. The lounge has all the drinks you could need including delightful cocktails. 
London's 4 Star Hotels: Frequently Asked Questions and Practical Tips
What is the Best Area to Stay in London?
It depends on what you would like to see and do during your London trip, however we think that Mayfair is the best area to stay in London. 
It's close by to Hyde Park, Buckingham Palace, Westminster Abbey and Big Ben for sightseeing. It also has plenty of bars and restaurants to dine at too.
London Accommodation Guide: Map
Click here for a map of the hotels featured in this guide. 
4 Star London Hotels: Read Next
https://www.londonxlondon.com/best-four-star-hotels-london/