Much of what north Londoners view as trash is to others a "valuable product" bringing in millions of profit each year.
The Local Democracy Reporting Service was invited on a tour of a "super" sorting plant in Edmonton, run by waste company Biffa, where the North London Waste Authority (NLWA) sends its dry mixed recycling.
About 115,000 tonnes of recycling collected in Barnet, Camden, Hackney, Haringey, Islington and Waltham Forest are sent to the plant for processing each year.
Enfield, which is also an NLWA borough, has separate arrangements.
Thanks to the sale of recyclables, including those processed at the Biffa plant, the NLWA's overall bill to the councils that run it was reduced by £7m.
During a tour of the Edmonton plant, which recycles waste from across the country, commercial manager Steve Oulds said Biffa sees waste as a valuable "commodity" rather than rubbish.
He added: "We're a factory and manufacture a product, it's not wasted after being used, it's going on to the next part of the cycle.
"It's a bit like mining for metals from human discard, you buy a product like milk and at the end you bin it as 'it's just rubbish' but it's not – it has value."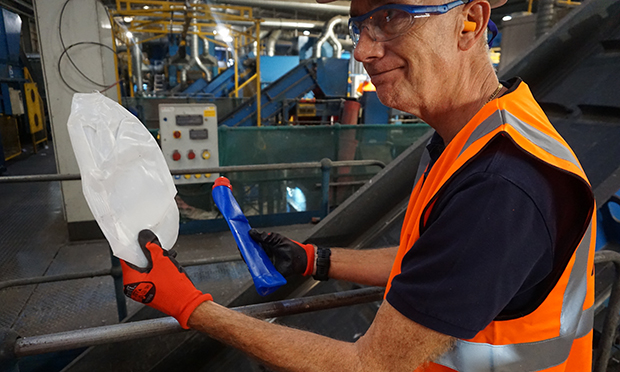 In 2019, Biffa won a 10-year contract to process much of north London's recycling, reported to be worth up to £90million.
According to Biffa, the 35,000sqm plant, known as a Material Recycling Facility (MRF) or "murf", is the second-largest in the UK. It employs over 340 staff over four shifts to stay running 24/7. 
On arrival, recycling is tipped onto the floor and inspected, then fed onto conveyor belts where "unacceptable materials" are removed by hand.
Following that, a series of machines such as spinners remove the paper, card and glass. The remaining cans, aluminium, plastics, and other materials are separated by high-tech machinery such as "automated optical sorters".
Oulds said only "cynics" believe recycling ends up in landfill and that Biffa has a "moratorium" on exporting plastics abroad to countries like Turkey, where materials sent from the UK to be recycled have been found dumped or burnt.
However, since 2019, Biffa has had two convictions for illegally exporting waste from the Edmonton plant, resulting in court fines and costs of more than £2million.
In 2019, the Environment Agency prosecuted Biffa for trying to ship 175 tonnes of "waste paper" to China in 2015, despite the shipment containing used nappies, sanitary towels, incontinence pads and sealed bags containing faeces.
The Environment Agency prosecuted the company again in 2021, for more shipments of paper being sent to Indonesia and India in 2018 and 2019, which also contained thousands of tins, plastic bags, items of clothing and 3,000 nappies.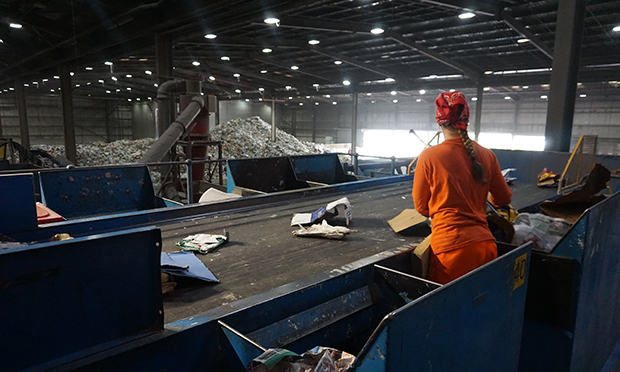 A Biffa spokesperson said the company takes environmental stewardship "very seriously" and that "more than 98 per cent" of plastics it collects are reprocessed in the UK. 
They added: "We are now calling on the government for more action to phase out waste export – starting with an outright ban on the export of plastic waste."
During the tour, Oulds said one of the plant's biggest challenges is people putting the wrong waste into the recycling, such as seven million used nappies arriving at the plant every year.
He added: "People don't understand the amount of human intervention required here, but we [at Biffa] have to think about the quality point of view.
"Materials can either be downgraded or rejected, so we sample things coming in and know the quality that has been dropped off."
The NLWA estimates recycling loads that have been rejected cost about £2million a year. This includes black bin bags, plastics "contaminated" by food, textiles that jam in the machinery and electrical items.
North London also boasts a surprisingly poor household recycling rate, which dropped to 28.4 per cent in 2020/21, far below the NLWA's target of 50 per cent by 2020.
This means thousands of tonnes of waste that could be recycled is instead placed in black bin bags and burned to produce electricity, either at the nearby Edmonton incinerator or elsewhere in the UK.
The NLWA argues it has carried out "extensive campaigns" to educate people, but there are several challenges in London.
This includes London's "transient" population and the designs of buildings, particularly flats, which recycle "typically around 10 per cent or less".
https://www.hackneycitizen.co.uk/2022/09/13/recycling-sorters-north-london-trash-treasure/