Queen Elizabeth II attended a "Picnic At The Park" celebration at Bushy Park on 25 June 2002 and was fascinated by the south western gardens.
The celebration, part of the Golden Jubilee celebrations, involved more than 40,000 members of the public and featured numerous stalls, display stands and bands.
Queen Elizabeth received a warm welcome from dressed up teddy bears, before meeting Chelsea Pensioners, a Chinese dragon and pearly kings and queens. 
The stalls included a "Jubilant Thames" enclosure, which bought together different types of boats associated with the Royal Family.
The enclosure included an exhibition detailing the Queen's then new barge being built in Richmond.
BUSHY PARK: The majestic, magnificent water gardens. Featured image: Jim Linwood @ Flickr (CC B.Y 2.0)
The Queen and Duke of Edinburgh also met Sea Scouts and Sea Cadets, with live otters forming part of the attraction.
Jason Debney, the co-cordinator of Thames Landscape Strategy, organised the Jubilant Thames enclosure.
He said: "I had only just started in my job, so it was a huge honour to be asked to organise the event and subsequently escort Her Majesty around.
"As the Queen and Prince Philip were piped into the enclosure however I was immediately put at ease.  I bowed, the Queen smiled and started asking questions.
"She was genuinely interested in the river and the connections that the parks, palaces and Thames in south west London have with the Royal Family."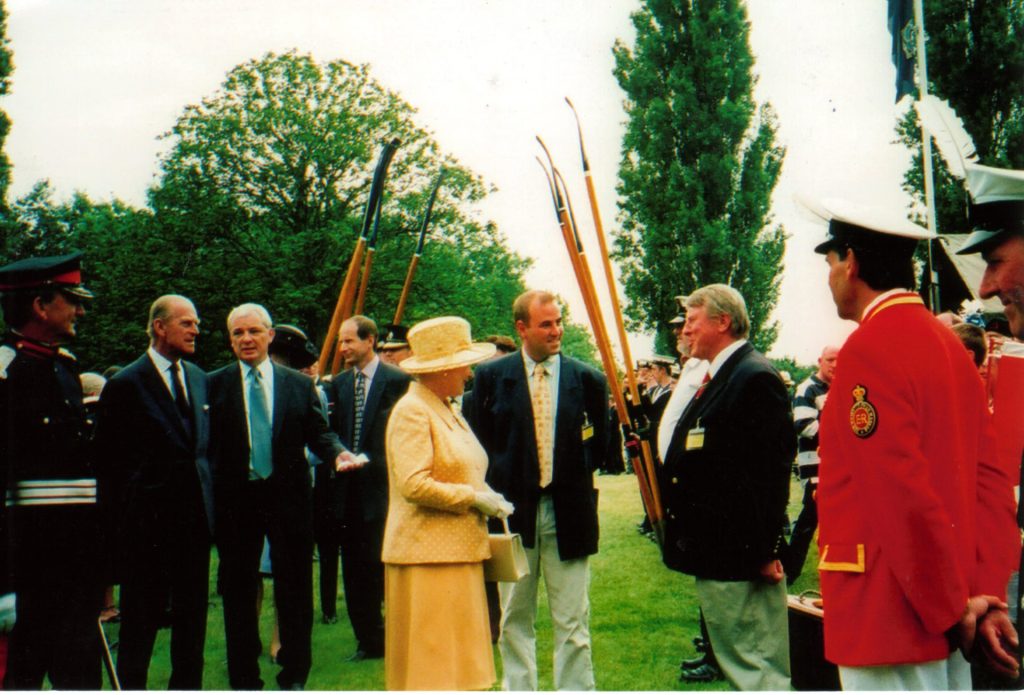 THE QUEEN: Jason Debney showing the Queen around Jubilant Thames. Featured image: Jason Debney @ Thames Landscape Strategy
Bushy Park forms one of eight Royal Parks which cover nearly 5,000 acres. Originally reserved for the Royal Family, they have since become open spaces for public enjoyment.
Within Teddington and Hampton Bushy Park, is the second largest Royal Park at 1,100 acres. Home to Teddington Rugby Club, the park is a location fit for a queen.
Organised by numerous boroughs and the Royal Parks, the visit marked the Queen becoming the first monarch since Queen Victoria to serve on the throne for 50 years. 
BUSHY PARK: The Waterhouse by a body of water. Featured image: Jim Linwood @ Flickr (CC B.Y 2.0)
A decade after the first Bushy Park celebrations, Queen Elizabeth II returned to south west London, visiting Richmond Park, the largest Royal Park.
Her appearance saw a performance given by the Royal Ballet School.
Featured image: Jim Linwood @ Flickr (CC B.Y 2.0) – resized to 800 x 500
https://www.swlondoner.co.uk/news/10092022-queen-elizabeths-picnic-at-bushy-park