The new facility is designed to provide 'bench-to-bedside' environment and resources, accommodating different research stages from basic science to pre-clinical, clinical and 'first in-human' treatment, as well as providing research training for future scientists and clinical academics.
The building also provides offices for the Royal Free Charity and a new 35-bed patient hotel for outpatients or visiting academics requiring an overnight stay.
Its steeply sloping site, on Hampstead Green, has been landscaped as a series of terraces, combining retained mature trees with new planting and hard landscaping, and aims to provide biodiversity and a distinctive sense of place.
At entrance level, a colonnade has been created with set-back cladding to form a sheltered space at the top of the landscaped terraces. Above this, two storeys of laboratory and write-up space are expressed externally with alternating full-height glazing and panels in brickwork designed to complement the adjacent church. At the upper and lower levels, fritted glass combines with aluminium louvres to reduce glare while maintaining high levels of natural light inside the building. The upper Patient Hotel levels are set back behind planters, for additional privacy.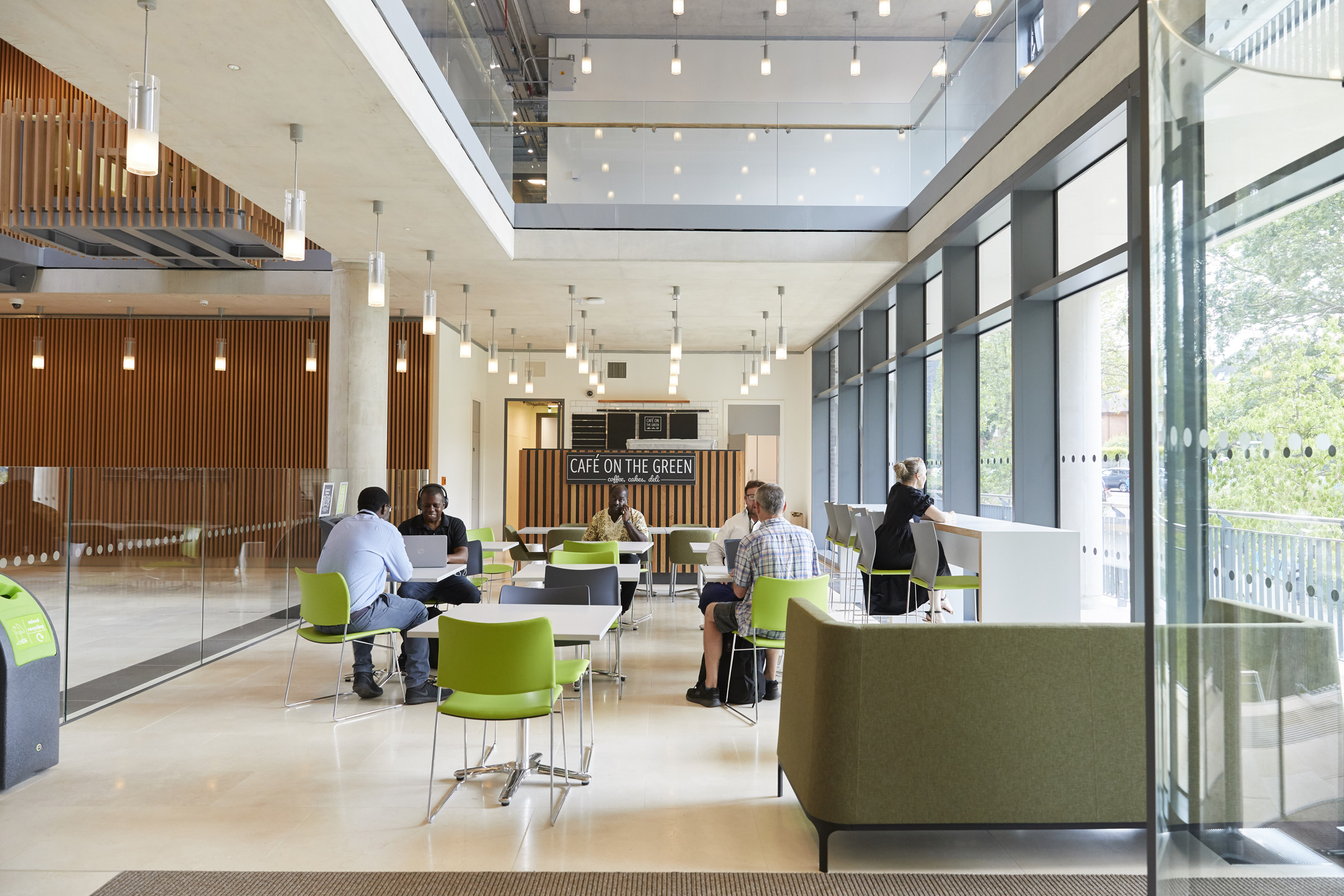 The interior is focused around a large, flexible ground-floor 'foyer' space, designed for a variety of events: academic, social or fund-raising.
Lab spaces provide bench space that can flex according to research group size, and there is space and equipment for up to 200 researchers with layouts designed to encourage spontaneous interaction with write-up spaces, break-out spaces and booths.
Architect's view
Given the energy demands of science-focused buildings, the team considered sustainability as an integral part of the design from the outset, achieving a BREEAM Excellent rating. A holistic approach considered all aspects of sustainability to include not just carbon, but operations, occupation, flexibility and life-cycle, and well-being.
Passive design measures include a north-south building alignment and massing, combined with relatively shallow floorplates and a central atrium, to maximise daylight penetration and views while minimising solar heat gain. A brise soleil blocks low-angle sun from east and west.
Early workshops held with the project team prioritised sustainability strategies that aligned with the project's values and identified 'quick win' points readily achieved for minimal cost.
Adopting a fabric-first approach, the building frame and skin performance have been maximised. An exposed concrete frame, with a minimum 50 per cent GGBS cement replacement, was optimised in design to enable lab expansion where required, minimise vibration in specialist areas, provide thermal mass cooling and allow easy services access.
Reuse of demolition spoil as part of a wider recycled aggregate strategy, and a SUDS surface water run-off attenuation scheme fed into the sustainability agenda. A brown roof was carefully selected to provide future habitats for local wildlife and insect populations.
Air source heat pumps use a sliding header, in addition to active chilled beams with air handling units, provide heating and cooling, with connections left for future district heating. Variable volume terminal units control flow of air to labs, offices and write-up areas, which also have openable windows as a mixed mode system, feeding into an atrium vent stack effect. Lab areas are fully segregated with pressure controls, further segregated for specific CL3 labs. Sprinklers were avoided due to provision of naturally vented ducted air paths for smoke clearance. A rooftop PV array further minimises carbon emissions.
Ernest Fasanya, director, Hopkins Architects
Client's view
In the Pears Building, we have a world-class laboratory research facility and a beautiful space designed to facilitate a unique partnership between scientist and clinician. This will enable us to convert discoveries made in the laboratory into cures and treatments more quickly. Our Covid-19 work during the pandemic has reinforced the importance of understanding and modulating the immune system. In the Pears Building we will be able to expand the institute and so create a fabulous opportunity to release the potential of immunity-based treatments in cancer, diabetes, HIV, hepatitis and Covid-19, as well as developing new therapies to stop the rejection of transplants.
Hans Stauss, director, Institute of Immunology and Transplantation
Project data
Start on site March 2018
Completion date June 2021
Form of contract or procurement route Design and build
Gross internal floor area 9,000m2
Construction cost Confidential
Architect Hopkins Architects
Executive architect BMJ Architects
Client Royal Free Charity, University College London (UCL) and the Royal Free London NHS
Structural engineer Heyne Tillett Steel
M&E engineer SVM Building Services Design
Concept structural / M&E engineer BDP
Quantity surveyor AECOM
Landscape consultant BDP / Colvin & Moggridge
Laboratory consultant Abell Nepp Architects
Project manager Buro Four
Approved building inspector Butler & Young
Main contractor Willmott Dixon
CAD software used MicroStation
Environmental data
On-site energy generation 3.78 kWh/m3 (PV)
Airtightness at 50pa 3.98 m3 /h.m2
Hot water load 21.96 (actual) 24.21 (notional) kwh/m2/yr
Design life 50 years
Embodied / whole-life carbon Not calculated
Annual CO2 emissions 31 KgCO2eq/m2
https://www.architectsjournal.co.uk/buildings/hopkins-architects-completes-immunology-centre-in-north-west-london