Article content
Sharky's Athletic Club co-owners Bill and Cindy Van Hoogenhuize told The Sarnia Observer in mid-March 2021 they'd been fighting an $880 fine issued weeks earlier when officials said the gym had more people inside than the rules permitted. Lambton was in the red-control zone at the time, which limited indoor gyms to 10 people.
Bill Van Hoogenhuize, through a paralegal, pleaded has guilty in Sarnia's provincial offences court to one count of failing to comply with an order under the Reopening Ontario (A Flexible Response to COVID-19) Act. He was fined $100.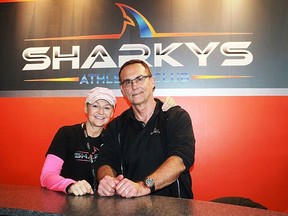 Sharky's Athletic Club's Bill Van Hoogenhuize and his late wife, Cindy, are seen here in this Sarnia Observer file photo.
The court did not hear how many people were inside the London Line gym on the day of the offence, which took place on Feb. 25, 2021. But Blake Turner, Lambton County's municipal prosecutor, explained to justice of the peace Debra Isaac why he was asking for a much smaller fine.
Article content
"Mr. Van Hoogenhuize is a small-business owner of a business type that was particularly hard-hit by the pandemic," he said. "Furthermore, I understand that Mr. Van Hoogenhuize and his family are going through some pretty tough personal times, so as a result of all those circumstances I am going to be suggesting a joint submission of $100."
Cindy Van Hoogenhuize died in July 2021.
Isaac agreed to impose the suggested fine, but noted there would be additional administrative costs.
Sharky's and a couple of other gyms in Sarnia-Lambton attracted the attention of police and bylaw officials when they refused to close in March 2021 despite the region being moved from red-control back into another full lockdown. The rules at the time allowed retail stores to stay open with capacity limits, but facilities for indoor and outdoor sports and recreational fitness activities, with a few exceptions, were told to close, the province said at the time.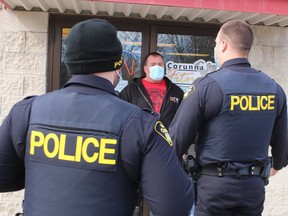 Ron Theriault, owner of Corunna Fitness Centre, speaks with OPP officers at noon on March 15, 2021, outside the doors of his business on Hill Street in Corunna. Theriault said he was staying open even though Lambton County entered the grey-lockdown zone of Ontario's colour-coded system of pandemic restrictions. PHOTO BY PAUL MORDEN/THE OBSERVER
The couple said they were fined $1,000 on the first day they stayed open and were warned they could get up to three fines, and potentially jail time, if they didn't close as ordered. But they also said public support for Sharky's, a gym with about 1,000 members at the time, was strong.
Bill Van Hoogenhuize, a former police officer, joined his late wife's gym in 2018.
@ObserverTerry
https://lfpress.com/news/local-news/gym-owner-gets-small-fine-for-breaking-covid-19-rules