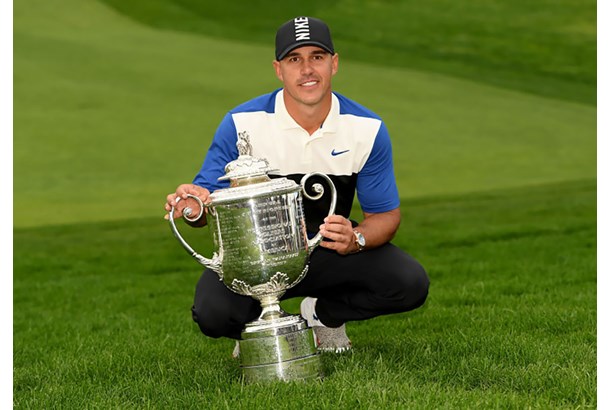 Brooks Koepka has joined LIV Golf.
Brooks Koepka has left the PGA Tour and joined the rebel LIV Golf Series.
Koepka, a four-time Major champion and eight-time PGA Tour winner, is expected to tee it up in LIV's next event in Portland, USA, next week.
The move will see the 32-year-old playing alongside his brother, Chase, who joined LIV ahead of its inaugural event in London. It will also allow Koepka to renew his rivalry with Bryson DeChambeau, with the two Major champions famously feuding over the last couple of years.
The former World No.1's move does not come as a huge surprise. He has never been overly enamoured with life on the PGA Tour and has frequently stated that his focus is on winning more of golf's four Majors rather than playing regularly in or winning weekly tour events.
RELATED: How much LIV golfers are earning
While he has four Major titles – two US PGAs and two US Opens – he actually only has another four PGA Tour wins, two of which came at the Phoenix Open, which one of the few tournaments he regularly plays.
The American is believed to have been in talks with LIV's representatives for months, with rumours gathering pace that he would be the next big name to join after the inaugural London event. Koepka, who spent 42 weeks at the top of the world rankings, added fuel to the fire at last week's US Open when he reacted angrily at journalists questioning him about the potential move.
"I'm here at the US Open," he said at Brookline. "I'm ready to play US Open, and I think it kind of sucks, too, you are all throwing this black cloud over the US Open. It's one of my favourite events. I don't know why you guys keep doing that. The more legs you give it, the more you keep talking about it. Y'all are throwing a black cloud over the US Open, and I think that sucks."
RELATED: Premier Golf League wants to work with PGA Tour
The 32-year-old then removed references to being a PGA Tour and Nike athlete from his Twitter bio this week, and it has now been confirmed that he will join the rebel series, although the money involved has yet to be revealed. Based on the seven-figure sums LIV have paid to the likes of Dustin Johnson, Phil Mickelson and DeChambeau, it is unlikely that Koepka will have been paid less.
It is not yet known how it will impact his equipment deal with Srixon/Cleveland, who he joined at the start of the season, or his role as a Nike athlete.
Koepka, who married long-time girlfriend Jena Sims earlier this month, is understood to have resigned his PGA Tour membership, but his deal with LIV will see him suspended from all of the PGA Tour's events, regardless. As it stands, he will still be able to play in the Majors but it is another blow to the US Ryder Cup team who won't be able to call on the big-hitting star's services for their defence in Italy next year, unless the rules change.
Team USA has already lost Johnson, DeChambeau, Mickelson, and Patrick Reed.
The move is bad news for the PGA and DP World Tours, following a fortnight of positive stories with Rory McIlroy's win at the Canadian Open, Linn Grant's win at the Scandinavian Mixed, and Matt Fitzpatrick's victory at a dramatic US Open.
Things could get worse if rumours are to be believed, with Collin Morikawa, Viktor Hovland, Xander Schauffele, Matt Wolff, and Abraham Ancer all believed to be considering joining LIV Golf.
RELATED: Everything you need to know about LIV Golf
https://www.todaysgolfer.co.uk/news-and-events/tour-news/2022/brooks-koepka-joins-liv-golf-after-leaving-pga-tour/