"When a man is tired of London, he is tired of life," English author Samuel Johnson once said. Nearly 250 years later, the sentiment still rings true.
Rich in history and diversity, the British capital has it all—from storied landmarks and cultural institutions to vibrant culinary and art scenes. (Follow the River Thames's meandering path to discover some of the city's most famous sites—among them, the Tower of London, Shakespeare's Globe, and Hampton Court Palace.) Not to mention, every neighborhood has its own distinct vibe and character. Needless to say, the city's endless hodgepodge of offerings can be overwhelming.
So, where to begin? To help you plan your next trip to across the pond, we asked a handful of designers to open their "little black book" of haunts—starting with interior designer Isabella Worsley. The West London resident—who earned her stripes while working at Firmdale Hotels—launched her own studio in 2018. (Her most recent project was Callow Hall Hotel in the Peak District, the first property from charming and quirky hospitality brand, Wildhive.) "London is a brilliant place to be, with its ever-changing scene and eclectic mix of people," she enthuses.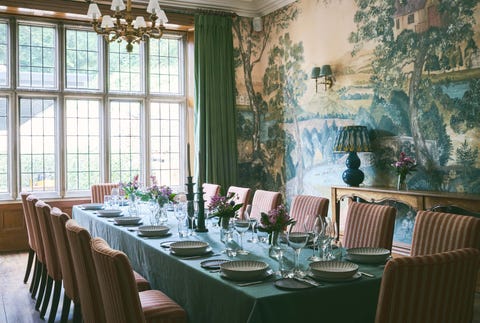 Courtesy of Wildhive
Then there's Ali Childs, creative director at Studio Alexandra, which focuses on eco-friendly design. "I'm passionate about restoration, reclaiming materials, repurposing antiques and sourcing local artisans in my projects," she says. London's "particular type of cool" is the reason that Ali loves the city. "It's understated, doesn't try too hard, and is somehow always ahead of the curve," she explains.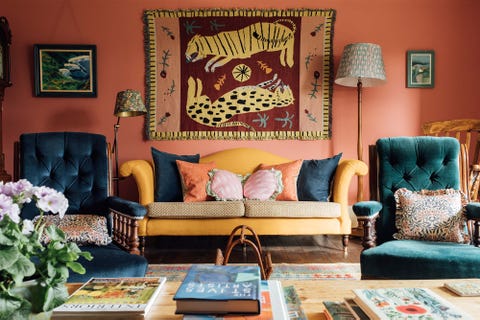 Courtesy of Glebe House
With a studio in Queen's Park, "designer of the moment" Nicola Harding is the eye behind some of London's most stylish hotels, such as The Mitre in Hampton Court and the new Beaverbrook Townhouse in Chelsea. Her ethos is all about "creating spaces that truly reflect and perfectly fit the people who use them," she says.
Award-winning interior designer Katharine Pooley, on the other hand, is renowned for her luxury projects around the world and describes her style as "beautifully crafted, eclectic, original and timelessly elegant." Her eponymous studio was launched some 18 years ago and she now oversees a team of 47 designers and architects. Living near Chelsea Embankment Gardens, she says that she loves "everything about city life, the buzz, the lights, the feeling that there are wonderful things to do around every corner."
Read on for the best places for design aficionados to stay, dine, shop, and play in London, according to the local creatives.
Where to Stay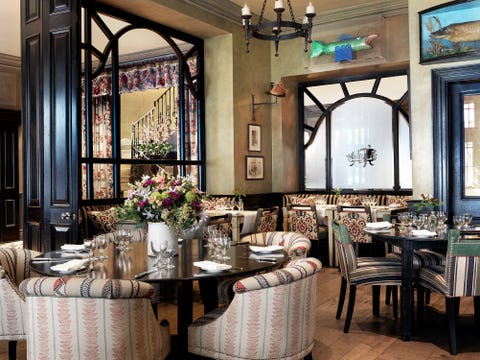 Simon Brown
Covent Garden Hotel
With its seven cobbled streets lined with independent boutiques, the Seven Dials area of Covent Garden is a charming slice of London. Covent Garden Hotel, on Monmouth Street "is fun and cozy," says Worsley. "It has interiors by Kit Kemp, who is known for her eclectic schemes," she continues. "But, actually, this feels quite traditional—with its heavy wood paneling in the drawing room and mix of classical furniture and timeless fabrics. That's why I love it."
Book Now
Ham Yard Hotel
Pooley also recommends a Firmdale property, "as they are always quirky and fun." Ham Yard Hotel in Soho is her top choice. "It's full of unique details and lots of color, which I love."
Book Now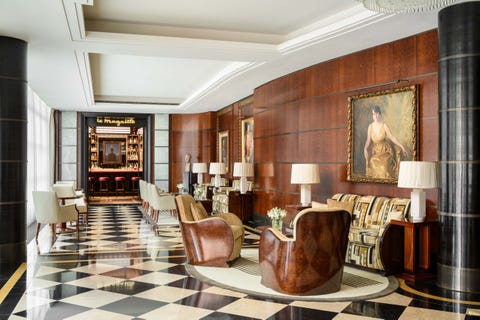 Courtesy of The Beaumont
The Beaumont
Tucked behind Oxford Street, The Beaumont hotel feels like one of the city's "best-kept secrets," says Childs. "It is super glamorous and is inspired by Art Deco design, with an amazing art collection on its walls. It also has the most stunning bar, The Magritte. You half expect a Flapper girl to walk in!"
Book Now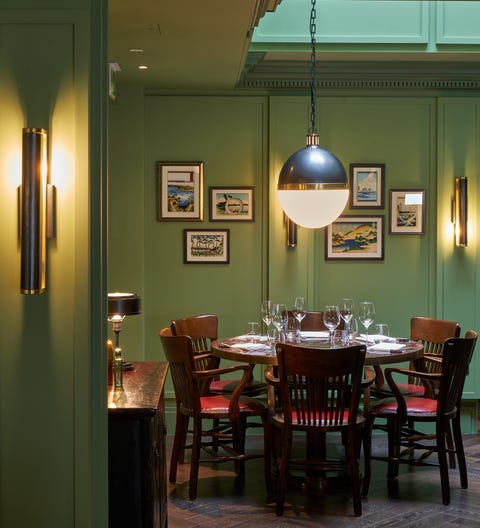 Courtesy of Beaverbrook Townhouse
Beaverbrook Townhouse
"I know I am biased, but it has to be Beaverbrook Townhouse," Harding says. "It's a bit of a cheat to choose this, as I designed the interiors, of course. But it is in such a heavenly position, it is hard not to give it a mention. It's just a two-minute walk from both Sloane Square and Harvey Nichols and looks over one of London's most lovely garden squares. For London, it is also uniquely intimate in size and genuinely feels like someone's private home with each bedroom having an individual feel."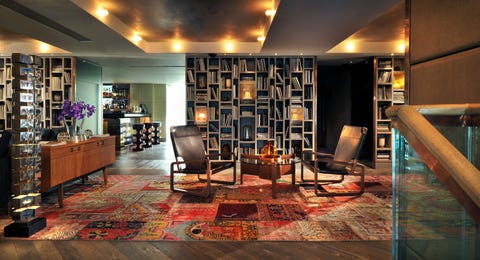 PHILIPVILE
The Hari
"Right now, my favorite hotel is The Hari in Belgravia," adds Harding. "It's my 'home away from home' and has a lovely intimate feel with personalized service."
Book Now
Chiltern Firehouse
Chiltern Firehouse—the celebrated Andre Balzac hotel in Marylebone—has retro interiors and a renowned restaurant presided over by chef Nuno Mendes. "It may be a celebrity haunt, but it still manages to retain an authentic London feel to it," Childs says.
Book Now
The Rookery Hotel
Harding also suggests The Rookery Hotel in Clerkenwell, housed across six historic townhouses that date back to 1764. "For my wedding I created a street party in the covered road that runs through the middle of the building. It's the only one that has ever happened there, so it was quite special!"
Book Now
Where to Shop
Rose Uniacke
"My go-to place is Pimlico Road, where you will find an array of interior shops. It's where all the designers flock to, and there is a real community feel," says Isabella. "One of my favorite stores is Rose Uniacke. I recently found some stunning hand-made plaster cone hanging lights, for a project I am working on, there. They are sculptural and pared back and will give instant impact."
Sibyl Colefax
Sibyl Colefax & John Fowler's interior design brand was launched in the 1930s and is a touchstone for interior designers still today. Found on the Pimlico Road, Sibyl Colefax's showroom is filled with beautiful antiques—from ceramic lamps to 17th century Spanish mirrors. "I can often be found hanging out in Sibyl Colefax's shop," Worsley admits. "It is filled with the most unusual discoveries and I always find something of note there. The place oozes heritage."
Howe London
Harding also frequents Pimlico Road, describing it as "one of the last bastions of London antiques shops. One of her all-time favorite shops along the way? Howe London.
Robert Kime
"For timeless fabrics and wallpaper, there's no better place than Robert Kime on Ebury Street," Harding adds. The respected interior designer's shop is known for its textile collection and antiques, collected over many years.
Colombia Road
With its Sunday plant and flower market, a meander around Columbia Road in east London is "the perfect way to spend a laid-back Sunday," Childs says. "There are lots of independent shops where you can find cute homewares and one-off trinkets."
Walton Street
"Walton Street has the best selection of little boutiques in Chelsea," reveals Pooley. "You can find beautiful monogrammed linen, unusual antiques and covetable home accessories. In short, lots of shops full of wonderful things! In between, there are bijou restaurants and inspiring art galleries, making for the perfect shopping day."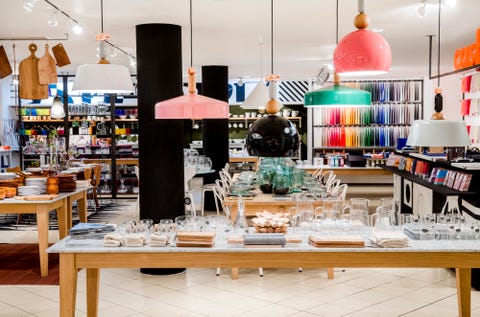 Courtesy of The Conran Shop
The Conran Shop
Another gem is The Conran Shop on Fulham Road. The store is located in the iconic Art Deco Michelin House building designed by prominent architect François Espinasse—"so you are already wowed before you've even gone inside," says Worsley. "The buyers bring together such an interesting mix of contemporary designers, such as Eero Saarinen and Daniel Schofield."
Alfies Antique Market
For a mix of antique jewelry, vintage fashion, and downright eclectic finds, you can't beat Alfies, just off Lisson Grove in Marylebone. It boasts over 100 dealers across four floors and "offers a real mix of glitz and glam," Ali says. "You can get anything from vintage Italian lamps to second-hand vases. It's full of real London characters, too, so the shopping experience is always fun."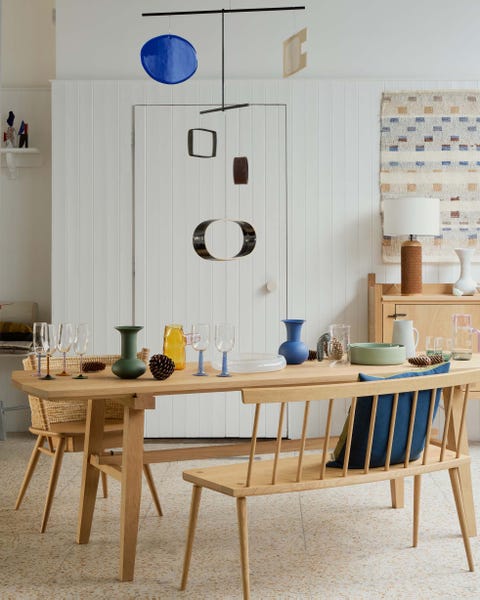 Courtesy of The New Craftsmen
The New Craftsmen
Promoting and selling the work of some of the finest makers from across the British Isles, the Mayfair gallery that is The New Craftsmen is found in a 19th century Arts & Crafts workshop. If you ask Worsley, "It is one of the most inspiring places to find something authentic and unusual." Apart from contemporary crafts from over 100 makers, shoppers can commission scores of bespoke items. "It gives a voice to smaller makers who otherwise would be unknown," she adds.
Harrods
It may be an obvious choice but, Harrods cannot be beaten if you only want to go to one place, Pooley asserts. "You'll find beautiful clothes, a fabulous food court and a wonderful bookshop, all housed in one building."
Where to Dine and Drink
Maison Francois
The place to be seen right now, the Maison Francois brasserie in St. James has an impressive and glamorous dining room—not to mention cuisine worth raving about. "They serve the most delicious moules flatbread," Worsley effuses. "It's the perfect combination—and it is a sin not to use the bread to mop up all the juices."
Book Now
Ottolenghi
"My favorite restaurant for breakfast is Ottolenghi," says Pooley. "After a walk in Hyde Park, I always head to the Motcomb Street branch and order the grilled grapefruit with burnt sugar on top."
Book Now
Perilla
"I absolutely love Perilla on Newington Green in north London," Childs says. "It has the most wonderful modern British menu and always has the most delicious home-baked bread—which, of course, is very important! The restaurant's interiors are also simple yet super stylish with raw plaster walls, a terrazzo floor, and a huge window [overlooking] the Green."
Book Now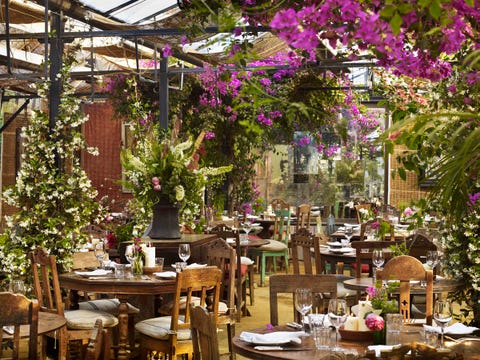 Andrew Montgomery
Petersham Nurseries Café
"Petersham Nurseries Café in Richmond is utterly magical," says Harding. "The restaurant is set in an old greenhouse and the mix-matching tables are adorned with flowers grown by the nursery, while the seasonal ingredients are sourced from the kitchen garden."
Book Now
St. John's Bread & Wine
"About a 10-minute walk from Columbia Road in east London is St. John Bread & Wine," Harding says. The restaurant, from the team behind the original St. John by chef Fergus Henderson, and one of the World's 50 Best Restaurants is known for its unique "nose-to-tail" cuisine—think: roasted bone marrow on toast. "It's beautifully elegant and magnificently British," she says.
Book Now
Sexy Fish
Known for its extravagant interior and Asian seafood, Sexy Fish is renowned for being one of London's most glamorous restaurants. "The decor is just extraordinary," Pooley gushes. "It's really original and memorable—and the food is sublime."
Book Now
The Cow
"I love a good pub lunch on a Sunday, " says Worsley. "A great gastro-pub close to where I live in west London is The Cow on Westbourne Park Road. It is always full of interesting people—but, most importantly, serves a mean Sunday roast with all the trimmings."
Book Now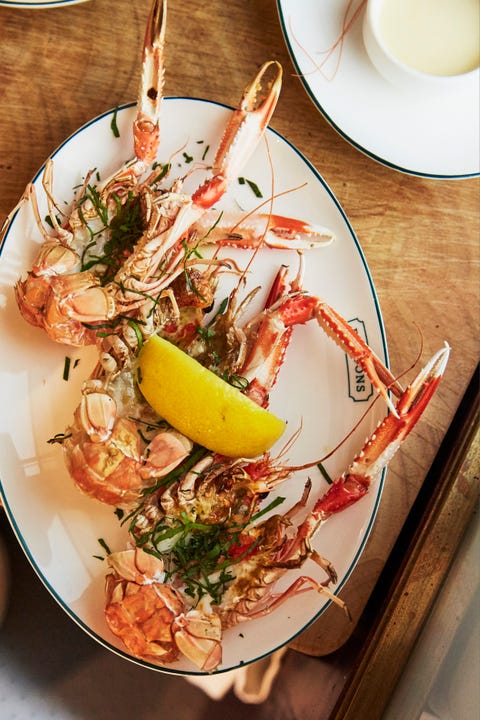 Courtesy of Parson's
Parson's
Parson's—an unassuming fish restaurant in Covent Garden—is found opposite the Ten Cases Wine Bar, which is run by the same owners. "It's tiny with fabulous floor-to-ceiling tiles," Childs says. "It feels old-school yet modern at the same time. Go for the sole with samphire and capers—and don't forget the fries, which are possibly the best in London—both are a match made in heaven!"
Book Now
The Grenadier Guards
You can't come to London and not have a drink in a traditional pub. Pooley recommends The Grenadier Guards in Belgravia, which dates back to 1720 "and is a quintessential British pub," she says. "It's tucked away so finding it feels like you've come across a hidden little 'secret' pub. It is super cozy and full of character."
Where to Explore
Regent's Canal
"I love walking along Regent's Canal," Worsley confesses. "On Sundays in particular, I like to stroll from Little Venice to Camden Lock. It feels like a little behind-the-scenes snapshot of London."
The Victoria & Albert Museum
A wonderful way to spend an afternoon, there's always something of interest to find at the V&A, whether it's diving into the extensive fashion and costumes collections or delving into the art and design archives. Pooley finds the storied institution "a perennial inspiration." "The architecture is magnificent and the collections are unsurpassed," she declares.
Richmond
"Richmond is an intensely charming London neighborhood, crammed full of fascinating old buildings and plenty of independent shops," says Harding. "For those of a robust constitution you can continue walking along the river all the way to Kew Gardens, one of the most extensive and important botanical gardens in the world."
Courtesy of Hampstead Heath
Hampstead Heath Ponds
"Swimming in the Ladies' Pond at Hampstead Heath is one of the most joyful experiences to be had on a hot summer's day in London," Childs says. "Afterwards, I like to go for something to eat at the Southampton Arms on Highgate Road. Like the Ponds, this old-fashioned pub is a bit of an institution, serving olde worlde fare, such as pork pies and Scotch eggs. It's a classic."
Hyde Park
Walking down the Mall from Buckingham Palace is one of Pooley's favorite things to do. "It is wonderfully uplifting—the trees are hundreds of years old, and you can watch the Household Cavalry exercise their horses in Hyde Park. In fact, I would suggest going early in the morning and entering Hyde Park—it is the most wonderful experience. All is quiet and still, and you'll only encounter the swans gliding on the water. It is one of my most special places."
Spitalfields
"Head to Spitalfields and meander around Arnold Circus, Hoxton Square, and Brick Lane—they all merge into one and are all fascinating corners of the city," Harding describes. "A day spent exploring this area in east London is a wonderful window into a part of the city that has changed beyond recognition over the past 15 years. While it is humming with exciting, quirky young businesses, if you look carefully, you can still spot traces of a far older London life."
Follow House Beautiful on Instagram.
This content is created and maintained by a third party, and imported onto this page to help users provide their email addresses. You may be able to find more information about this and similar content at piano.io
https://www.housebeautiful.com/lifestyle/a39652943/what-to-do-in-london/