A man who lost six members of his family in the Grenfell Tower fire has slammed the response in the immediate aftermath of the tragedy, after enduring a traumatic hunt around 11 different London hospitals for his family. 
Hisam Choucair gives evidence to the inquiry (picture: Grenfell Tower Inquriy)
Sharelines
Response from authorities in Grenfell aftermath created 'trauma after trauma', says man who lost six relatives in fire #ukhousing
Speaking today at the inquiry into the fire, Hisam Choucair recounted his desperate actions in the hours after the fire to try and find out information about his family members living in the tower, and how it felt like being taken from trauma to trauma, with the authorities unable to provide him any help.
Mr Choucair lost his mother, Sirria, his sister Nadia and her husband Bassem Choucair, along with their young children Mierna, Fatima and Zainab, who all lived on the 22nd floor.
After finding out a fire had started in the block he travelled to the tower and after being unable to find any information from the emergency services near the tower he travelled to designated emergency centres but was unable to find any representatives from the government, council or Kensington and Chelsea Management Organisation (KCTMO).
He then made his way to eleven different hospitals across west and south London, which in most cases were unable to provide him with any assistance.  
Mr Choucair said that going to each place was like "repeated trauma" and was as if those desperately trying to find out information on their loved ones were being punished.  
He added: "It was like the inside of your gut was being ripped up [because of] the lack of communication, the lack of updates the challenges."
While trying to secure information on whether his family members were safe, he was made to provide details of each of those living in the block on five different occasions to the authorities.
In one case he had to give the police's Casualty Bureau service the information on two different occasions, with the organisation providing him with two different serial numbers for each member of his family.
Mr Choucair, who broke down a number of times while giving evidence, described the whole situation as "chaos" and said that at one point he wept on the day as the hours passed and he received no information.
He said: "I would have expected the government or council to have some sort of system in place, some sort of order in place to assist us in looking for loved ones."
It would be weeks before Mr Choucair was formally told that his family members had perished in the fire.
Despite the lack of organisation from authorities, Mr Choucair said that he was blown away by the response from the local community and volunteers, who "put the council to shame".
He added that this sense of community stays with him when thinking about "the crooks" that are "still hiding and blaming each other about what occurred on that day".
Later in the day, the inquiry heard from Mohammed Rasoul who was living in a flat in the sixth floor with his wife, two kids, and father who had dementia. All of the family members were able to escape the building.
Describing the immediate aftermath of the fire Mr Rasoul said that there was no presence from the council in the early stages and residents were left to "try and figure it out for themselves."
He said that when a member of the KCTMO did finally arrive, they produced a board with the numbers of every flat and who lived there. Residents soon pointed out that one of the names next to a flat belonged to woman that had died over a year ago.
"You can imagine how we felt, we are here seeking a source of security and someone to give us information to help us with what we were going through, and they couldn't even get something like that right," he said.
Mr Rasoul, whose family was forced to live in a hotel room for 19 months after the fire, also reflected on the support provided by the council and authorities in the days and weeks after the fire.
He said that his family were split over two rooms within the hotel they were placed in. He slept in the room with his son and his father, who was disorientated by the new surroundings and regularly tried to escape.
The family were also not made aware of the financial support available for those displaced residents until eight weeks after the fire and had to live off of savings and donations during that period.
Mr Rasoul said that it felt like survivors were 'refugees in their own country" and it was made harder because the landlord responsible for their problems before and during the fire, was still in charge of their situation afterwards.
He added: "Looking at survivors at the time, we were such a vulnerable group of people we were constantly having to jump over hurdles and through hoops.
"They were never proactive, it was just tick-box exercises."
The inquiry also heard from Mahmoud Al-Karad, a Syrian who moved to the UK in 2016, and was living in the flat with long-time friends Mohammad Alhajali and Omar Alhaj Ali. Mohammad was killed in the fire.
Mr Al-Karad, who was forced to live alone in a hotel room for months after the fire, also criticised the lack of proactive support and coordination.
He said that in the aftermath of the fire he was given eight different keyworkers, while he also wasn't made aware of financial support in the immediate aftermath and was forced to pay for travel and food out of his reserves.
Mr Al-Karad, who didn't have any family in England, said: "It was very hard, there was a lot of stress and I was living by myself and, I was like, I don't know where to go.  
The inquiry continues. 
Sign up for our weekly Grenfell Inquiry newsletter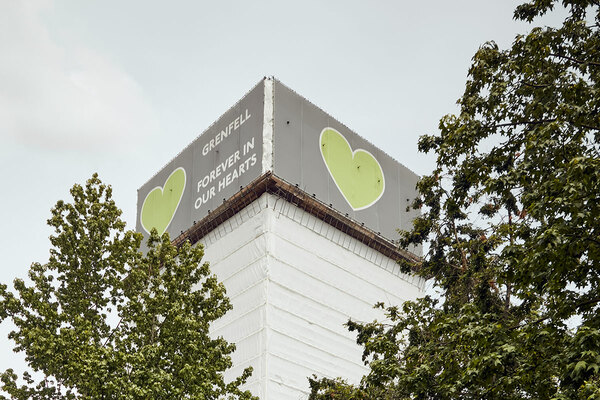 https://www.insidehousing.co.uk/news/news/grenfell-aftermath-created-trauma-after-trauma-for-bereaved-says-man-who-lost-six-relatives-in-fire-75121