Damien Hirst's demon in its original habitat, the Palazzo Grassi in Venice in 2017.SABINE GLAUBITZ/PICTURE-ALLIANCE/DPA/AP IMAGES
The Art Newspaper reports that the property developer Knight Dragon plans to install Damien Hirst's 18-metre-tall bronze sculpture Demon with Bowl (2014) by London's river-spanning cable car by the Thames on the Greenwich Peninsula, pending planning permission. Knight Dragon is leading the multi-billion pound redevelopment of the area, which was once the site of Europe's largest gasworks, and is now home to the O2 Arena.
Demon with Bowl is part of Hirst's Treasures from the Wreck of the Unbelievable series and was first presented in the courtyard of Palazzo Grassi during the 2017 edition of the Venice Biennale. The artist created a fictional provenance for the works, saying they were discovered by divers in an ancient shipwreck off the coast of East Africa. Some are encrusted with barnacles, while others have been "conserved".
It will join three smaller sculptures from the Wreck of the Unbelievable series on the peninsula: Hydra and Kali, Mermaid and The Divers. The Hirst sculptures are among several on the Peninsula, by artists including Antony Gormley, Gary Hume, Richard Wilson, Thomson & Craighead, Alex Chinneck and Allen Jones. They are part of public sculpture trail The Line
Categories
Tags
Author
Mark Westall
Mark Westall is the Founder and Editor of FAD magazine Founder and co-publisher of Art of Conversation and founder of the platform @worldoffad
In the most recent of his initiatives to encourage the work of today's artists, deepen the connection between contemporary art and the past, and make art more widely accessible to the public, philanthropist Nicolas Berggruen today announced the creation of Berggruen Arts & Culture
In April 2020 as the pandemic took hold, the Roberts Institute of Art (RIA) responded by creating a commissioning and […]
Damien Hirst, Cherry Blossoms, the artist's first major solo exhibition in Japan, presented by The National Art Center, Tokyo and Fondation Cartier […]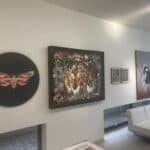 A group exhibition opening on 4th March at new West London gallery 99 Projects features several artists previously interviewed by the exhibition's curator in FAD column 'The Upcoming'
https://fadmagazine.com/2022/03/23/damien-hirsts-18-metre-bronze-demon-maybe-heading-to-london/