President Muhammadu Buhari on Tuesday met with the Chairman of the APC Caretaker/Extraordinary Convention Planning Committee (CECPC), Governor Mai Mala Buni in London.
The president asked Buni to take charge of the forthcoming convention of the APC and ensured that everything went smoothly.
Buhari also wrote a letter to the Chairman of APC Governors' Forum, Atiku Bagugu, directing him to ensure that Buni took charge immediately.
According to Buhari in the letter, the APC had been enmeshed in leadership controversies and had demonstrated its inability to proceed with the issue of effecting change in the leadership of its CECPC, in a way that is inclusive, legal and respectful of the time limit set and required for giving the INEC sufficient notice of the time and venue of holding its convention.
Buhari said in view of the rancour in the party, the issue of the leadership of the CECPC should immediately return to status quo ante.
He added that all members of the Governors' Forum and their followers should desist from any behaviour or utterance that would likely lead to disunity in the ranks of the party and ultimately jeopardise the transition to the convention.
Buhari ordered that the Buni-led CECPC should be allowed to proceed with all necessary preparations o hold the convention as planned unfailingly on 26th March, 2022.
Read full letter below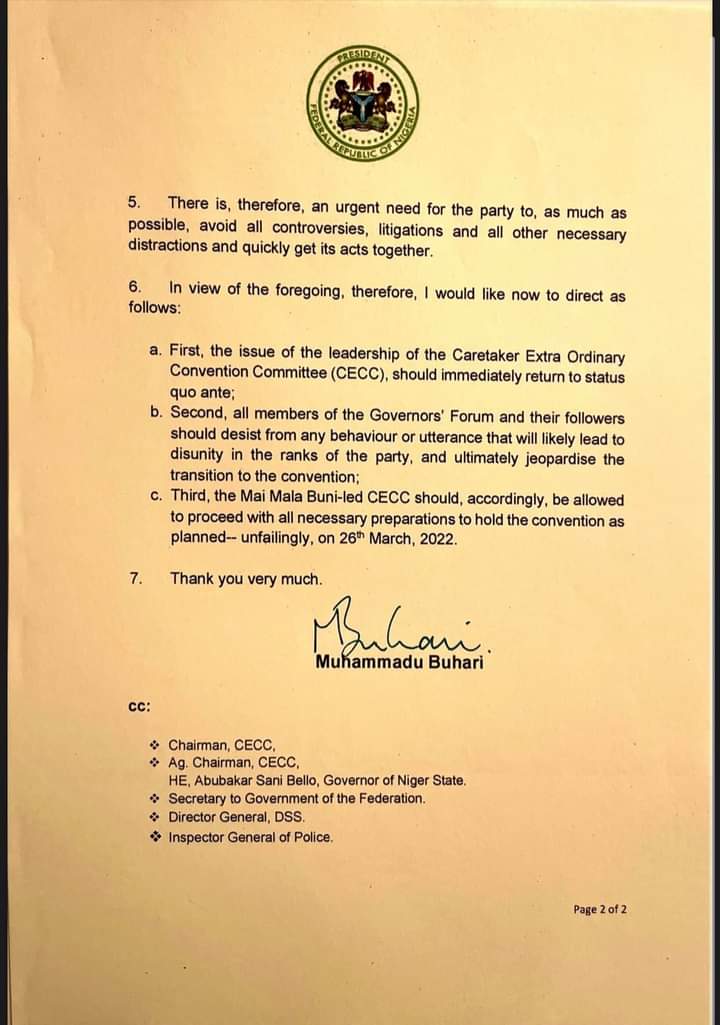 https://pmnewsnigeria.com/2022/03/16/breaking-buhari-meets-buni-in-london-orders-him-to-take-charge-of-apc/